Your business, your way
Run your business the way you want to and deliver better business and client outcomes using Netwealth's award-winning platform.*
Adviser solutions
Your wealth, your way
Take control of your own financial future. Enjoy the choice and control you deserve using Netwealth's wide range of investment and superannuation options.
Personal solutions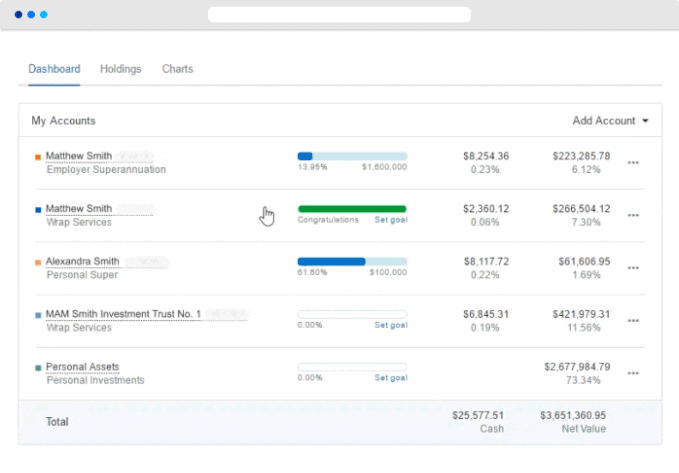 Next gen super and investment technology
Access the latest technology and innovations to manage your super and investment portfolio your way. Find out how you can get access to our comprehensive set of online tools.
Learn more
Ready to get started?
To take control of your own financial future and start enjoying the choice and control you deserve, simply click below.

Stat 1
125,000+
Netwealth account holders

Stat 2
$71+ billion funds under administration and management

Stat 3
3,500+ advisers
using the platform

Stat 4
550+
Netwealth staff members
Ready to get started?
Open an account today.
 To take control of your own financial future and start enjoying the
choice and control you deserve, simply click below.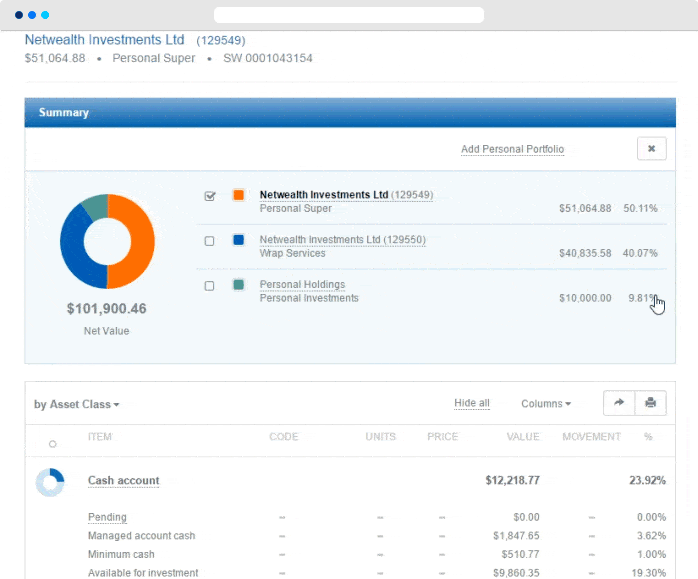 What our clients are saying
Neal

Financial Adviser

Netwealth supports my business in many ways and understands what I am looking to achieve. [Their] service and administration gives me confidence in recommending Netwealth to my clients. Netwealth's client service is great and they are passionate about helping us and our clients.

Scott

Financial Adviser

With leading Fintech processes, dynamic innovation and a continuous development ethos in order to maintain and future proof the platform offering, [Netwealth gives] Advisers a clear point of difference for scale, execution and compliance.

Malcolm

Financial Adviser

We continue to be impressed by their outstanding culture, their professionalism and their outstanding ongoing service. The impression we have is that all Netwealth's management and staff are committed to the success of their company and ours.

Ray

Financial Adviser

We were impressed from day one with the professionalism and proactivity of the entire team at Netwealth. Everyone from the Managing Director down was there to help and did exactly what they said they would do.
AdviceTech trends to stay aware of
2023 AdviceTech Report and Buyers Guide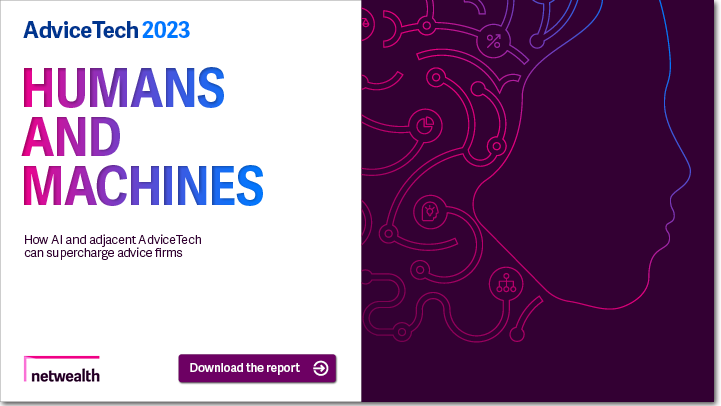 2023 AdviceTech Report: Humans with Machines
Download Netwealth's AdviceTech report, Humans and Machines, provides a detailed examination of the role artificial intelligence (AI) and adjacent technologies will have for advice firms. We draw on extensive research to provide areas of focus, detailed examples and useful tips so you can deploy AI successfully into your practice today.
Download the report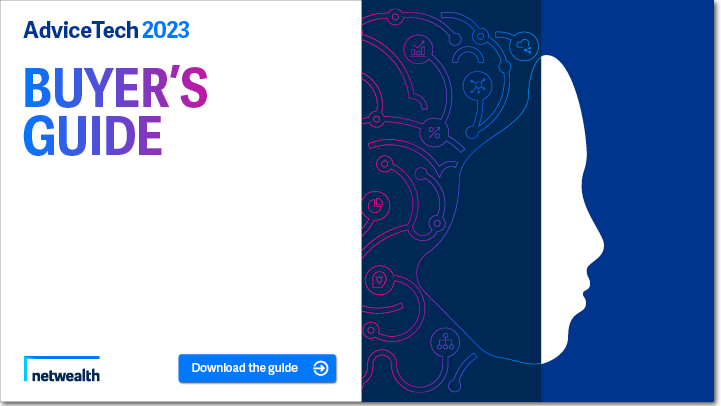 2023 AdviceTech Buyers Guide
This report is based on research from 250+ advice firms and provides valuable information on pivotal technologies and trends in Australia. It allows you to benchmark your tech usage and supplier adoption against high-performing 'AdviceTech Stars' while exploring 30+ available AdviceTech solutions, including their key features, benefits, and top suppliers.
Download the guide