Overview
An all-in-one technology and administration SMSF solution
Netwealth Self Super combines an award-winning* online SMSF investment platform, Wealth Accelerator, and cost-effective SMSF administration services, to deliver a convenient and efficient all-in-one SMSF solution.

Next gen technology
Managing your SMSF can be time-consuming without the right tools. Wealth Accelerator gives you the ability to manage your SMSF online, centralising portfolio administration & reporting.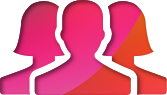 A dedicated team of SMSF specialists
The Netwealth Self Super team can help you manage the complexities and challenges faced in administering your SMSF.

Cost-effective
Competitive SMSF administration and service fees with further savings when grouping family member Netwealth accounts together. You will also have access to low-cost Australian and international securities trading.

Insurance options
Access competitive insurance premium rates and cover for Death, Total & Permanent Disability and Income Protection through several leading insurance companies via our LifeWRAP service.
Online tools
Feature rich online tools for your SMSF
Wealth Accelerator is your online account for managing your SMSF investments, viewing performance, conducting investment research, managing tax reports and more.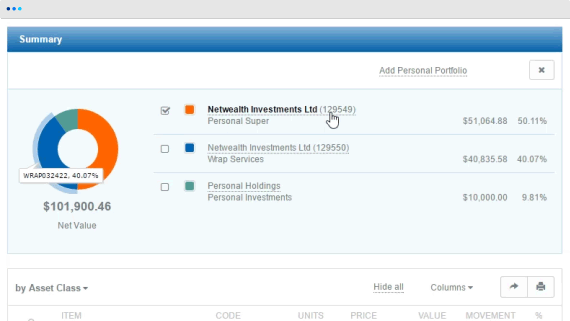 Detailed holdings information
Link super and investment accounts together, including family members, to get a snapshot or detailed views of your portfolio.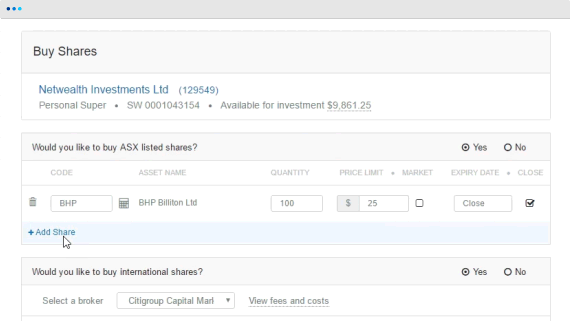 Online share trading
Buy and sell listed ASX securities, including ETFs and certain warrants* as well as international securities from multiple international exchanges.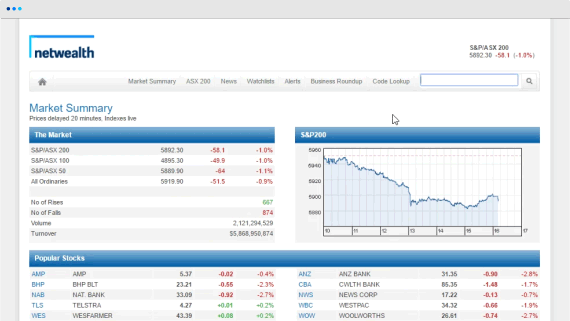 ASX Live research

Keep up to date with changes in the Australian stock market, with access to prices and market depth charts on individual securities; set up personalised stock watchlists and stock alert email notifications.
Services
An array of specialist administration services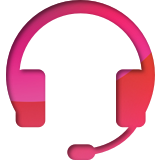 Our team can help you establish and administer your SMSF. We can also help with auditing and year-end reporting.
Establishing a new SMSF
Establishing a new SMSF
We help new trustees with the often complex tasks associated with setting up an SMSF compliantly and cost-effectively.
SMSF administration
SMSF administration
We can help in the documentation and processing of financial information, the audit, and the preparation and timely lodgement of annual returns with the ATO.
Investment options and reporting
Investment options and reporting
Using Wealth Accelerator, we can administer investments across managed funds, ASX securities and other approved investments. We can also manage transactional paperwork, income payments such as dividends, corporate actions and corporate correspondence.
Benefit payments and pensions
Benefit payments and pensions
We assist in the calculation of benefit and pension amounts and in the calculation of PAYG withholding tax for lump sums and all forms of pension.
Year-end reporting
Year-end reporting
For each financial year-end, we can produce numerous statutory documents and reports, including financial statements, member statements (detailing entitlements and basic information such as preservation components) and the SMSF annual return. We can also arrange tax payments or refunds.
Auditing
Auditing
All SMSFs are required to be audited by a suitably qualified independent auditor. As the agent for trustees we arrange the independent audit of the SMSF.
Resources
More information
Still have a question? Want more information on Self Super? Our resource section has everything covered.
Sample SMSF tax statement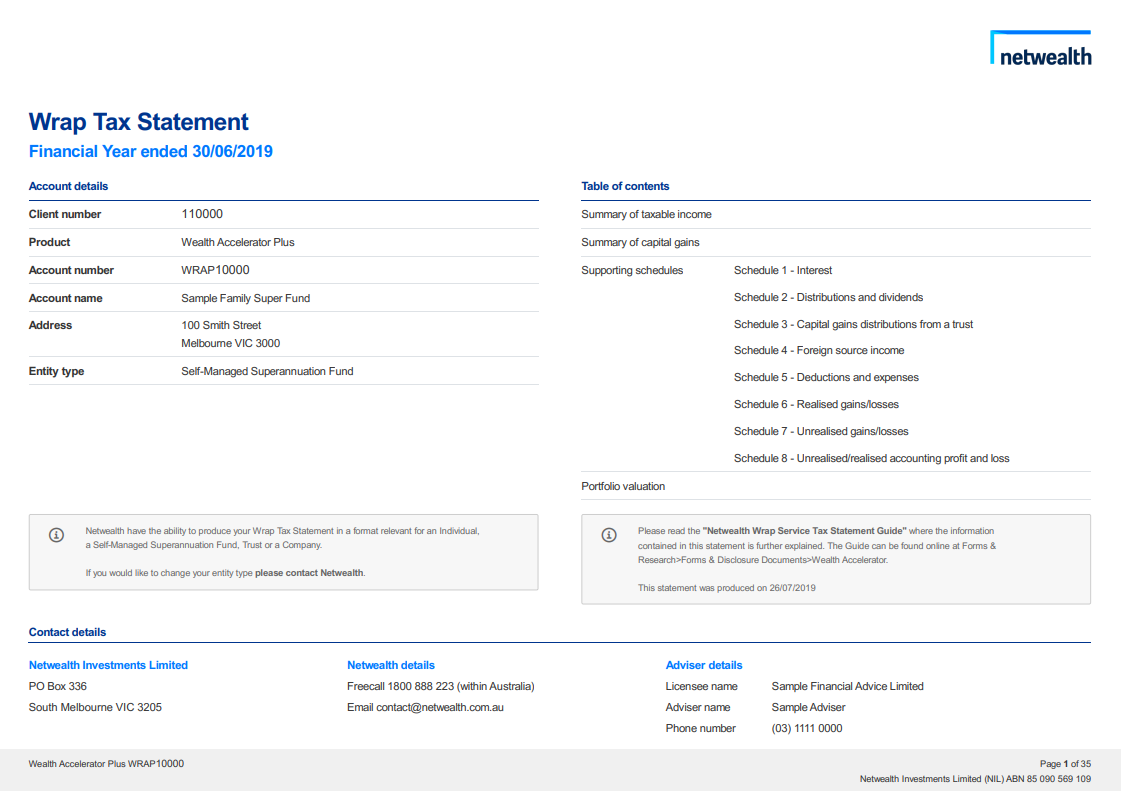 Not the right solution for you?
Are you looking for something without the administrative burdens of an SMSF? If so, check out the solutions below.
Super Accelerator Plus
Super Accelerator Plus
A next generation super fund, which gives you access to a wide range of investment options – including ASX listed securities, international securities such as Nike, Apple and Nestle, 300+ managed funds, along with online portfolio management.
Learn more
Super Accelerator Core
Super Accelerator Core
A cost-effective and easy way to manage your super which gives you the option to invest in term deposits, the Netwealth Global Specialist Series (GSS) and cash, while providing you with online tools to manage your portfolio.
Learn more
Still not sure?
Still not sure?
If you are still not sure, compare the different super solutions available from Netwealth.
Compare the options
Wondering what to do next?