Find out what technologies are set to disrupt the financial industry and provide your clients a better service.  
Sue is like many 30-somethings. She uses her phone as extension of herself. She relies on it for her social and personal life; her investment interests; as her fitness companion; and as her work colleague. She is new to investing, but understands that she needs to learn about it and needs help in doing so. Sue is what we would refer to as an Aspirer, which means that based on her experiences so far, she is someone who has low financial literacy but high resilience. (Many people like Sue are Aspirers too, but there are other types of investors that can be identified by their resilience and financial literacy levels: Explorers, Mavericks and the Disengaged). 
Click here to find out more about Aspirers and other types of investors
So, last night Sue met with Paul, her family's financial adviser. After agreeing on a number of medium and long term objectives together and looking at her investment portfolio, Paul loaded Sue's phone up with a few new apps – a Smart Wallet, and Context Aware Advice app to help her become better at saving and therefore prepare her financial goals including her eventual retirement.
The next day, on her way to lunch, Sue opens the apps. The first thing she notices is a personalised welcome message from Paul, "how nice of him" she thinks. She's even more impressed when her portfolio appears on the screen with a curated summary of major news and social feeds that are relevant. Paul has been able to set all of this up for her as a 'value add' to his advice services - his clients all love it. Sue skims through the feed and notices something of interest – the company she has most recently invested in is offering a buyback – but as she doesn't really understand it, she sends Paul an instant message asking him what a 'buyback' is.
Paul's Virtual Analyst system is synchronised with Sue's apps and as a result it can respond to basic questions using its in built natural language search function and artificial intelligence engine. "Hi there", the Virtual Analysts automatically respond to Sue,
"A buyback is when a company buys back its shares from the marketplace. If you want to take up this offer, respond with 'Yes' and I will organise this. If you are not sure, respond with 'Contact' and I will call you later to discuss your options."
The finance industry has been disrupted 
There has been a constant state of buzz around the notion of 'digital disruption' in the past few years. But with all of the technological developments that have occurred in recent times, it is safe to say that disruption is no longer on its way – It has already happened; industries have been disrupted.
The companies that are winning in our new disrupted world are those that are delivering a 'whole of service' experience to their customers.
Businesses that have a customer first mentality will ask themselves "what services do we need to deliver so that we can be a one-stop shop for our customer, so that we can make our customer's life much easier?"
"What 'ecosystem' should I create and offer to my customers?"
If you consider the scenario above, Paul is not only offering Sue strategic financial and investment advice, he is also offering her an education service which will increase her levels of financial literacy over time. 
Sue and her Smart Wallet
For Sue, her ideal financial advice service provides real-time, context aware advice to her (and her phone, smart watch, and other devices). It leverages all of her personal data and delivers optimised, personalised products and pricing.

For instance, after lunch with a colleague Sue looks at her phone and sees an alert from her Smart Wallet app, which links all her bank and investment accounts monitors and learns her spending habits: "Sue, on average you eat out at restaurants five times a week, to meet your objective of travelling to Thailand you need to reduce this to two times a week."
The Smart Wallet app is coaching her to change her spending behaviours based on the settings that she and her adviser Paul determined last night.
Another service that Sue loves is the one provided by her life insurance company - Who would have imagined that a life insurance provider would deliver a service that a 30-something client would love!
She enjoys the fact that they have provided her with a multi-sensor smart watch that tracks her daily exercise habits and feeds the information back to the insurance provider which rewards her for being active.
After a pretty energetic netball game, Sue feels great after her work out. But she feels even better when she receives a notification via her life insurance app: "Congratulations! You have just reached over 10,000 steps for the day – as a result your daily insurance premium has decreased from yesterday by 5.7%."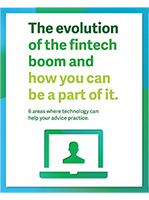 eBook - Understanding the fintech boom
6 areas where technology can help your advice practice

What does your ecosystem look like? 
Imagine if your advice practice could provide a similar service to your clients, an 'ecosystem' of products and services that complement each other, based on the new capabilities of fintech.  
What would that ecosystem look like in your business? What products and services would you provide Sue that compliment your current offer? 
In our new eBook, we explore the different services you could offer your clients. The eBook explores the 6 areas in which financial advice business can leverage fintech.
At Netwealth we believe in helping our clients create their unique ecosystem. If you are interested we would be happy to chat with you and discuss your options in the emerging world of fintech.