The Netwealth team have been busy improving our platform to help simplify the way you run your business.
Outlined below is a summary of some of the changes for advisers in August 2017:


1. Identify future income for clients with our newly introduced Dividend Receivable report
You now have the ability to see future receivable dividends at an individual client level. You may find this information useful if the client requires extra income to cover fees and you would like to avoid selling down their assets. To view this report you must have a client selected.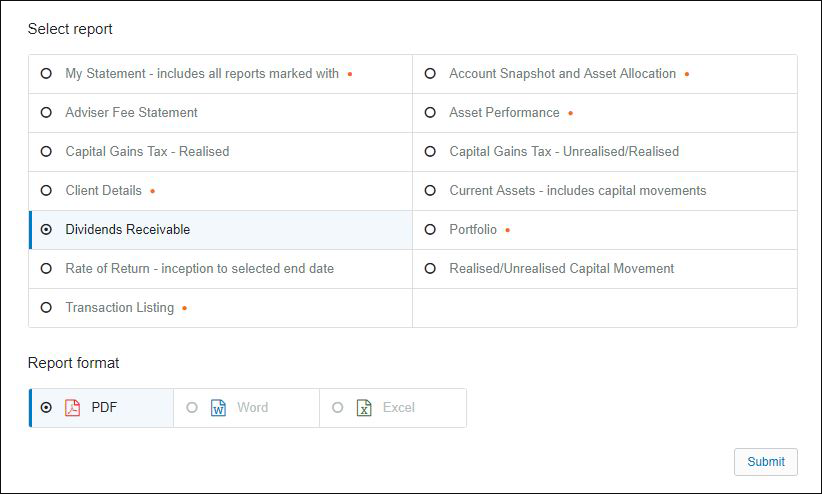 2. Manage fees online with electronic approvals
Clients who have a mobile phone number or email address attached to their account can now accept an increase in fee proposal online - without the need to physically sign the document.
Navigate to Manage Fees>Update Fees, submit the fee amount and the client will receive an email or a text message alerting them to log in online to accept the fee proposal. 
 
Once logged in a task appears in 'My Tasks' and when clicked on they are directed through to the transaction to approve or reject.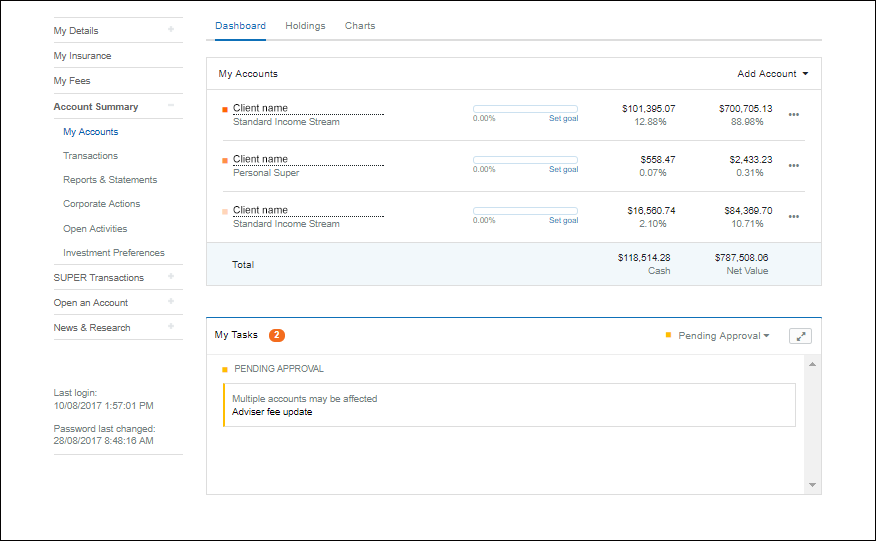 3. Scenario plan the trading impact to a client when transitioning into a managed account
You now have a new tool to assess the holdings that would be kept, sold or added if an asset or portfolio of assets were to be transferred into a managed account.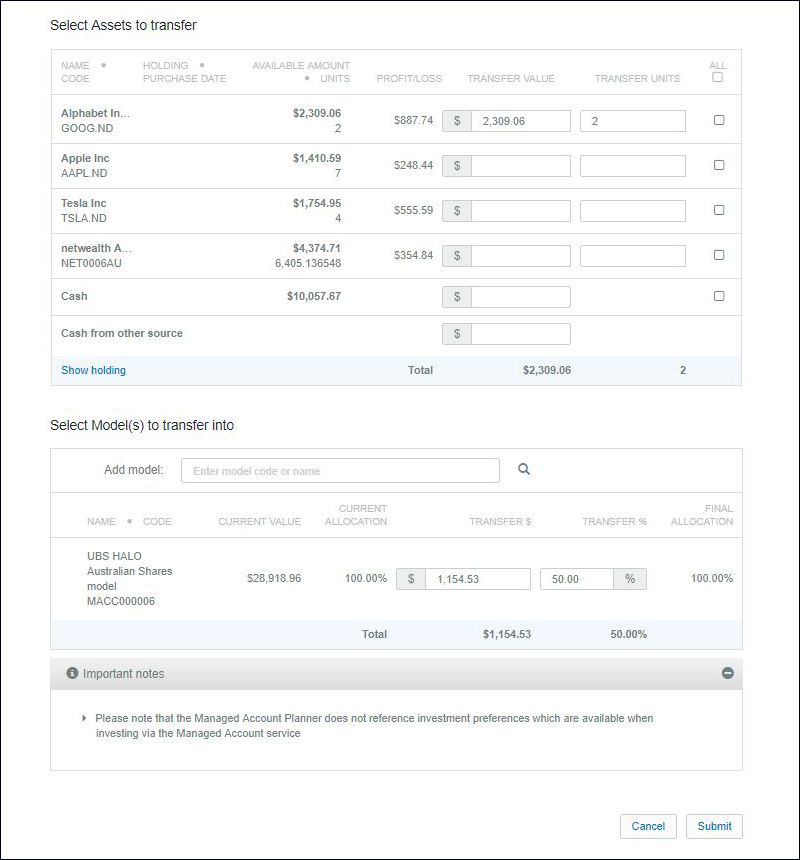 Navigate to Client Details > Investment Preferences > Managed Account Planner then complete the following steps:
Select the asset/s you wish to transfer. You may select; one platform asset, all a client's platform assets, or some specific parcels. Any combination that suits your client's objectives, provided it is easily and quickly convertible to cash
Select the amount of cash you will add to the nominated assets/parcels. If you are expecting cash to come into the account at a later date, you can use 'cash from another source' to model the inclusion of this future inflow
Select the Managed Account model/s you plan to invest in.
An excel spreadsheet will be generated displaying the current model asset allocations and based on those allocations what would be retained, sold and bought based on the scenario. When you have found a solution for your client you can move onto the Transfer to Managed Account page, specify the assets and cash to be transferred, and we will manage the release and rebalance on your behalf.
The Managed Account Planner scenario spreadsheet output has had a makeover so it may help you better understand the rebalance trade outcomes we are anticipating. The spreadsheet includes:
If a trade is expected, its direction; sale or purchase
The combination of any assets already held in the managed account, being transferred into the managed account and would be bought
The reference allocation as a percentage of the managed account investment
Estimated final position in each asset when rebalance trades have completed
Trades required to match the reference allocation.