Take outs:
Digital financial literacy program, Banqer is going from strength to strength as teachers and students engage with the flexible platform to learn about finances and wealth.
Teachers say Banqer has given them a flexible tool they can weave into their classes, using its experimental manner, enriching learning experiences and positively impacting student behaviour.
Netwealth has helped Banqer to reach more than 3,400 students and over 80 schools across Australia, as it commits to changing financial literacy.
Transferring $80 million into someone's bank account one day with the intention to transfer it out the next, is not your standard kind of joke.
But when such a deposit triggers a huge tax bill, which is unable to be paid because there is no longer any money in the account, and bankruptcy is declared, it's the stuff of nightmares.
These were the actions of a primary school teacher having fun with a student who jokingly wished for $80 million to be transferred into his virtual digital financial literacy program bank account.
"Even, I as the teacher learnt my lesson that morning - that tax bills can be very large and to always take your finances seriously!" said Melbourne teacher Kara Ngu.
Experimental learning is a big feature of a digital financial literacy program being used now by more than 100 schools across Australia.
Known as Banqer, the program has been designed to be flexible so that the learnings for individual students varies, said creator and co-founder, Kendall Flutey. 
"No two students are the same, and there is a lot of psychology to do with money as well, that's why the program is so explorative and fun, to give kids the ability to overlay it with their own original thinking and strategy."
Original thinking was employed by another student using Banqer. When given the option to take out insurance on their school desk (one of the pieces of infrastructure students must rent and maintain in the program), rather than paying for contents insurance, she emptied her desk at the end of each day, so she wouldn't need it.
The students' teacher, Natasha Rodger posted on the Banqer website: "I had to laugh quietly to myself - one how she had surprised me with this strategy and two when it took five weeks before she decided she was over the process and started to pay insurance."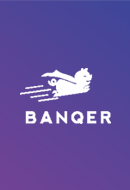 Refer Banqer to a teacher
Netwealth is delighted to be funding 15,000 students to use Banqer. Help make your child one of the lucky ones.

Banqer in action in classrooms
These are some of the great stories coming out of classrooms all over Australia - from Mandurah in Western Australia, to Renmark in South Australia and Bendigo in Victoria - from teachers and kids using Banqer.
Hailing from New Zealand, Banqer was brought to Australia in March this year with the support of Netwealth, steadily making it available to 15,000 Australian kids. Currently 88 schools across Australia are using Banqer.
More than 30,000 students from over 500 schools in New Zealand currently use Banqer, as well as a handful of teachers in the United Kingdom, United States, Canada and South Africa.
Launched in New Zealand in 2015 and the brainchild of accountant turned developer Kendall Flutey, kids can influence their virtual financial environment by doing classroom jobs to earn cash or offering services to other children. Any virtual money that they earn from rewards for good behavior or classroom jobs, they can choose to save, spend or invest in houses in a virtual real estate market.
Teachers can also use the program to help motivate kids, encouraging development and confidence. Kids learn valuable life skills by managing the rental of their desks and paying for class privileges.
According to Ngu, while her school had used an older paper based financial literacy program, some of the processes involved such as writing cheques and even going to the bank to deposit your weekly income, were no longer relevant.
"As adults, we don't do much of this anymore," she said.
"Finances are mainly electronic and checking your account involves jumping online. We went in search of something for our students that replicated real life and was a more authentic experience. We stumbled across Banqer."

Getting started with a quiz
Establishing and using Banqer in a classroom is designed to be easy, not another thing teachers have to do. Once a teacher has registered for the program, they enter their students' names and then go to their dashboard which is like the Banqer control centre, it helps teachers manage their classroom economy.
Students are then ready to sign into Banqer for the first time. They must complete a short quiz to get them started, ten short questions that gauge their existing financial literacy rates. Students receive $50 for completing the quiz, which kick starts their spending account.
From there the rest is up to the teacher – when and how they use it and what they let their students buy with the digital money they earn.
"We've left Banqer intentionally very flexible so that teachers can optionally allow their students to pay for a raft of different things," explained Flutey.
One thing that has proven very popular with the kids at a school in Henderson in Western Australia, is paid custom profile pictures. The kids can use Banqer money to change their avatars on their profile pictures to a picture they select. Their teacher sets the cost for such a change.
Meanwhile, a couple of Sydney-based schools hold regular class auctions to spend some of their Banqer money. These auctions include extra access to school devices or the privilege to sit on a chair instead of a mat.
Kids from another school in Western Australian impressively focus on putting money into their Super and saving for deposits on houses.
Some of the other ways kids spend their digital money include auctioning off a teacher swim in the pool during winter, buying free time with a friend from another class, renting sport equipment such as tennis balls and paying class bills such as Wi-Fi, power, desk rent and coloured pencils.
"As you can see, the options are endless and are not just restricted to inside Banqer," said Flutey. "As for earning money, typically students will earn a base salary for attending school and can earn additional money for jobs after that."

Replicating life - earning money from a job
Again, the list of jobs students can do to earn money is only limited to the teachers and students' imaginations.
According to teacher Debbie Bridge, she has a Stationery Clerk who for a fee, lends stationary, an Inspector who checks on everyone's jobs and reports who has done them and who gets a fine, and a Secretary who hands equipment outs, sorts out the company applications (yes, kids can even set up their own companies and hire other students) and job applicants.
She posted on the Banqer website: "I'm gradually getting things settled, but it is almost the same pitch of excitement and frenzy of the Wall Street stock market in my room."
Flutey said she knows of one Melbourne based teacher who has a cup of tea on her desk every morning courtesy of the class barista.  Although this may seem outside the remit of a financial literacy program, it does mimic real-life in that doing jobs (whether asked for or not) often lead to rewards.
For Ngu's students, her classroom economy was set up with just the $50 all students receive when they finish the first quiz.
"We felt that this replicated real life as we can start with nothing."
From here students received money for acts of kindness in the classroom, for being helpful, for demonstrating school learning attributes and for applying effort towards their learning.
Ngu set up opportunities for the students to earn more money. "My favourite was our 'innovation team' who were responsible for coming up with new ideas to enhance our Banqer experience."
This meant throughout the term the students could spend their money on simple day-to-day luxuries, such as having first choice on their learning space or being able to work on our classroom couch. They even had movie sessions throughout term where they could purchase a ticket to the cinema and spend their well-earned money.

How teachers use Banqer as part of their curricular
According to Flutey, most schools using Banqer do not use it as a stand-alone regular lesson, but rather incorporate it into other aspects of their existing class environments.
"There a lot of natural links into numeracy, and a Melbourne based school successfully uses Banqer to explore percentages," she said.  "The relevancy through solving money math's problems appeals to a lot of the students, and brings it to life in a comprehensible way."
This is one of the real strengths of the program, its experiential learning style means it saves teachers precious class time as students live out the lessons rather than having to have dedicated lessons.
"That's why we see students logging in at home, and at lunchtime or other breaks, in addition to any dedicated class time," said Flutey.
While there are nine modules to work through, differing schools and classes progress through them at different rates. Teachers may introduce just a couple new financial concepts each term, making sure the students are competent before progressing.
Other teachers introduce all the modules at the start of the year and let the students gradually develop skills across the board. Depending on the age of the students, they may only ever engage with a portion of the modules during the school year. 
For example, a Sydney-based Year Six class who adopted Banqer earlier this year has completed through all but three of the modules while a Year Six class from a Perth-based school who also started Banqer around the same time, has focused on the first two modules.
"Despite their different levels of progress, both classes have similar sign in rates showing they are equally as engaged with Banqer," said Flutey.
Transactions and budgeting are the bones of Banqer, just as they are in our economy. Most teachers start with modules that teach earning an income, paying classroom bills and budgeting. The 'stickiest' module in the program is real estate, because of its "aspirational" quality.
"But buying a property doesn't occur as regularly as paying your weekly Wi-Fi bill in Banqer, which is why the basic transactional aspects remain the most used," explained Flutey.

What kids love most about Banqer
Flutey believes it is the responsibility they are afforded and the opportunity to engage with a world kids mostly considered adult only.
Further, as kids progress through Banqer and realise the concepts they are learning are quite straightforward, they take the challenge of managing their finances into their stride.
"We see this time and time again with kids who perhaps are disinterested or disengaged with traditional school work flourishing and ending up as the classroom CEO in no time."
A case in point, a student in Christchurch who was passionate about Banqer and very capable with it. He held the highest net worth in the class and had purchased the most investment properties over the school year.
"I assumed that he was generally a very capable student, but after speaking with his teacher I was told that he typically had struggled with classwork as he had learning difficulties which meant he was easily distracted," said Flutey. "Banqer was the turning point for this young boy. His teacher believes that it was the sense of purpose it instilled in his everyday class activities that attributed to the change."
In this regard, Banqer is proving to be a powerful behavioural management and motivation tool.
Another example, by motivating students with the possibility of earning extra Banqer money for early homework, a Sydney based school reformed its late homework problem. Meanwhile, a Wellington based school has made lost and misplaced property a thing of the past by charging students Banqer dollars to retrieve items.
"There's a similar behavioural anecdote in every class, we really underestimated this aspect of Banqer when we set out to build a financial education tool," said Flutey.
Over the coming months, Banqer will be adopted by more schools across Australia, as word continues to get out about this amazing digital financial literacy program for kids that is a winner for both teachers and students.