Should you build your own fintech product, buy one off the shelf, or partner with a technology provider to develop a customised solution? This article will help you to make the right decision for your fintech project.  
Ben Pasternak was sitting in a school class when he came up with the idea of 'Impossible Rush', an app for the iPhone. At the age of 15, he worked with a friend and built the app in a matter of days.
Amazingly the app became a big hit on the App Store both in Australia and overseas. It peaked at number 7 in Sweden store, 16 in the US and 18 in Australia, above popular and well-established apps such as Vine, Google, Gmail and Twitter. The app clocked up 300,000 downloads in the six weeks after it's launch.
Within 12 months, Ben had secured VC funding from Silicon Valley, left his school in Sydney, moved to New York and became the CEO of his own start-up, Flogg Inc.
With stories like this aplenty; cloud computing becoming so cheap; and with app developers in plentiful supply (and at a reasonable cost) it is no wonder that people and businesses are rushing out to build their own technology start-up ideas.
But how does that relate to you and your advice business?What types of things does it inspire you to start thinking about with regards to building your own fintech ecosystem.
Should you go and find an app developer and build the technology in house?
Or should you consider buying a technology solution off the shelf from an established software developer. Perhaps you should partner with a fintech start-up to bring your idea to life?
The answer is that savvy businesses are doing it all – they are buying, building and partnering dependent upon the strategic importance of the technology.
 
Build, buy or partner? 
Today, leaders of most financial advice businesses will have already made build, buy or partner decisions through the evolution of their businesses. Many of them will have a number of existing fintech and technology partners. These might be customer management tools like CRMs and planning tools like XPLAN, platforms such as netwealth, or even their accounting and invoicing tools.
For example, today an adviser ecosystem may look like this:
How can decision makers at an advice practice take an objective based approach to choosing their fintech solution?
As a starting point it is important to understand the main benefits and considerations for each approach.
Why build? Technology leadership.
'Build' refers to in-house development. This involves managing the entire IT development process to essentially produce your own piece of software from scratch.

The main reason that business leaders might choose to build technology is to gain a major competitive advantage by being a technology pioneer - To own a patentable piece of technology that delivers enduring benefits.
Businesses would likely only consider this approach if it is a strategic part of their business.
They would need to have time to develop the solution, and obviously, they need to have (or to be able to acquire) the in-house experience and developer resources.
Typically, companies that build their own software products rely on research and development and technology for the competitive advantage within their industry.
Building a piece of software can help a business to set itself apart from its competitors, and allow an organisation to move at their own pace, pull back on development if circumstances change quickly, and guard their business' culture and strategies.
However, building technology solutions can be time consuming and if the product is not correctly resourced and managed, a slow pace of execution could potentially cause a business to miss a market opportunity by not being ready to launch in time, or by being distracted from other activities by its product build.
Often businesses forget that building is an ongoing task, it never stops. So when considering this option, make sure you recognise that there will be future releases of the software. You will need to make sure you have the capital and resources to maintain the technology and continue building to fix defects and deliver ongoing enhancements.
Typically, a financial advice business will not have the needs, or the resources to build their own software solution, unless they have greater business aspirations beyond simply providing advice.
With that in mind, it is important to mention that this is not always the case. Companies such as Learnvest and Personal Capital in the U.S. have likely taken this approach to build large parts of their technology ecosystems in-house, so there is a place for the 'build' strategy when the company's needs fit the criteria. 
Further, with the cost of software development having decreased significantly over the past fifteen years with the advent of open source software and cloud computing, the cost of building a start-up utilising your own resources is far more achievable than it has been in the past.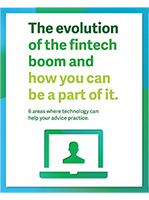 eBook - Understanding the fintech boom
6 areas where technology can help your advice practice

Why buy? Time is of the essence. 
'Buy' is the action you will take if you decide to access the acquisition of your technology product 'as is' or 'off the shelf' from another business who has already produced it for sale to other business.  
When the technology function of a particular software solutions is core to a business' operational success, but owning the intellectual property behind the technology does not provide a competitive advantage – buying a solution direct from a supplier makes complete sense, especially if time factors are a source of pressure! 

This is especially true where internal resources to build a solution are not available, or if they are in a shortage. There may simply be companies better placed to work on your technology solution as they have already spent time building a product that suits your needs, and have deep-ranging experience in developing the technology.
Buying a solution allows a business to immediately be seen (by its customers) as having the service and expertise that the technology provides – rather than having to wait through development and production to convey these consumer benefits.
It also provides the business some piece of mind that technology is 'tried and tested'. Businesses should only buy off the shelf if they are happy to sacrifice the ability to customise end user functionality and capabilities, losing your ability to tailor the technology to all of your specifications. They should also look to establish strict SLA (service level agreements) with the vendor, such as: How quickly processing errors will get corrected, or how quickly a new third-party interface will be available.
Why partner? Share the risk and reward 
'Partner' – not surprisingly - refers to the co-development of a mutually beneficial solution utilising your partner's technology and skills.
A business would seek to partner with a provider if it wanted to rely on the technology prowess of another organisation to develop a more customised and integrated solution for their customer. 
A partner will typically offer technology that is unique, and is not able to be easily reproduced by your own business, or by your competitors.
Partnering on a software solution requires a level of strategic alignment between the two organisations that will work together, and a level of trust. Like many relationships, a good partnership can take time to develop and can requiring nurturing for lasting success. The decision to partner with another organisation is only relevant to businesses that want to act upon strategic initiatives that will deliver real efficiencies or future growth.
Given the nature of resourcing, sometimes a business simply cannot build everything in-house and partnerships are built out of necessity.
Sometimes the technology needed for a particular project is so new that the market has been untested, so establishing partnerships are a way to test a market or idea to see if it is really as profitable as it seems, and get a grip on the operational complexities before jumping into the build process head first. 
Partnerships are a wonderful way to reduce the risk in a project; to get to market reasonably quickly; to build new capabilities; and ultimately to provide customers with an ecosystem of services they desire.
To be successful, your partner must have strong experience and demonstrated expertise in working with emerging technologies, and they also need to be able to understand and communicate with your business. Those technology partners that can understand and work at the intersection of the business' operational and strategic requirements, and technology, are best placed to serve an organisation's complex needs.
Above all a successful partnership takes time. Don't expect your partnership to be an overnight success. There are certain challenges that you will need to allow time to overcome together such as evolving the technology; embedding it into your environment; training staff; adopting processes; and so on.
Finding the right technology partner: Some questions to ask? 
Partnerships, like all relationships, can be fraught with issues and tensions if they are not approached and nurtured with care. So, there are some questions to consider before taking on a partnership:
How mature does your partner need to be? i.e. What is your risk appetite to be able to work with a start-up company, or one without a long history of successful partnerships?
Have you addressed company stability? Do they have the financial staying power to deliver on the project? Do you?
Are you strategically aligned to them, and vice-versa?
Contract negotiations – Are you confident in your partner's trustworthiness?
Do they have the right execution capabilities? Will they be able to fulfil their role on time and to specification? And will you?
Transparency - Is there a mutual willingness to share plans and to be open with information sharing?
What will your relationship look like? Can you treat them like a partner, not a supplier?
Are there any other considerations specific to your project that you haven't yet considered? Make sure that you give yourself enough time to process all of your thoughts and queries.
 
With the number of fintech solutions emerging in Australia there is no better time to consider your build, buy or partner options. If you want to learn more about them, have a read of our latest eBook which outlines the different types of fintech and the available solutions for financial advisers.