Learn about the 6 areas where fintech can differentiate your business. 
Making your ecosystem your competitive innovation advantage 
When thinking about technology ecosystems,  Apple, Microsoft and Google spring to mind. But Amazon is often overlooked.
Amazon began  as a book retailer but its products and services now stretch to cloud computing, Kindle e-readers, drone delivery services and more. The company is now a retailer, consumer electronics producer, goods manufacturer, media company, and above all, a technology business. Amazon's ecosystem started with a single customer in mind: the book buyer - but its offer now stretches to everyone.
Interestingly, the Alibaba Group (the Chinese equivalent  of Amazon) used the word 'ecosystem' no fewer than 160 times  to describe its vision, philosophy, and growth strategy in its September 2014 pre-listing prospectus.
Business owners wanting to drive innovation by creating an ecosystem for their customers, should ask themselves, "what services and products do we need to deliver so that we can be a one-stop- shop for our customers, so that we can make their lives much easier?"
An ecosystem innovation strategy will allow a business to provide its customers with a range of complimentary products and services from you and your partners, ultimately with the aim of providing a better customer experience. 

Defining your 'ecosystems'
So what might this concept look like as a group of products or services that will benefit your clients?

Imagine if your financial advice practice could provide your clients with access to a number of products and services that complement each other, based on the new capabilities of fintech.
"Successful businesses are those that evolve rapidly and effectively. Yet innovative businesses can't evolve in a vacuum. They must attract resources of all sorts, drawing in capital, partners, suppliers, and customers to create cooperative networks... I suggest that a company be viewed not as a member of a single industry but as part of a business ecosystem that crosses a variety of industries. In a business ecosystem, companies co-evolve capabilities around a new innovation: They work cooperatively and competitively to support new products, satisfy customer needs, and eventually incorporate the next round of innovations." James F. Moore, Predators and prey: A new ecology of competition, Harvard Business Review, May 1993.
What would that ecosystem look like in your business? What products and services would you provide your clients with that compliment your current offer?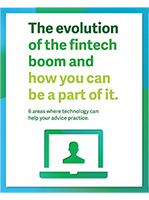 Guide: Understanding the fintech boom
6 areas where technology can help your advice practice

The six areas where fintech can grow your ecosystem 
At Netwealth we are excited to see so many great fintech companies emerging, particularly in the wealth space. We see algorithmic investment services providing a low-cost service to entry-level or disengaged investors, we see artificial intelligence (AI) based advice systems supporting advice strategy and planning, and we also see fintech players  taking a greater role in data aggregation, analysis and insight development. Fintech also has a  big role to play in how advisers engage with their customers, whether  by video-streaming services or location-enabled mobile services.
We believe there are six areas  in which financial advisers should be considering the potential positive impact of fintech on their advice business ecosystem:
Customer profiling – using data to better profile the advice and investment needs of  clients.
Advice – using data and AI to identify best case scenarios and strategies for clients.
Investment – likewise, using data and AI to build best case objective-based investment portfolios.
Insurance – with wearables like Fitbits, phone apps and Apple watches becoming popular options for consumers to track their personal health and fitness goals, insurance companies are introducing a range of new services and features that integrate this fitness data with insurance products and processes.
Customer engagement – using technologies like video, social media, messenger apps and eSignatures to provide an always available, simplified, and user friendly client experience.
Back office and reporting – system integrations, straight-through processing, blockchain technology and so on will provide better back office processes and efficiencies for practices. 

Getting reading for the fintech boom
Do any of these areas inspire you with ideas for your future fintech ecosystem?
It is no secret that the fintech industry is on the brink of a boom. So it is  time to  consider how your practice will adapt to the changing technology landscape – that is, if you haven't been thinking about this already!
Netwealth can assist in the process providing  views and some insights as to how to build out your ecosystem with fintech solutions.