When setting out to establish a managed account solution for your business, you need to be aware that there are different flavours or business models that managed accounts can support.
These range from basic off-the-shelf managed account models, where the managed account is something similar to a managed fund investment solution but with greater client transparency and businesses efficiencies, all the way through to a private label managed account solution. In this instance, the managed account can provide a number of innovations to your business, from business model innovation through to improved operating processes and enhancements to your supply-chain arrangements. 
Below we explore a number of the different flavours of managed accounts offered by Netwealth.


Off-the-shelf managed account
Netwealth has constructed a range of carefully selected single asset class and diversified managed accounts for advisers to use with their clients. The key elements of this solution are:
Managed accounts are available to all clients within super (Super Accelerator) and investment wrap (Wealth Accelerator) accounts – so they can be used for super, SMSF and non-super monies
A hand-selected choice of leading investment managers and investment strategy options ranging from ASX20 index, ASX 200 shares, small and mid-cap shares, Australian listed debt, diversified dynamic portfolios, Australian equities with a focus on yield and international equities
Clients can experience the full benefits of ownership of the underlying asset holdings, tax advantages over managed funds and the cost benefits of trade netting.
Pros
Enhanced value proposition for clients via improved transparency.
Increased efficiency to your advice practice.
Superior risk management over adviser directed portfolio management.
No additional regulatory or compliance administration for your business (as the managed accounts are constructed under the Netwealth license).
Can be accessed without additional cost to your business.
No investment expertise to develop or outsourced investment managers to employ.
Cons compared to a private label solution
No ability to utilise your own investment expertise or outsource to preferred investment managers.
No opportunity to move up the value chain and generate investment manufacturing margin.
Limited ability to leverage your own brand as part of the managed account value proposition.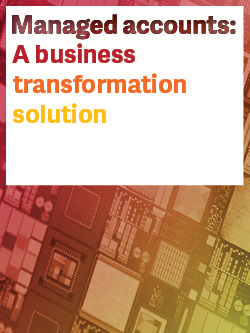 Managed accounts: A business transformation solution
Better understand the different types of managed account structures that are available and their pros and cons
Private label managed account
Netwealth's private label managed account solution offers your business a fully branded investment solution. The key elements of the solution are:
Netwealth uses the Responsible Entity (RE) authorisation on its AFSL
As RE, Netwealth will effectively outsource the development of managed account investment models to your business, you can then construct and manage a suite of managed account model portfolios (or work with an asset consultant to achieve this if you like)
The managed account model portfolios would then be available as investment options within the private label managed account for your advisers using the Netwealth platform
As RE, Netwealth will conduct full due diligence on the investment manager (including any consultants) and perform all other regulatory requirements associated with offering a managed investment scheme.
 Pros compared to an 'off-the-shelf' solution
You control the investment products offer (with agreed RE mandates).
You are able to generate investment manufacturing margin for the construction and ongoing investment management of the managed account models.
Managed accounts will be delivered through your own branded platform experience.
Cons compared to an 'off-the-shelf' solution
Additional business costs associated with the implementation and ongoing management of the managed account investment models.
Longer implementation cycle due to a higher due diligence requirement by the RE.
Other portfolio management solutions
Apart from managed accounts there are other mechanisms for you to manage your clients' investments via the Netwealth platform.
These include:
Directly buying and selling investments for specific clients
The creation of model portfolios either established by the adviser business, dealer group or utilising Netwealth's model portfolios for a group or segment of clients where our SMART™ technology rebalances a number of client portfolios at once
Utilisation of managed funds to access professional managed investment capabilities.
Regardless of the solution you choose to manage the investment implementation, the benefit of working with a full-service platform provider is that the technology is flexible for you and your clients' needs.