We are now able to accept certain types of digital signatures on forms and documents provided to us via the online Document Upload Facility. 
Login to your online account and navigate to My Business > Document Uploader to upload the digitally signed document.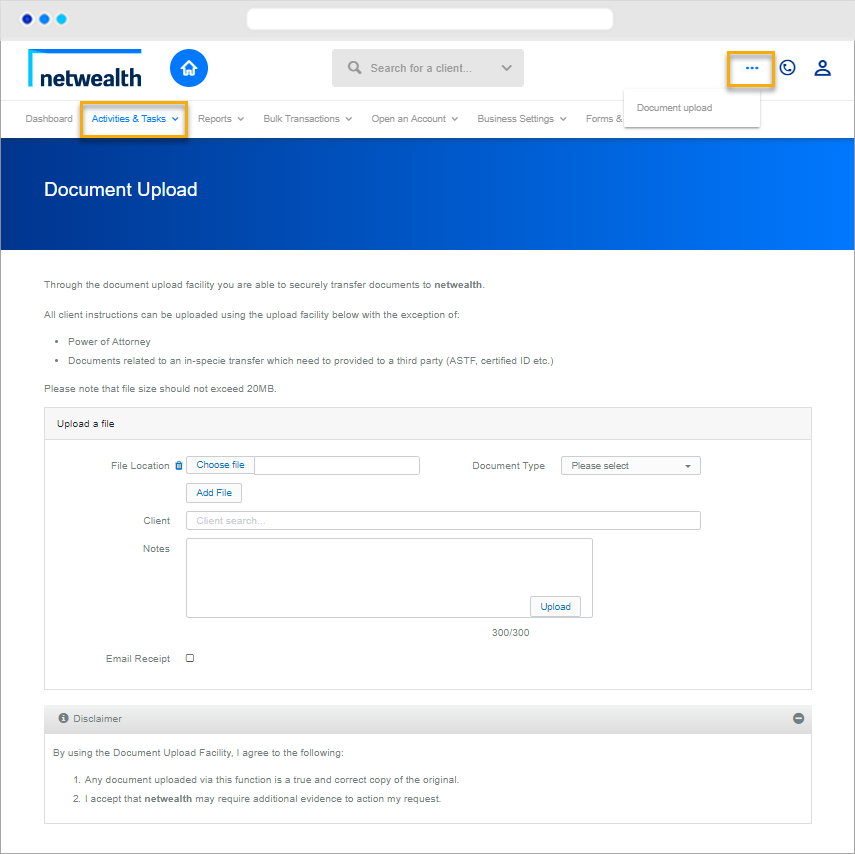 Some considerations when using digital signatures:
We accept digital signatures on most documents, apart from the list below.
Documents can only be signed via a stylus, mouse or finger movement, and we don't accept 'typed' digital signatures from services such as DocuSign yet.  
The digital signature should be clear and identifiable.
If a digital signature does not match our records, we may request further identification.
We strongly urge you to check with your licensee as they may have different AML/CTF forms and documents completion guidelines.
Documents that require 'wet' signature:
We require 'wet' signature for the following documents.
Individual AML/CTF Verification (Note: Consider using the "KYC consent form" instead)
Unregulated Trusts AML/CTF Verification Form (e.g. Trust Account's requiring verification of a Trust Deed)
The signature of certifier needs to be 'wet' on certified documents (e.g. Driver's License, Passport, Enduring & General Power of Attorney, Trust Deed)
In-specie transfer-in forms which provide Netwealth a limited Power of Attorney (PoA)
Power of Attorney documents where the original is required
To submit them, we require your clients to:
Print and sign a copy of the document
Scan or take a photo of the signed document
Send it to you for secure online upload with Netwealth, or directly to Netwealth at contact@netwealth.com.au with appropriate instructions.
Recently approved documents for digital signature
KYC Consent form - used to verify an individual client using GreenID       
Australian Companies AML/CTF Verification Form (e.g. Company accounts and corporate entities)
Australian Regulated Trusts (inc. SMSF) AML/CTF Verification Form (e.g. SMSF accounts)