Overview 
Wealth Exchange

Experience Netwealth in a whole new way and explore new opportunities with our Wealth Exchange partners and solutions. 
Utilising Netwealth's open architecture and APIs*, users are able to integrate a wide selection of apps, software and data sources to the Netwealth platform.
Xwrap - Powered by Netwealth
Coming soon
With xWrap, import, administer and report on off-platform non-custodial assets such as property, private equity or other exotic investments alongside your platform assets.
Bank Feeds - Powered by Proviso
Bank Feeds allow your to integrate account data from over 100 financial institutions including deposit and loan information in a safe and secure environment. See your wealth in a new light and view your banking and super accounts in one place.
Annuities - Powered by Challenger
Coming soon
Generate quotes and set up annuities, along with the maintenance of client details and managing maturity instructions.

Straight through account applications
Xplan IPS eApplications

Straight through Netwealth application process directly from Iress. 
Financial Planning software
Xplan, Midwinter, Ccube, Adviserlogic, Fincast, Rubik/Coin, PlatformPlus
Automatic daily datafeeds containing client account, holding and transaction information. 
Financial data aggregation
Moneysoft*, MoneyBrilliant*, Pocketbook*, My Prosperity
Datafeeds to account aggregation services for Netwealth account information displayed in external software. *Via Yodlee.
Accounting software 
Class Super, BGL
Automatically send data to accounting software, with the ability to customise which Netwealth accounts are included.

Electronic signatures

Powered by most digital and electronic signature providers e.g. Docusign.

Submit forms and applications that have been electronically signed by mouse, stylus or finger. 

Automatic identification (coming in 2019) 
Powered by GreenID
Verify identities against trustworthy, government and independent data sources in real-time.
Group Insurance
Powered by AIA
Fully integrated application via the Netwealth website, choice of premium frequency, have premiums automatically debited from your super account and fully integrated reporting. 
Retail Insurance 
Powered by AIA, TAL, Zurich 
Can be linked to Super or Wealth, enjoy a choice of premium frequency, have premiums automatically debited from your account, along with integrated reporting.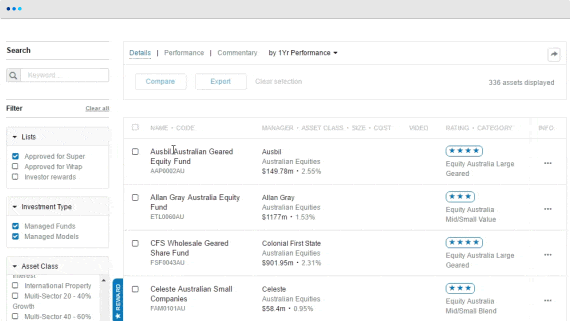 Managed funds research
Powered by Morningstar
Get the latest research data and commentary, plus compare and contrast managed funds and managed account models. See performance data, costs and use powerful filtering tools to identify funds by manager and asset classes.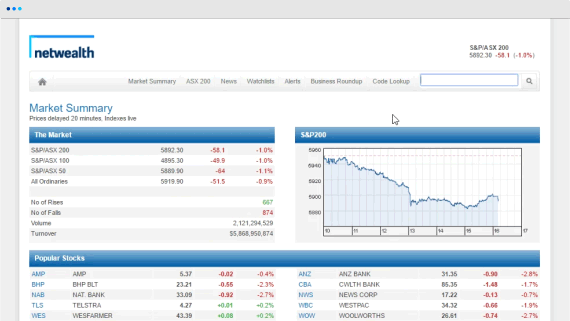 Australian securities research
Powered by ASX
Stay up-to-date with changes in the Australian stock market. Get access to live prices and market depth charts on individual stocks, as well as the ability to set up personalised stock watchlists and stock alert email notifications.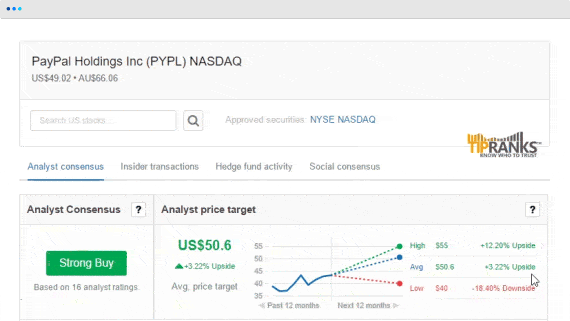 US securities research
Powered by TipRanks
Through our partnership with fintech provider TipRanks, view buy, sell and hold recommendations from analysts, insider and hedge fund transactions and blogger sentiment.
Netwealth mobile phone app
Monitor and understand your super and investment portfolios on the go with the Netwealth mobile app. The mobile app provides portfolio and account information for financial advisers and investors.
The app is available to download in the Apple App Store and the Google Play Store, for more information on how to download and use the app, click here.
Wondering what to do next?
Speak with a BDM
Speak with a BDM
Let one of our experienced BDMs pay you a visit to discuss how our platform can be configured to meet your business needs.
Contact a BDM
Schedule a demo
Schedule a demo
If you want a hands-on experience, we can organise a quick online demonstration of some of the key features of the platform and our service.
Schedule a demo
Contact us
Contact us
For those who prefer, email us, give us a call or even drop in.
Get in touch