Take outs
Online survey, review and rating tools are key to gaining and retaining clients as consumers rely on online reviews over personal recommendations
Based on the 2018 Netwealth AdviceTech survey, this type of tech is being used by 29.51% of advice businesses
Benchmark service levels against other providers and identify challenges and opportunities

When was the last time you booked a hotel or a restaurant without checking out the online reviews on TripAdvisor or Wotif?
The internet provides the ultimate survey sample for real life feedback and reviews, and there's no reason why this culture doesn't apply to the finance sector. It's often said that a brand is what people say about you when you're not in the room. Online feedback and ratings are part of customer decision-making—whether they're in the market for financial advice or a pizza. And according to the 2018 AdviceTech report 56.67% of advisers use Survey Monkey to capture feedback, followed by 23.33% of advisers who use Adviser Ratings, a specialised offering in the financial advice market space.

Founder and Managing Director of review and ratings website Adviser Ratings, Angus Woods, spoke to Netwealth about taking advantage of online tools to engage with clients and customise services offerings.

Are you ready to listen?
Knowing how to appeal to the customers you want, and engaging with the ones you have and want to keep, means listening to what they're saying about you and your peers. Smart use of this type of AdviceTech is a win-win—understanding your clients feeds into creating products and solutions to improve the adviser experience.

Angus says financial advisers and advice businesses can and should be rated through online review sites, just like any other industry.

"Different platforms let advisers see real time consumer feedback. They can see where they've delivered value and where (and how) they can improve the experience," he says.

"Reviews are a really valuable marketing tool. We know that 90% of consumers now use review websites to look for a service… and that 88% of people in the marketplace prefer using review websites as opposed to personal recommendations."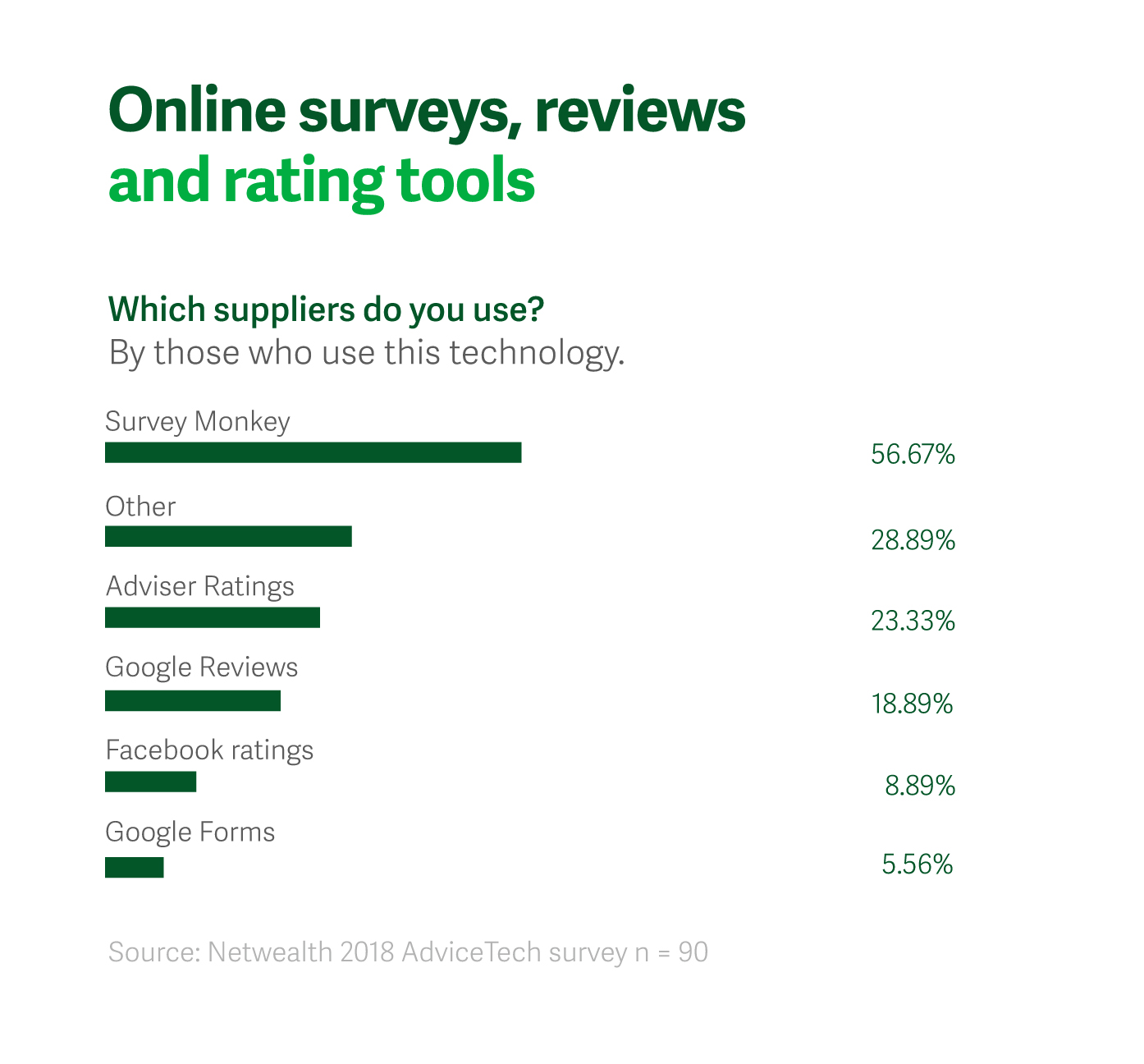 Let your customer set the terms of your conversation
If you're ready to listen to what your clients want, it's important you're in the right place at the right time and engage on their terms.

As well as review websites, feedback platforms include Google reviews, Facebook and survey platforms used by customers as part of their everyday digital experience.

"Clients will look for you in different ways. So, it's important to be part of their experience on their terms," Angus explains.

"You're also learning more about your client and these are people you're seeing very often. How are their lives changing, what stage are they up to? Is it time to reconnect if they've just had a baby or gotten a mortgage?"

Understanding their satisfaction with past experiences with your advice business and whether they'd recommend you to others is crucial to developing your business.

"It allows you to build a business model that speaks to the type of client you want. Move on from trying to generate cold leads and appeal to customers with targeted offerings," he says.


Would you recommend it to your mum and dad?
When you consider your experience with a product or service, whether you'd recommend it to your friends and family is the yardstick for the quality your experience. Not only do you want them to have positive experiences, but a recommendation puts your own reputation on the line.

The Net Promoter Score (NPS) is a key measure that revolves around whether a customer is likely to pass on a recommendation—for a Thai takeaway, the hotel's pillow menu or the financial advice they've received.

"NPS is a scale of 1 to 10 you see in most surveys: would you recommend this product or service to your family and friends," says Angus.

"It's a simple question that puts the consumer on the spot. You might be happy with your adviser, but would you recommend them to your mum and dad?"

Angus says the advice sector maintains a reasonably positive online reputation which advisers can capitalise on.

"The NPS of advice businesses are quite high and its important to maintain that. It's also a good way to position the value of advice itself—not just the individual advisers and practises," he says.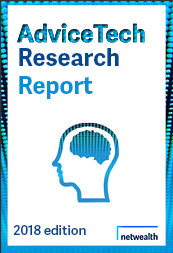 Netwealth 2018 AdviceTech research report
The second Netwealth AdviceTech research report examines twenty-six technologies used by advisers in their practice – their adoption, benefits and key suppliers.

Just start
Giving your customers a platform to give you feedback on their advice and experience doesn't have to be complicated. Start with the social media platforms that you and your customers use everyday.

"Open up Facebook and social media profiles, a Google My Business account… start to generate reviews that way. Start small with free platforms", says Angus.

"Try it and see if it's a worthwhile investment. But start."

Committing to a long-term relationship

If using this type of AdviceTech to build your customer base and service offerings works for you, you can up the ante and build in more sophisticated features. Like any long-term relationship, its important to keep listening.

"Given your relationship with a client could go for 20 or 30 years, there's real value in listening and monitoring on an ongoing basis," he explains.

"Basic review websites or social media provide a one-off review at a point in time—you submit a review and it's locked in. But it's important to continually review that same person along their journey."

Thinking about customer experience and review data in a new way may be just what your advice business needs to stand out in a crowded market.

Find out more
Read more about AdviceTech usage today and tomorrow in the 2018 Netwealth AdviceTech research report or access more AdviceTech resources here.