Take outs
Introducing RegTech into an advice business enables advisers to meet their compliance obligations quickly and efficiently, freeing them up to focus on meeting with clients and developing advice strategies
RegTech largely automates the oversight of advisers for licensees, allowing for more effective and robust supervision of their authorised representatives
Based on the 2018 Netwealth AdviceTech survey, over 23.28% of wealth professionals believe RegTech will have the greatest impact to financial advice practices in the next five years


One of the latest kids on the fintech block is RegTech. Samantha Clarke CEO of Advice RegTech talks with Netwealth's Joint Managing Director, Matt Heine about what it is, what it does and how, with its ability to scan data and identify compliance issues in a nanosecond, it is revolutionising the compliance and regulatory activities of the entire advice industry.


Q. Hi Samantha, in layman's terms, can you tell us a little bit about RegTech?

A. RegTech stands for Regulatory Technology. In financial services, it's about technology solutions that help with risk management and compliance, particularly around the Best Interests Duty and related obligations. For example, it can help with Statement of Advice (SOA) checking and vetting, identity verification, know-your-client obligations and the anti-money-laundering (AML) requirements. It can also ease the burden many businesses face when it comes to regulatory reporting to the Australian Securities and Investments Commission (ASIC).
One of the other great things about RegTech is that the technology and platforms we're developing can apply to any industry that has regulatory compliance obligations, so for example, pharmaceutical and agriculture.

Q. What inspired you to start Advice RegTech?

A. In my former role, I was responsible for overseeing the policy and professionalism of 4,000 advisers. I could really see that in the future, monitoring and enforcing compliance with the Future of Financial Advice (FoFA) reforms would mean the industry would have to move away from manual oversight and sampling to something better, faster and smarter. I thought the answer had to lie in smart technology, so I started to research RegTech and teamed up with Fraser Jack to co-found the company.

Q. What is exciting about RegTech for financial advisers?

A. For most financial advisers, the exciting part of their job is meeting with clients to understand who they are and what they need and then working on an advice strategy that helps them meet those needs. It's all about making a real difference in the lives of their clients. The exciting thing about RegTech is that it allows advisers to focus on that part of the job, instead of getting bogged down with compliance and paperwork. It's also exciting for licensees, because it largely automates their regulatory compliance oversight, so they can sleep better at night.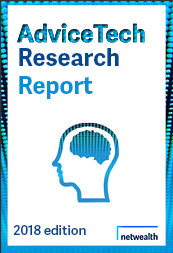 Netwealth 2018 AdviceTech research report
The second Netwealth AdviceTech research report examines twenty-six technologies used by advisers in their practice – their adoption, benefits and key suppliers.
Q. Can you run us through how RegTech works in an adviser's office?

A. Sure, it works in a number of ways. For example, it pre-vets information in SOAs, to make sure the information meets regulatory obligations. It also helps advisers oversee the work that's being pulled together by their para-planners and it helps licensees oversee or review the advice that's being produced by advisers. It enables compliance professionals who look at the advice, whether it be real-time, or a review, or a remediation exercise, to quickly find problem areas across a business, a territory, or a licensee, and of course it can do all these things really quickly.

Q. What about the practicalities? How does an adviser use a service like yours in their business?

A. We've made it quite simple, which is the real beauty of it. You upload your SOA, the fact finds, the terms of engagement, the risk profiling, all the advice-related documents, or you feed them in, depending on whether or not they are digitised. Once uploaded the RegTech engine scans over that data in a nanosecond and identifies any problem areas. This is what advice businesses love, because it enables the compliance team, or the advisers themselves, to work through the checklist of advice requirements and see what's missing or what's inconsistent very quickly. The engine itself can do all this very efficiently on its own, or it can step the compliance professional or adviser through it. The adviser can fix problems on the spot or the reviewer of the advice can make sure they are fixed. And all this can happen either before the SOA goes out to the client or in a quick review afterwards. This potentially avoids a situation whereby the adviser or the licensee is asked by ASIC to review the advice, remediate or worse.

Q. What are the underlying technologies that allow RegTech to do this?

A. Ideally, we need digitised documents. There are API feeds from wherever the advice is generated in the financial planning software. So, for example, if it's a review and a remediation exercise, it's an upload. The information needs to be digitised, it needs to go through indexing, tagging and scanning. Then it needs to go through a natural language processing assessment. It also needs to go through machine learning, which is really taxonomy and ontology of the language used in, principally, the SOAs but also other documents. By that we mean the organisation and categorisation of the language in the documents. It looks through the data to see where there may be differences, for example, between what is on the APL and what's in the fact find, or what might be inconsistent with the client's risk profile or with the licensee's policies. All of that can be tailored for the advice practice or the licensee.

Q. Are you saying that down the track, RegTech could validate all content? So, client newsletters, social media posts, anything that would normally go through a compliance process?

A: Yes – and that's really exciting. That is made possible because the underlying engine is based on machine learning and natural language processing and the artificial intelligence that helps power this engine can be applied to all other formats and applications. 

Q. Fantastic stuff. So who is most interested in this technology – licensees or advice practices?

A. Mostly licensees because they are the ones with the legal obligation and responsibility for the advice that's given. There's intense focus on the Best Interests Duty now and of course licensees may face even more scrutiny with the upcoming Royal Commission into Banks and Financial Services. There's been literally $3 billion spent by the industry on regulatory reform and regulatory compliance over the last few years so the large licensees in particular are really focused on how to make it more efficient.
The Boards and Directors of large institutions are also looking to RegTech to help with new regimes, such as the Banking Executive Accountability Regime (BEAR), which will make senior executives personally responsible for specific activities, so they are interested in it from both a corporate and individual protection point of view.

Q. How do advisers stay informed about RegTech?

A. I'd suggest taking a look at the RegTech Association. It currently has 37 member firms involved in RegTech, plus licensees and wealth managers that are interested in incorporating RegTech into their propositions, so it's a great source of information.

Q. Great idea. What about other sources? Have you read any good business books recently or listened to podcasts you think would be helpful to our listeners?

A. It's such a new space, so listen to things like these Netwealth podcasts. There's also a global research report put out by the Boston Consulting Group (BCG). They have scanned the globe and identified 391 RegTechs, mainly in the AML, know-your-client regulatory reporting space. Advice RegTech was fortunate enough to be named as one of just a few in the Asia-Pacific (APAC) region in their global reports. So that's also another source of great information on all the technology solutions out there.

Q. I think historically Australians have been notoriously bad at sharing ideas and working together. Do you think that attitude is changing?

A: Absolutely. What I'm seeing at the moment is great collaboration between the Australian players. When we speak to the global or international regulators and the international researchers, they see Australia as a centre of excellence and actually give credit to ASIC. ASIC has played a fantastic role in fostering the collaboration and the growth of innovative solutions to help the industry self-regulate. I think there's an opportunity for
Australia to be a global centre of excellence in RegTech and I think it could happen really quickly, so as they say, watch this space.
RegTech is fundamentally changing the way advice businesses operate and licensees oversee their authorised representatives. Ironically, it is this robotisation of compliance and regulatory obligations that is enabling advisers to focus on the most human aspects of their businesses – client engagement and the delivery of advice that makes a difference in the lives of their clients.

Find out more
Read more about RegTech as part of the future of AdviceTech in the 2018 Netwealth AdviceTech Research Report.