Netwealth is excited to announce an exclusive platform arrangement with global fintech firm TipRanks (www.tipranks.com) to provide research on all major shares listed on US markets.
The tightly integrated offer allows you to see buy, sell and hold recommendations for major US stocks and view consensus price targets. You can also see trending stocks, for example at the time of writing Netflix was rated by 15 analysts with 8 buys, 5 holds and 2 sells.
The video below outlines the main features of the new service:
TipRanks is a financial accountability engine that uses machine learning and natural language processing algorithms to measure the performance of sources giving online investment advice for shares listed on the US markets.
TipRanks allows users to see the track record and performance of source stock analysts, bloggers, hedge funds, or corporate insiders dating back to January, 2009 and uses factors such as the Tipranks Star Ranking calculation which combines both the Success Rate and Average Return for each financial expert.

Some of the key features of the TipRanks integration are:

1. Review US stocks that have been rated by 3 or more analysts in the last few days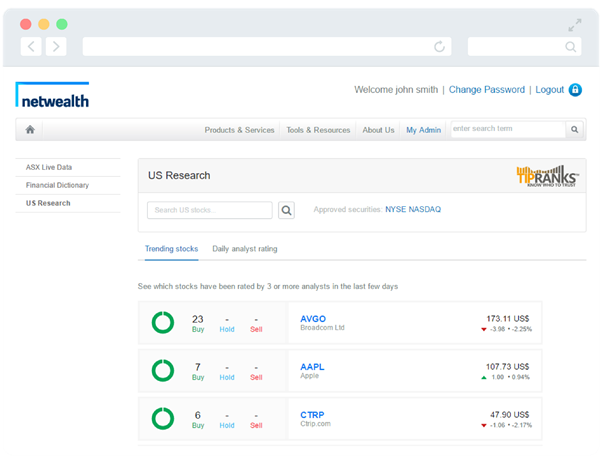 2. Review US stocks that have been rated by a TipRanks reported analyst in the last few days.  This list can be filtered by such things as 'Buy only' or 'Market cap between 1-2billion'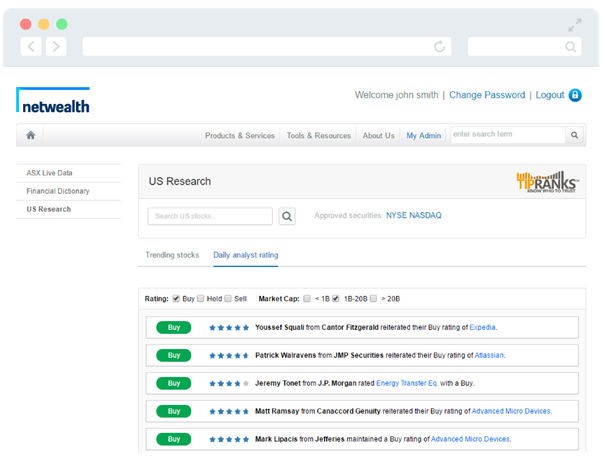 3. For a specific stock, such as Alphabet (Google), TipRanks provides:
a. An aggregated view or consensus of analysts, including target price consensus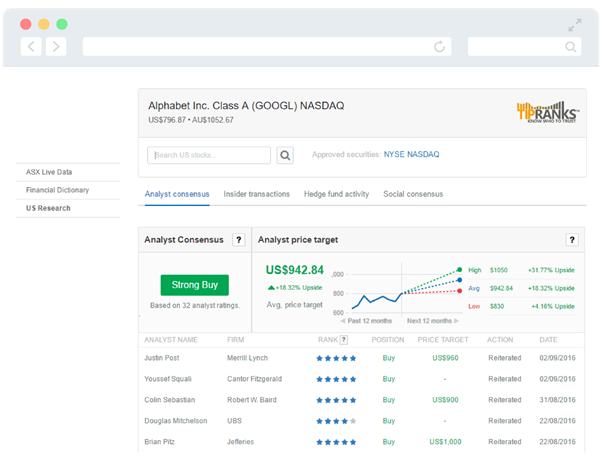 b. A list of insider transactions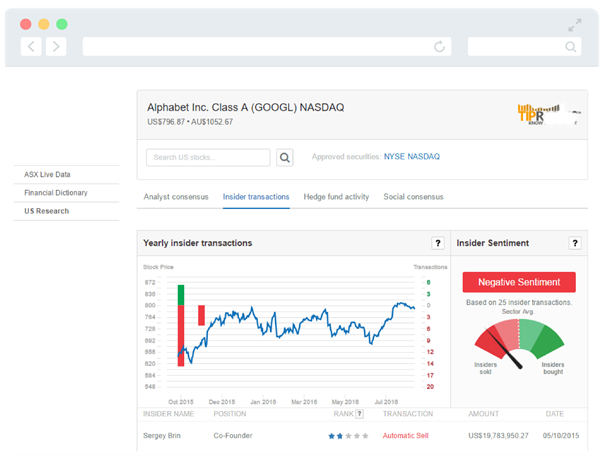 c. Hedge fund activity for the last quarter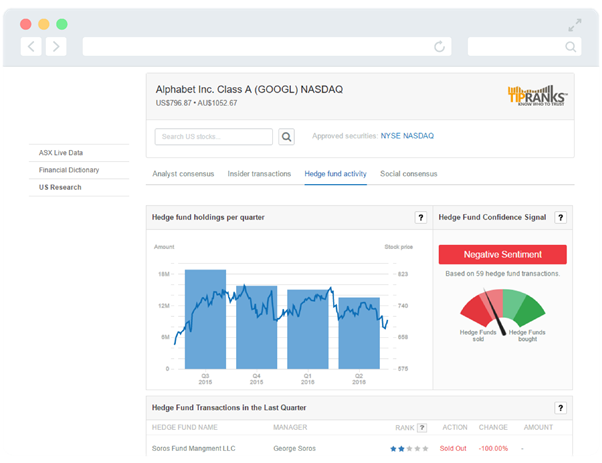 d. Blogger and social sentiment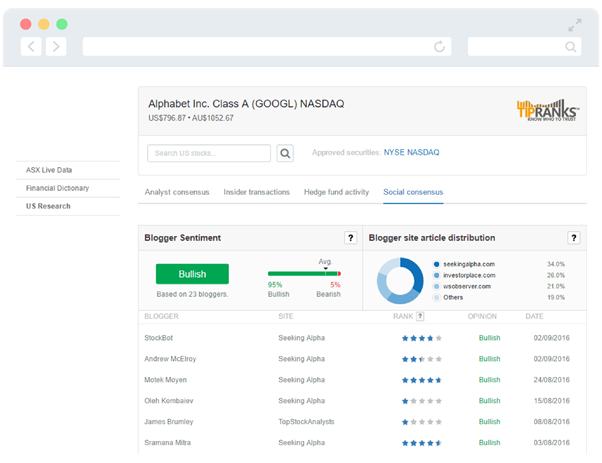 If you require further assistance with this exciting new feature, please feel free to contact your Netwealth Training & Relationship Manager.
---

Some frequently asked questions (supplied by TipRanks)

How is TipRanks Star Ranking™ calculated? 
TipRanks star ranking calculation combines the Success Rate and Average Return of the stock analyst, blogger, hedge fund, or corporate insiders; however the success rate is secondary to the ability of the analyst to generate positive returns. Success Rate is the percent of ratings that yielded a positive return within the defined period and in relation to the defined benchmark (by default: 1 year, no benchmark). Average Return is the average return each rating yielded within the defined period and in relation to the defined benchmark (by default: 1 year, no benchmark). The
Z test
is then used to determine whether the combined Success Rate and Average Return are statistically significant.
How are analysts' ratings measured?
An analyst's success rate and average return per stock is calculated by measuring all Buy and Sell ratings on that stock. Hold ratings close any open Buy or Sell positions. Likewise, a downgrade to Sell will close the previous Buy rating, and vice versa. When an analyst issues a Hold rating, TipRanks treat it as though the analyst effectively closed any open positions he/she had on the stock. On TipRanks default settings, Buy ratings are measured for one year unless the analyst downgrades to a Hold within those 12 months. In this case, the Hold rating is only used to close the Buy rating before the one year mark. Profit is not measured after a Hold rating is made. When an analyst issues a Sell rating, TipRanks effectively close any open Buy positions the analyst had on the stock and in turn open a short position on the stock.
How is the Analyst Consensus Rating calculated?
The Analyst Consensus is at the top of each stock page. The consensus is calculated with a 3-point system that incorporates the analyst ratings made over the last 3 months where:
Buy = 1
Hold = 3
Sell = 5
The score of every rating made in the last 3 months is calculated to provide one of 5 consensuses:
Strong Buy: less than or equal to 1.5
Moderate Buy: more than 1.5, but less than or equal to 2.5
Hold: more than 2.5, but less than or equal to 3.5
Moderate Sell: more than 3.5, but less than or equal to 4.5
Strong Sell: more than 4.5

A stock can have a Strong Buy/Strong Sell consensus only if it received 3 or more ratings in the last 3 months. If a stock has only 1 or 2 ratings from the last 3 months and is a Strong Buy/Strong Buy, it will be normalized to Moderate Buy/Moderate Sell, respectively.
How does TipRanks collect the ratings and how quickly are they posted on the website?
TipRanks picks up all ratings made on stocks on US markets that are publicly published online. By using Natural Language Processing, TipRanks monitor reputable websites to find new ratings. While the majority of ratings appear on TipRanks as soon as the rating is picked up, a handful of ratings are delayed for manual review with TipRanks' data validation team to endure the ratings' accuracy.
What is a Corporate Insider?
Corporate Insiders are company executives, Board members, or 10% shareholders of the publicly traded companies. When Corporate Insiders buy or sell shares of their own companies, they are required to submit the transactions to the SEC within two working days.
What is the difference between Informative transactions and uninformative transactions?
Uninformative transactions indicate that an Insider is buying/selling shares for reasons that do not necessarily indicate confidence in the company. Therefore, they do not hold much significance. For example, an Uninformative Buy in insider trading can be an insider who is given shares as a form of compensation. Likewise, Uninformative Sells are often Insiders who are exercising options that are about to expire, or cashing in shares that are given to them as a form of payment. Informative Buy/Sell transactions are deliberately made by Insiders, thus donning a vote of confidence in the company.
How often are hedge fund pages updated?
Hedge fund pages are updated on a quarterly basis as
13F forms
are submitted to the SEC. Hedge funds must submit the 13F form to the SEC within 45 days after every quarter (most hedge funds wait until the end of this 45 day window). The hedge fund information on TipRanks updates automatically as the 13F forms are submitted to the SEC.
How are dividends incorporated into ratings and share prices?
When a dividend is issued, the opening price of the stock is adjusted to reflect the payout. These adjustments are based on both the amount of the dividend and the closing price on the pay date.  
---
General Information Only
The content available through the TipRanks Service is general information only. It is not and should not be regarded as a recommendation by netwealth or anyone else to buy, hold or sell any financial product referenced therein. Any financial product advice it contains is general advice only and does take into account your individual objectives, financial situation or needs. Before making any investment decision, you should evaluate its appropriateness to your particular objectives, financial situation or needs, and seek independent financial advice. The relevant product disclosure statement or other disclosure document should be obtained from netwealth and carefully considered before deciding whether to acquire, or continue to hold, an investment in any netwealth financial product.


Disclaimer
This information has been prepared and issued by Netwealth Investments Limited (Netwealth), ABN 85 090 569 109, AFSL 23097, ARSN 604 930 252. It contains factual information and general financial product advice only and has been prepared without taking into account your individual objectives, financial situation or needs. The information provided is not intended to be a substitute for professional financial product advice and you should determine its appropriateness having regard to your particular circumstances. The relevant disclosure document should be obtained from Netwealth and considered before deciding whether to acquire, dispose of, or to continue to hold, an investment in any Netwealth product. While all care has been taken in the preparation of this information (using sources believed to be reliable and accurate), no person, including Netwealth, or any other member of the Netwealth group of companies, accepts responsibility for any loss suffered by any person arising from reliance on this information.