Hear from Samantha Clarke, CEO and co-founder of Advice RegTech, on how RegTech is helping advisers with their risk management and compliance, meaning they can spend more time with clients and less time on paperwork.


Read the full video transcript

What is RegTech?
Samantha Clarke: RegTech stands for regulatory technology, it's all about risk management and compliance, technology solutions that help meet regulatory obligations.
How does RegTech support compliance in a financial advice practice?
SC: Practically, how RegTech works in an adviser's office is specifically at the moment around statements of advice, so it can help with the pre-vetting of information in the statements of advice to make sure it meets the regulatory obligations. It can also help the licensee oversee or review the advice that's been produced by the various advisees. It can help the adviser oversee the work that's being put together by the para planner, and it can also help the compliance professionals who look at the advice whether it be real time or a review, or a remediation exercise, to actually quickly find the problem areas in aggregate across a firm, a territory, a license.

How does RegTech work?
SC: You upload your SOA, you upload the fact finds, the terms of engagement, the risk profiling, or the data fed in, depending on if it's all digitised, and then the RegTech engine scans over that in a nanosecond and enables the compliance people, or the adviser themselves to actually work through the checklist of advice requirements, work through the SOA and see what's missing or what's inconsistent. So, the engine itself could do that really efficiently on its own, or it can step the compliance and the adviser through it.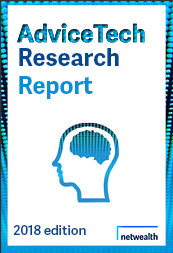 Netwealth 2018 AdviceTech research report
The second Netwealth AdviceTech research report examines twenty-six technologies used by advisers in their practice – their adoption, benefits and key suppliers.

What are the benefits?
SC: The exciting parts for financial advisers from RegTech is that it can just help them get on with talking to clients, so the licensee's can sleep better at night because their regulatory compliance oversight is largely automated. And for advisers that means that they can focus on the advice and the strategies and talking to customers, as apposed to worrying about having to get bogged down with all the compliance and paperwork.

How can advisers keep informed about RegTech?
SC: How do advisers learn and stay informed of RegTech? There's an association called the RegTech Association, and that currently has 37 member firms involved in RegTech, or licensee and wealth managers that are interested in incorporating RegTech into their proposition. So, I'd encourage the viewers to go have a look at the association.