Take outs:
Advisers believe AdviceTech can help the advice industry be more accessible and improve customer perceptions.
Advisers say they are increasing their annual budget spends to AdviceTech, demonstrating a real commitment to this space.
The scope for transformation is exciting given technology plays a relatively low profile in current customer experiences.

Improving customer perceptions of advice as well as the quality of advice have been key issues for the advice industry for many years.
The good news is that technology, specifically AdviceTech, has huge potential to transform the industry, to accelerate its evolution and to help it overcome huge challenges and obstacles.
It is from this optimistic view point that advisers see technology helping them to transform their businesses and the industry's future.
However, as Netwealth's Joint Managing Director Matt Heine, notes, it is a partnership between the two that will release the full potential of advice and technology.
"The advice industry will continue to evolve and adapt and it will thrive over the next decade," he said. "But it really comes down to the individual and to the practice as to whether they go on that journey with it."
The inaugural Netwealth AdviceTech Research Report is great indicator of how far down this collaborative path advisers and technology are.
More than 200 advisers participated in an online survey in 2017, which forms the basis of the report. The survey asked advisers if they used 26 of the listed technologies, or if they planned to in the next 18 months.
The Report also explored adviser's attitudes on what impact technology was having on advice practices.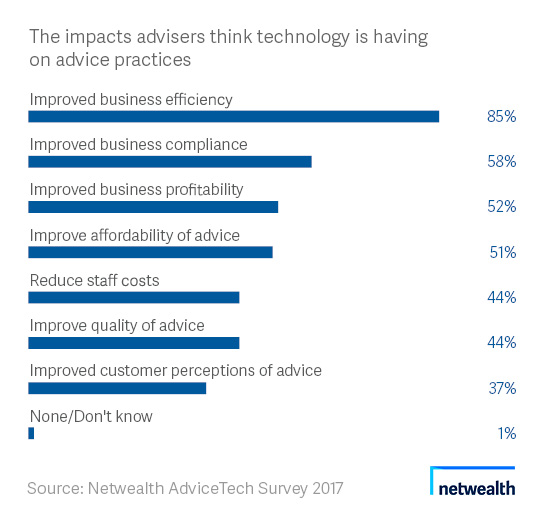 More than a third of advisers (37%) said technology can help improve customer perceptions of advice (see page 5 of report), whilst 44% of advisers indicating technology improves the quality of advice.
AdviceTech's impact is of course much greater, helping advisers to build sustainable practices that can deliver replicable and reliable customer experiences. A significant 85% of advisers said improved business efficiency is the biggest impact technology is having on advice practices today.
Good efficiency has ripple effects across an industry, enabling it to deliver service that is both cost and time effective.

Advisers also indicated that other benefits technology brought to their business included improved business compliance (58% of all respondents), improved business profitability (52%) and improved affordability of advice (51%). A further 44% percent of adviser said technology reduces staff costs.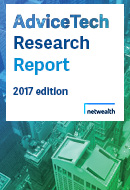 Netwealth 2017 AdviceTech Report
The report paints a picture of how technology is currently being used in the dynamic and evolving advice industry and provides insights into key areas of focus, must-have, high adoption services, and technologies that are regarded as disruptors, but are not yet being adopted.
Improvements in compliance, profitability and affordability of advice are further positive impacts on the advice industry. When they work together, improved perceptions of advice and quality of advice are achievable.
Interestingly, it is the tech providers themselves who are perhaps more cautious than advisers around expectations on what technology can do for their businesses.
"Be realistic," said Ian Dunbar, CEO of SuiteBox. "Technology isn't always the answer. It is only part of the puzzle. You still need to uphold responsibility for processes within."
Dunbar said remaining optimistically cautious about technology is the best approach: "See how different solutions can integrate to help you. You need to have either a willingness to learn or a level of tech awareness before choosing technology."
According to TipRank's Head of Asia Pacific, Sean Ickowicz the key to setting technology up for success is integration.
"Technology is here to enhance and improve, not replace. You can't simply add this to your product or service mix without ensuring you have not neglected any stage of the advice process."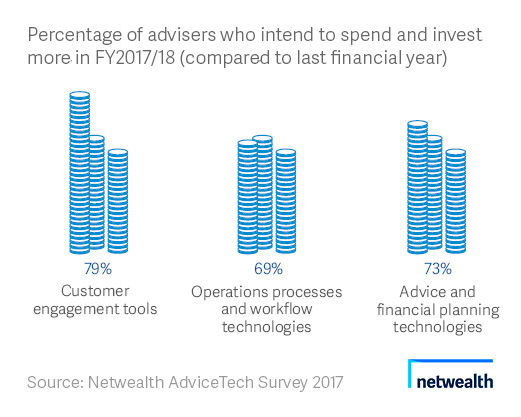 Given this favourable view on what technology is doing for advice practices, it is not surprising to find most advisers are planning bigger budget spends for FY2017/2018 (see page 6 of report).
Seventy-three percent of advisers said they were going to spend and invest more next financial year when compared to this financial year, on advice and financial planning technologies.
The big winner is customer engagement tools, with 79% of advisers looking to spend and invest more next financial year, while 69% plan to spend more on operations processes and workflow technologies. This increase in expenditure will also be good news for advice customers.
Perhaps most exciting is while advisers are embracing AdviceTech and plan to increase expenditure on it, currently they do not heavily use technology in their customer experiences, meaning the transformation of customer's experiences could be huge.
Most advisers (64%) describe the role technology plays in the customer experience as "technology aids, but is not the focus of the customer engagement experience."
A further 23% report 'technology is not part of the engagement experience, or only plays a small part', whilst only 10% of advisers describe 'technology as pervasive in all their customer engagement interactions'.
So, the question now is really, what will be the true commitment of advisers to AdviceTech?
"We need great technology and forward-thinking people, working together to break down barriers, create opportunities and build new horizons," said Heine.
"But we also need advisers who are willing to embrace new technologies and adapt their business processes and models by recognising new opportunities and spotting trends that matter."