Cash flow and budgeting technology can give you a more holistic view of your client's wealth, allowing you to deliver more effective advice. Peter Malekas of Moneysoft shares four components of this technology to consider before implementing.


Read the full video transcript

Peter Malekas: Moneysoft was born to serve a need about transposing data from a client to an adviser in an efficient way, and then enabling an adviser to efficiently have data on an ongoing basis, and be able to provide service offerings around that data.

What do advisers need to consider when implementing cash flow and budgeting tools?
PM: The considerations that any advice practice needs to have is the same as implementing any other form of technology or service in an advice business. We have four components that sort of play out in any offering, and as I mentioned prior is the data, the technology, the people and also the process. And what you need to do as a business is actually identify what data that you're trying to achieve out of implementing such an offering. Is it part of your core offering, or is it an extended offering?
The second is, who's going to be running this? Is it the adviser themselves, or is it their extended staff that are around? Para-planners, etc. Or service officers. The third is, the client needs to be engaged as well. So one of the key things is actually about bringing the client on board to a journey, and we believe in the relationship in a cashflow-as-a-service offering. An adviser can't deliver a result to a client without the client input. It's not like an investment product. You need the client buy-in. You need the client to be able to understand that their financial literacy levels need to be enhanced, and they need to understand the reasons why their impacts or their information has a greater impact on their own financial circumstances for the greater good for the long term.
When you get to that point, then you start looking at the technology, and there's many forms of technology that can actually deliver a cashflow-as-a-service. I say to many advisers, "Why won't you use Excel?" You can do it. But it's not automated. So there's the piece around automation that needs to come into it as well. So what you need beyond the automation and once you've actually chosen the technology, is you need to have the technology partner that's going to go on the journey and actually understand both the business that you're in, but also how you want to try and deliver it. And that's where the offering needs to be in such a way, very similar to advice practices in Australia, no two are exactly the same.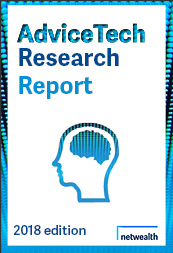 Netwealth 2018 AdviceTech research report
The second Netwealth AdviceTech research report examines twenty-six technologies used by advisers in their practice – their adoption, benefits and key suppliers.
So the offering needs to be in such a way that the software can be customised. Can be delivered in a way to many clients, in many formats, but still run off the same platform. So, there's more to cash flow than what many advisers think. There's more to cash flow than just the technology. The technology is not going to actually solve the problem for you. It's the process, it's the training, it's the investment that you put yourself through in the beginning, that once you've reached a certain point, you then get not only scale or scalability capability, but you also get a return on the investment within your business as well.
So, the key to it is, what are you trying to achieve? How much input are you going to have into it? And what is the return on the investment that you're trying to get out of it by way of either existing efficiencies, on what you're currently doing within your business, i.e., collecting data and being able to represent that data back to clients, across all your clients. Or an additional offering that's going to be able to serve X number of clients and provide you Y as a return on the investment.

Learn more about cash flow and budgeting tools
Read How cash flow and budgeting tech can boost your business and download the 2018 AdviceTech research report.