Scaled advice can help advisers make advice accessible to more Australians and keep clients within their ecosystem. Julian Plummer, co-founder and managing director of Midwinter explains more.



Read the full video transcript

Julian Plummer: I'm Managing Director of Midwinter. Midwinter produces software called AdviceOS, that helps advisers produce and manage advice within their practice. We've been around since 2006, and we have a whole range of scaled advice and comprehensive advice tools to help advisers produce advice for their clients.

What is scaled advice?
JP: Scaled advice has been around for a long time, and a lot of the confusion comes from the name itself. So, scaled advice is just personal financial advice that is limited in nature. And so it came around from the FOFA  reforms. And it was from an understanding that clients don't want, or may not want to have a whole comprehensive piece of advice done for them. They just want to do things in a step-by-step, piecemeal process. Scaled advice is just personal financial advice that's just limited in scope. For instance, super switching. Moving from superannuation to the pension phase. And being able to take those quite complex topics and just attack them one by one. It's something that a lot of Australians, I think, are helping them understand the benefits of advice and helping them get advice that is cheap, and that is accessible. I think that's the main two benefits of scaled advice.

How can scaled advice complement an adviser's service offering?
JP: What I'd say to advisers that are thinking about scaled advice is don't treat it as a sunk cost. It is an opportunity for you to keep your clients in your ecosystem. Now, it may be the case that you specialise in comprehensive advice. But if you have a client that's going out there, and they want some specific piece of advice about something that's happening to them in their life, they should be able to have that advice. And you don't want them going off and talking to another financial planner. You want to keep them in your own ecosystem, and make sure that you're in charge of their personal circumstances.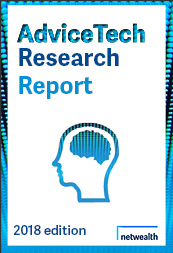 Netwealth 2018 AdviceTech research report
The second Netwealth AdviceTech research report examines twenty-six technologies used by advisers in their practice – their adoption, benefits and key suppliers.
What do advisers need to do or consider when setting up a scaled advice offering?
JP: Scaled advice should be a very easy thing for you to be able to implement. So, a modern scaled advice tool should be completely configurable. Now, what do I mean by that? In the old days, you would have to go and customise your solution, which means you have third party consultants come in and customise the code, and make sure that the software absolutely meets your requirements. These days, with modern cloud applications, it's all configurable in the back-end, so you don't need these third party consultants to come in. So it should be completely configurable. You should be able to upload your dealer group template or your compliance requirements, your expected rates of returns, your licensee inflation rate that the research department has signed off on. You input all these inputs into the scaled advice tool, and it should be quite simple from then on, to be able to produce advice, quite quickly and cohesively using the scaled advice tool.

What are some considerations, beyond technology, when implementing scales advice?
JP: There's a whole host of other considerations advisers should think about, beyond technology, when it comes to looking at scaled advice tools. First place to start looking at is the marketing. Making sure that your website reflects what information or what services you provide, and making sure that the information is consistent. Now, if you've got a scaled advice tool and you've got a comprehensive tool, making sure that the outcomes and the outputs are consistent. And so you're not getting one answer from one system and which is incompatible to another. And it makes you look like you're unsure of your advice. So you've got to invest in your systems, make sure that it's compatible with the rest of your advice and sits in well with your business processes and your philosophy of how you give advice as well.

Learn more about scaled advice
Read Scale up your practice with scaled advice and download the 2018 AdviceTech research report.