At Netwealth we continually enhance our platform, and every month we summarise the most useful updates. In July 2018, we have the following exciting announcements:
1. New look, new navigation (coming soon)
'Ease of use' is a critical requirement for any good website and is often reflected by an intuitive navigation. We embarked on a project to critically examine our existing user interface, challenging our designers and technology team to think differently and to develop a more intuitive way for advisers and investors to interact with us online.
After months of research, hundreds of design iterations and plenty of user testing, we have built an online platform that we think achieves this.
The updated menu system helps you locate key tools and information quickly
Easily toggle between your business and client view saving time when completing multiple transactions
The client search bar is always available showing your top 5 last accessed clients, making it easy to work on more than one client at a time
A more modern design that utilises the screen real estate of larger workplace monitors, yet is able to resize for smaller laptop and tablet computers.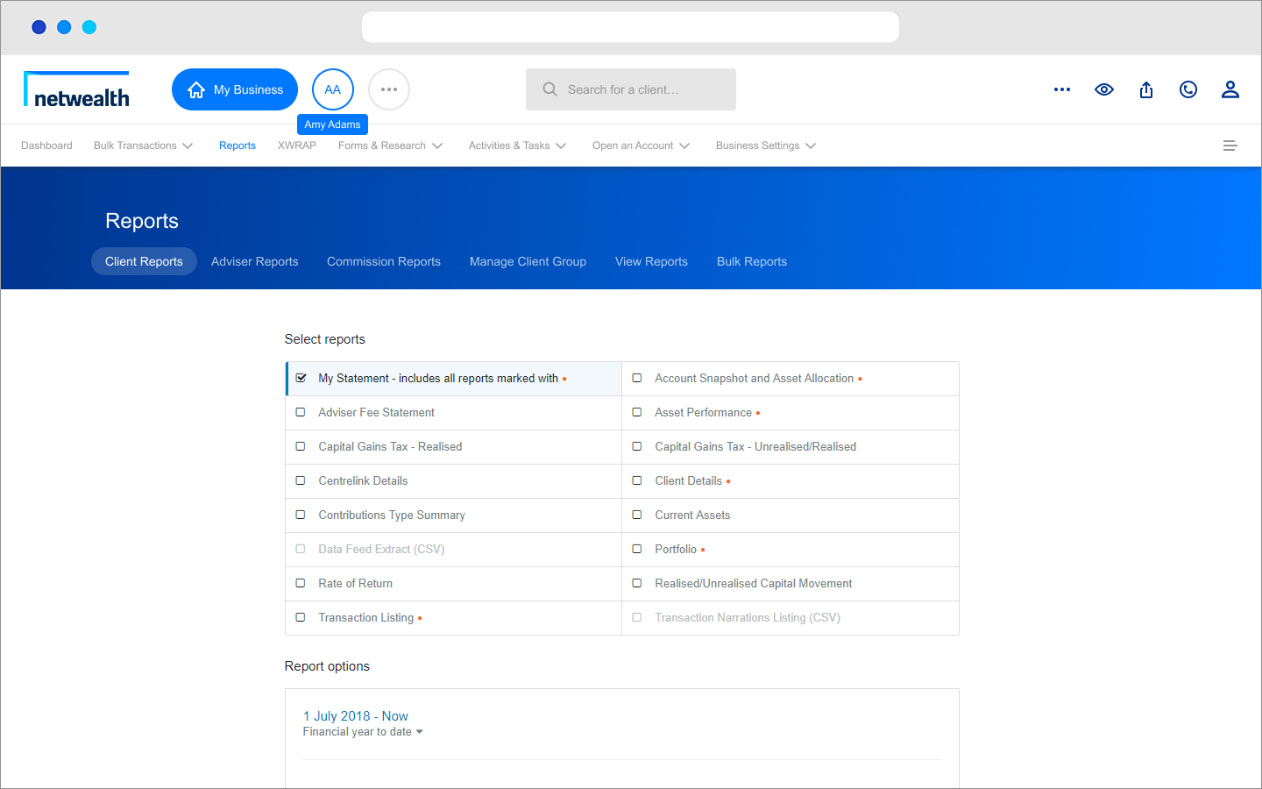 Adviser portal - Bulk client reports (development almost complete)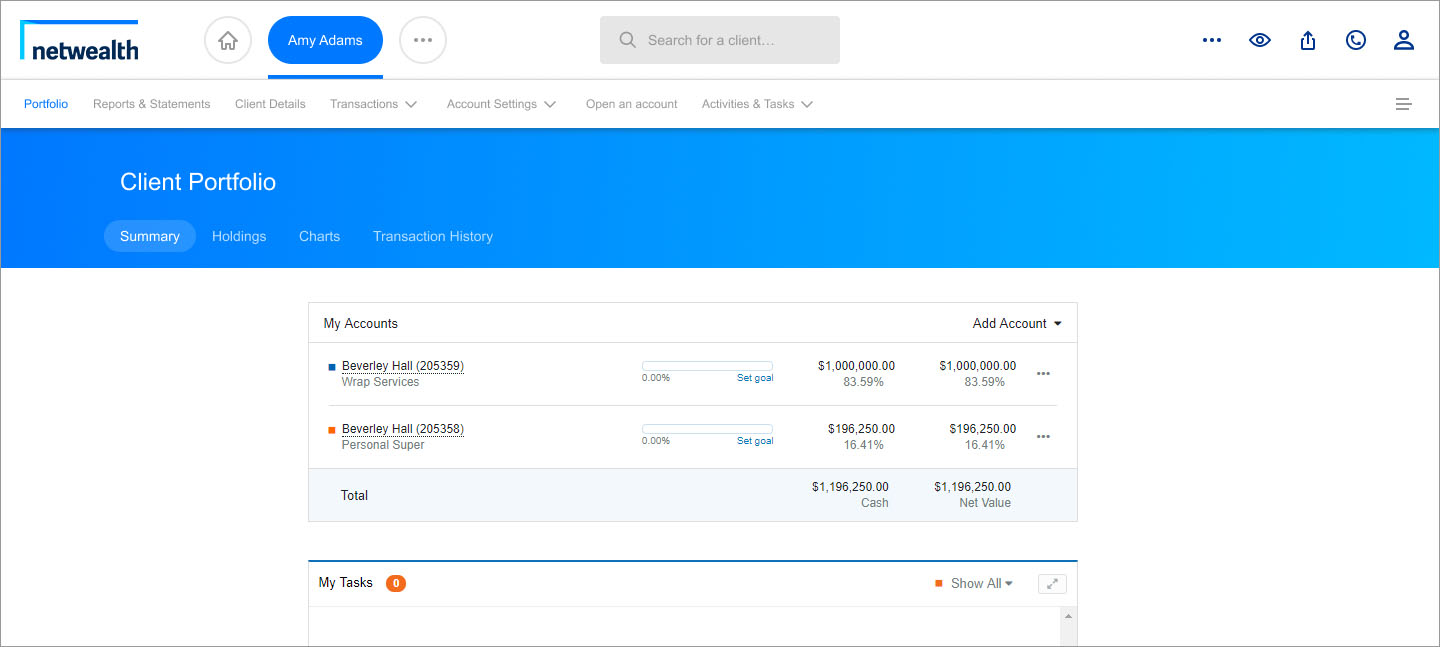 Client view - Portfolio summary (development almost complete)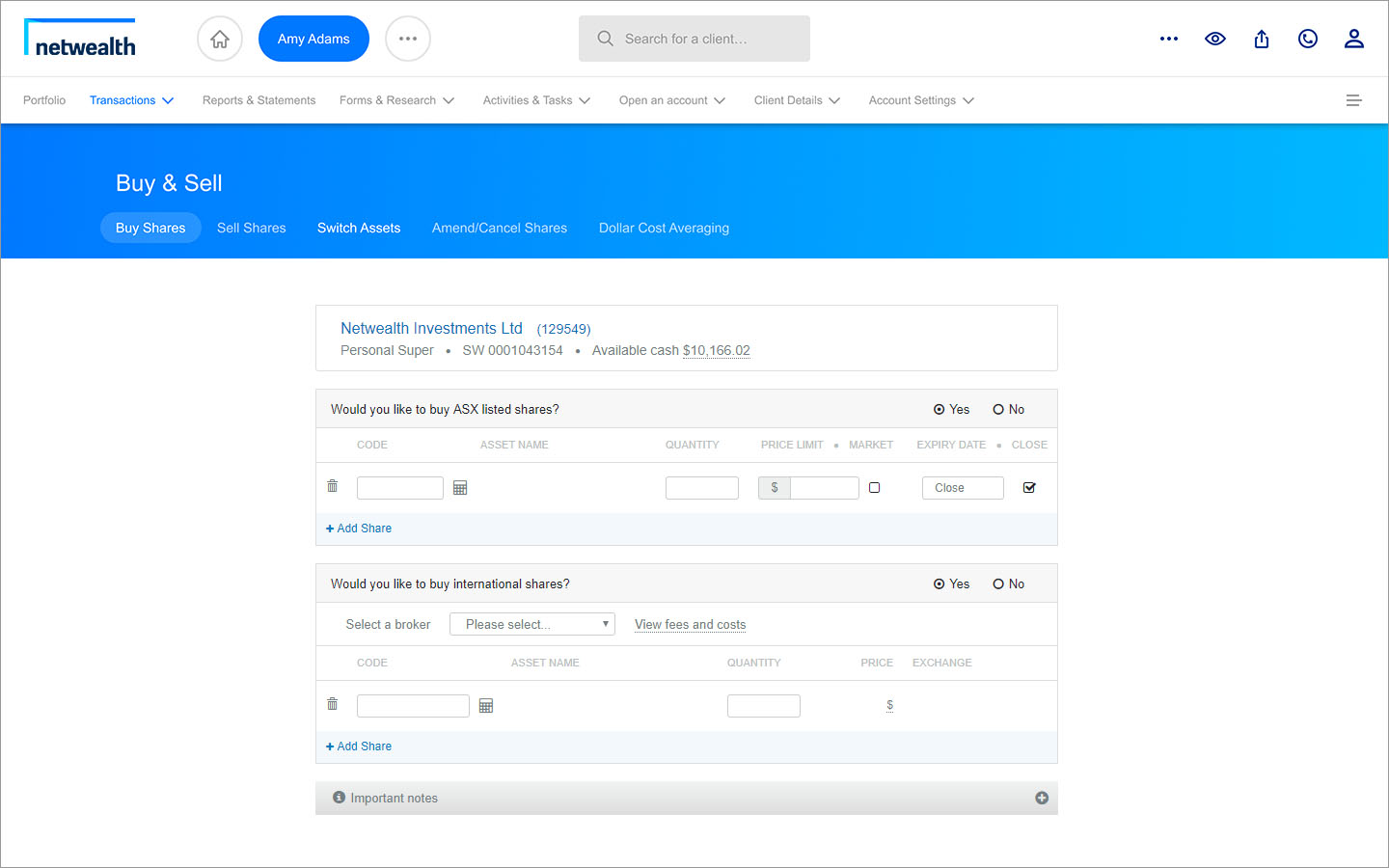 Client view - Buy shares (illustration only)
2. Receiving and tracking client tax statements
Netwealth will generate client Wrap Service Tax Statements in weekly batches commencing the start of August for both Investment Wrap and Wealth Accelerator account holders. Once generated, clients and advisers can view Tax Statements online. To do this select a client and then click on Client Details > Reports & Statements. Unless you have opted-out of receiving Tax Statements, copies of all Tax Statements will be issued to advisers by email, and to clients via their preferred method of correspondence.
Important information that you should be aware of:
Tracking incomplete tax statements
A tool is available to assist you and your clients track the status of Tax Statements and see any assets where we are yet to receive year-end tax information from fund managers or registries. To access this, select a client and then click on the View statements tab in Client Details > Reports & Statements.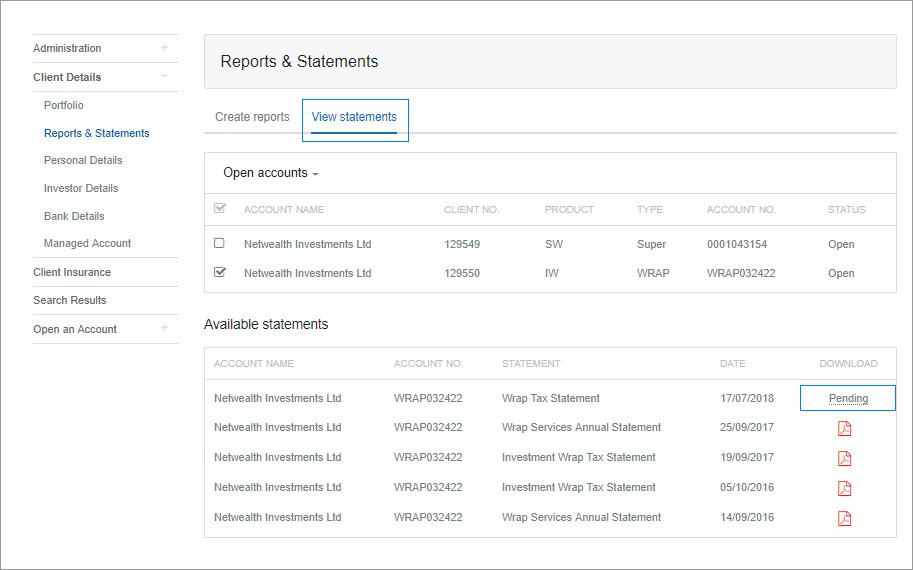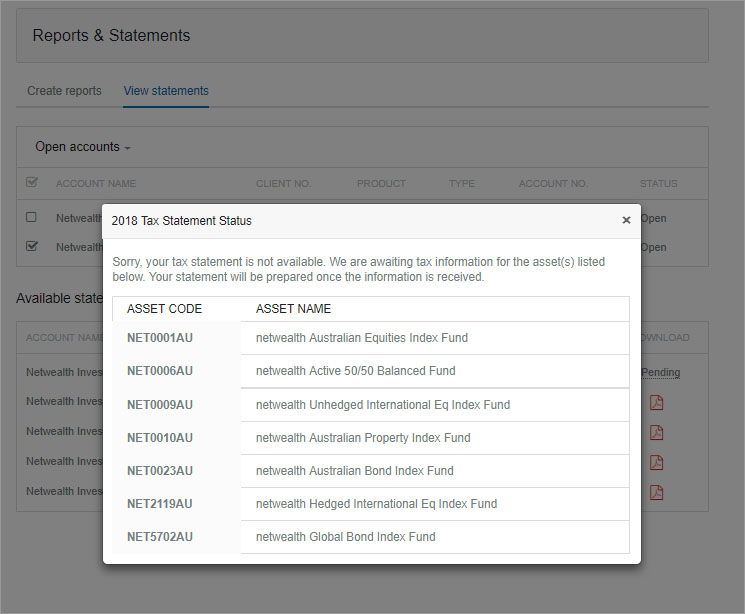 You are also able to track the status of a number of clients Tax Statements at once or in in bulk:
Navigate to My Reports
Select Adviser Reports
Choose the Tax Statement Tracking report
Select a group of clients and then run the report
Once generated, go to View Report and download the Excel spreadsheet. This will show a list of clients, the date the Tax Statement was completed OR a list of the assets for which are still awaiting final year-end tax information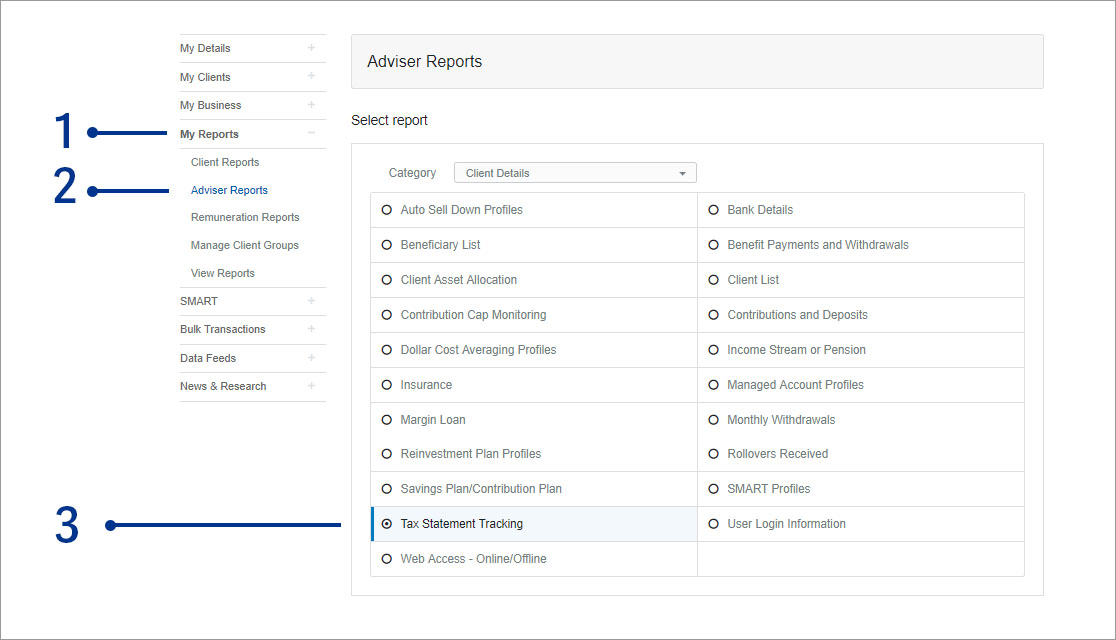 Updated Tax Statement look and feel
We have updated the way that our Tax Statements are presented to your clients with a modern and easier to understand design.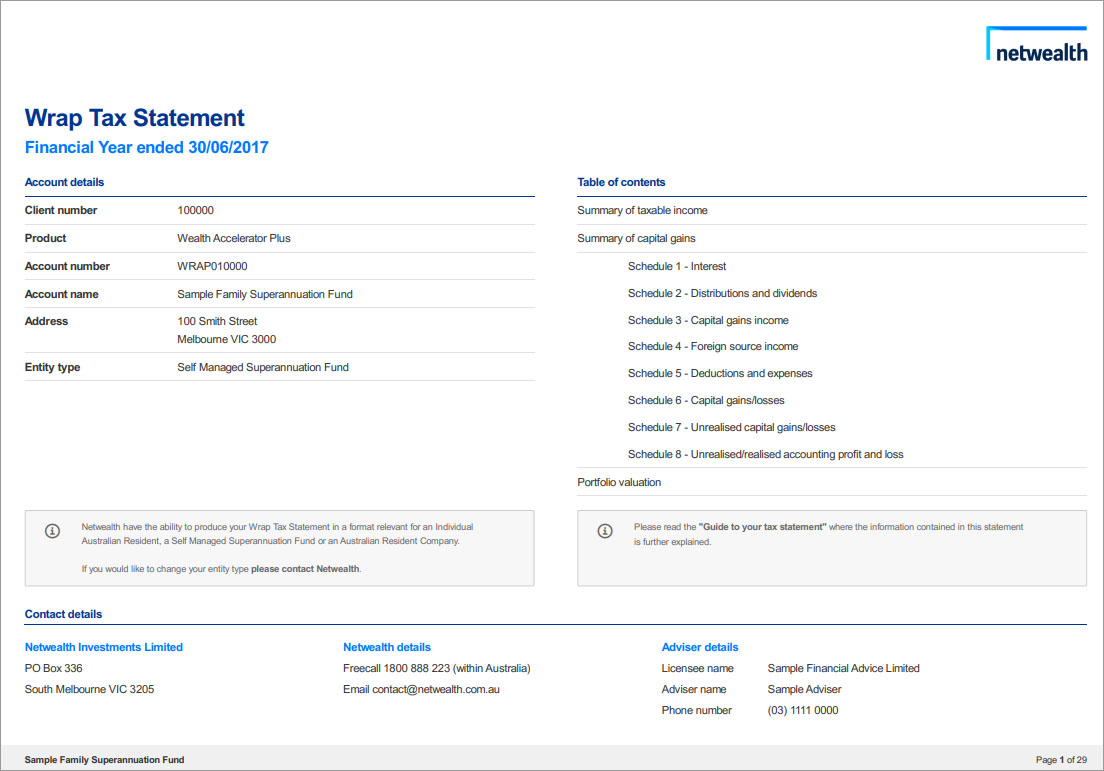 3. The latest investment research tools for local and international markets
See investments in a fresh way with access to comprehensive research data and tools on local and global markets.


Thinking of investing in US shares? What to know what US stocks are trending now?
Through our partnership with fintech provider TipRanks, view buy, sell and hold recommendations from analysts, insider and hedge fund transactions and blogger sentiment.
To access this information:
Login to your account
Click on News & Research > US Research
Review the trending stocks or search for a US security (that is approved on the Netwealth platform)
Use the tabs to select from analyst consensus, insider transactions, hedge fund activity and social (media) consensus.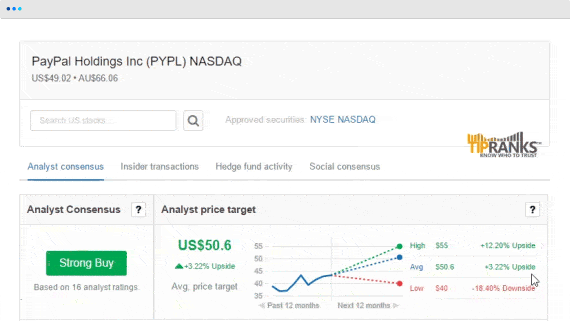 If it's managed fund research you're looking for, try the compare funds and models tool
Get the latest research data and commentary, plus compare and contrast managed funds and managed account models. See performance data, costs and use powerful filtering tools to identify funds by manager and asset classes.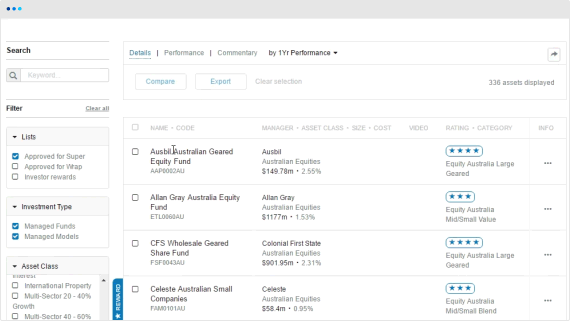 To access this information:
Login to your account
Click on News & Research > Compare Funds & Models
Click on Search for a fund or model by name or use the filters to narrow down your list to 'compare'
Filter out funds that will reward your clients - Our size and strong relationships mean you can receive a discount of 0.10% of the value of the money held in funds on the Investor Rewards Menu each year. Currently the program has over 45 managed funds from 25+ managers
Change the view at the top to show details, performance or commentary
Create a list of your favourites for easy access later
Download Morningstar fund research and PDS
Export assets into an excel spreadsheet
Check unit price, create your own watchlists or set up alerts for ASX listed shares.
Stay up-to-date with changes in the Australian stock market. Get access to live prices and market depth charts on individual stocks, as well as the ability to set up personalised stock watchlists and stock alert email notifications.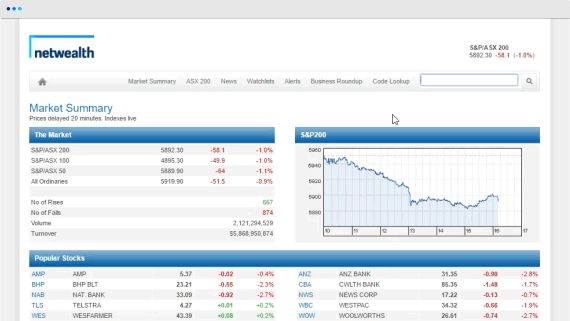 To access this information:
Login to your account
Click on News & Research > ASX Live Data
For more information on any of these features, please get in touch with your local training and relationship manager or contact us on contact@netwealth.com.au or call 1800 888 223.