1. Additional control over managed account minimum trade sizes
We have added the ability to set minimum trade sizes by the percentage of total dollars invested in that managed account. This is in addition to being able to set a minimum trade size by a dollar amount.
The purpose of this feature is to assist in managing the number of small trades that may occur as the account grows, thereby potentially saving you time.
To set a minimum trade percent select the client then navigate to Client details>Investment preferences and enter the percentage desired in the Minimum trade percent box.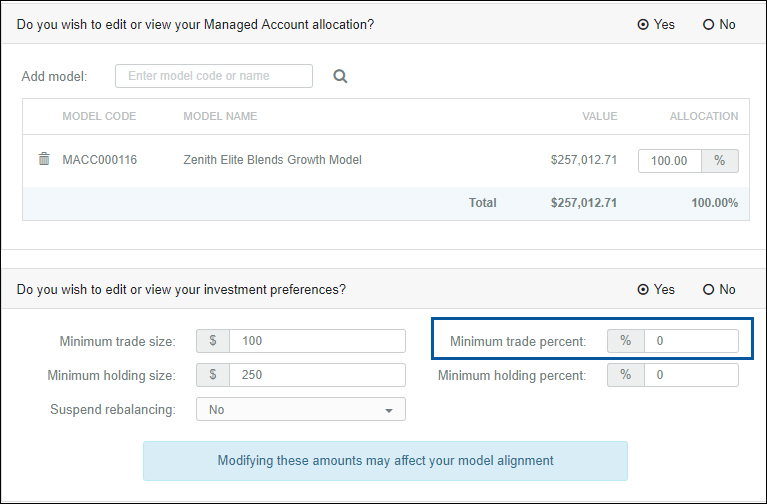 The rebalance process calculates which of the two Minimum trade size settings produces the higher value, then uses that value to determine if the rebalance process will find a trade to send to market.
For example, if a client has a managed account value of $257,000 and you set the minimum trade size to $100 and minimum trade percent to 0.10% then the new minimum trade amount will be $257,000 x 0.10% = $257. 
2. New client reports available
Netwealth is excited to advise that a new client report has been released and that more are in the process of being developed. Designed for clear and modern presentation of account details along with informative overviews that include graphical representations of data, the new client reports are being created to provide comprehensive information to clients and advisers.
Asset Performance – Detail Report
View return data for assets held in an account, as well as the overall portfolio return, for the selected report period.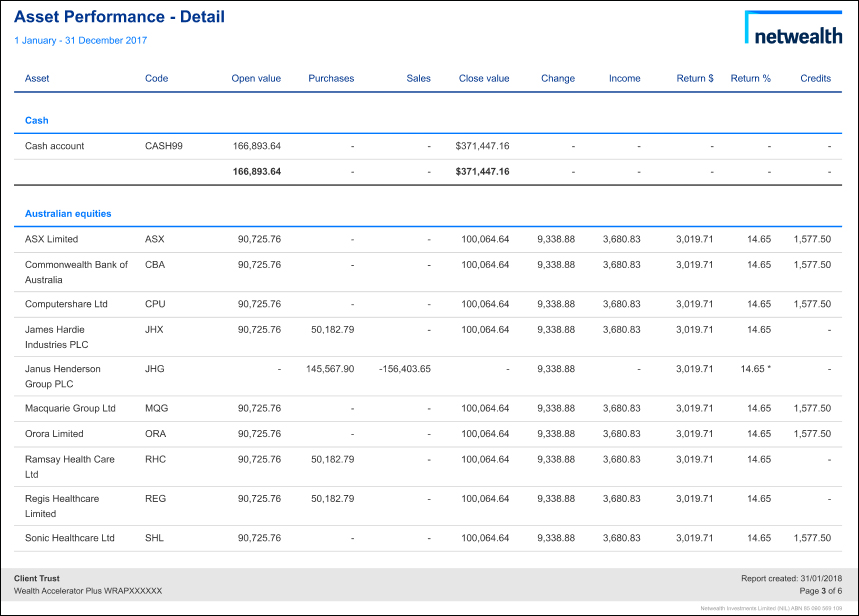 You can access this new report by selecting a client and clicking Client Details>Reports and Statements on the left-hand side menu then choosing Asset performance - Detail (New format).
Later in the year, we will look to update this report to highlight assets that have not been held for the full report period, thereby indicating that the assets' reported returns are actually sub-period returns.
Portfolio performance report
This report displays portfolio returns across commonly reported periods in tabular and graphical format, providing a comprehensive and easy to digest summary of the portfolio's performance.
The report will be similar to the following sample: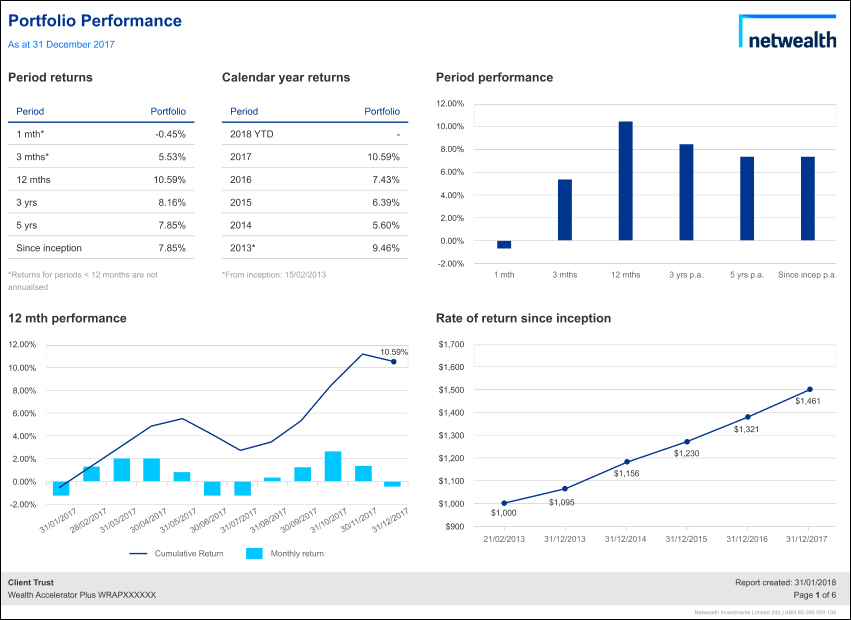 Later this year, when the data becomes available, it is intended that this report will also enable comparisons to a range of benchmarks: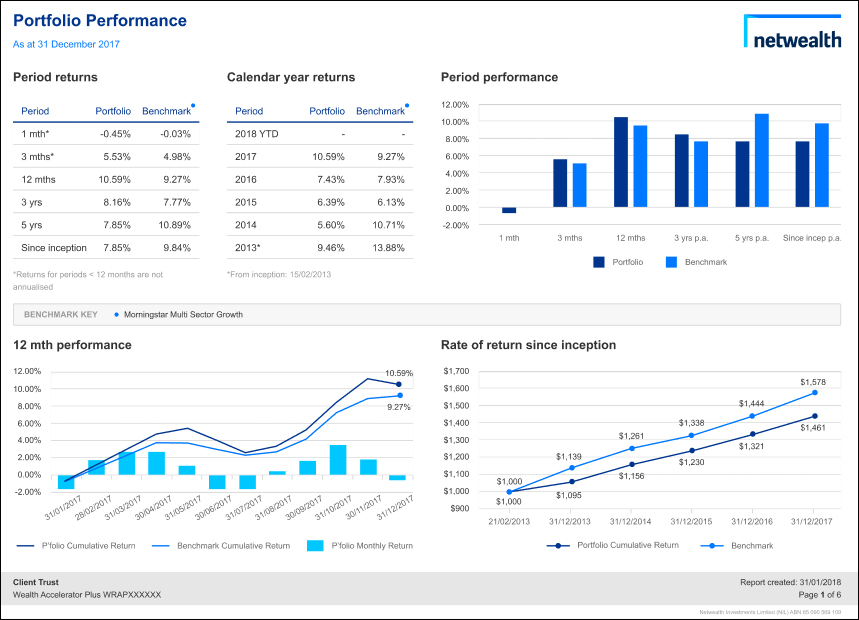 Portfolio Valuation - Detail report
This report provides asset and portfolio valuations in the new reporting style, as well as the ability for users to choose to produce consolidated reports across multiple selected accounts. 
The new report will look similar to the following sample: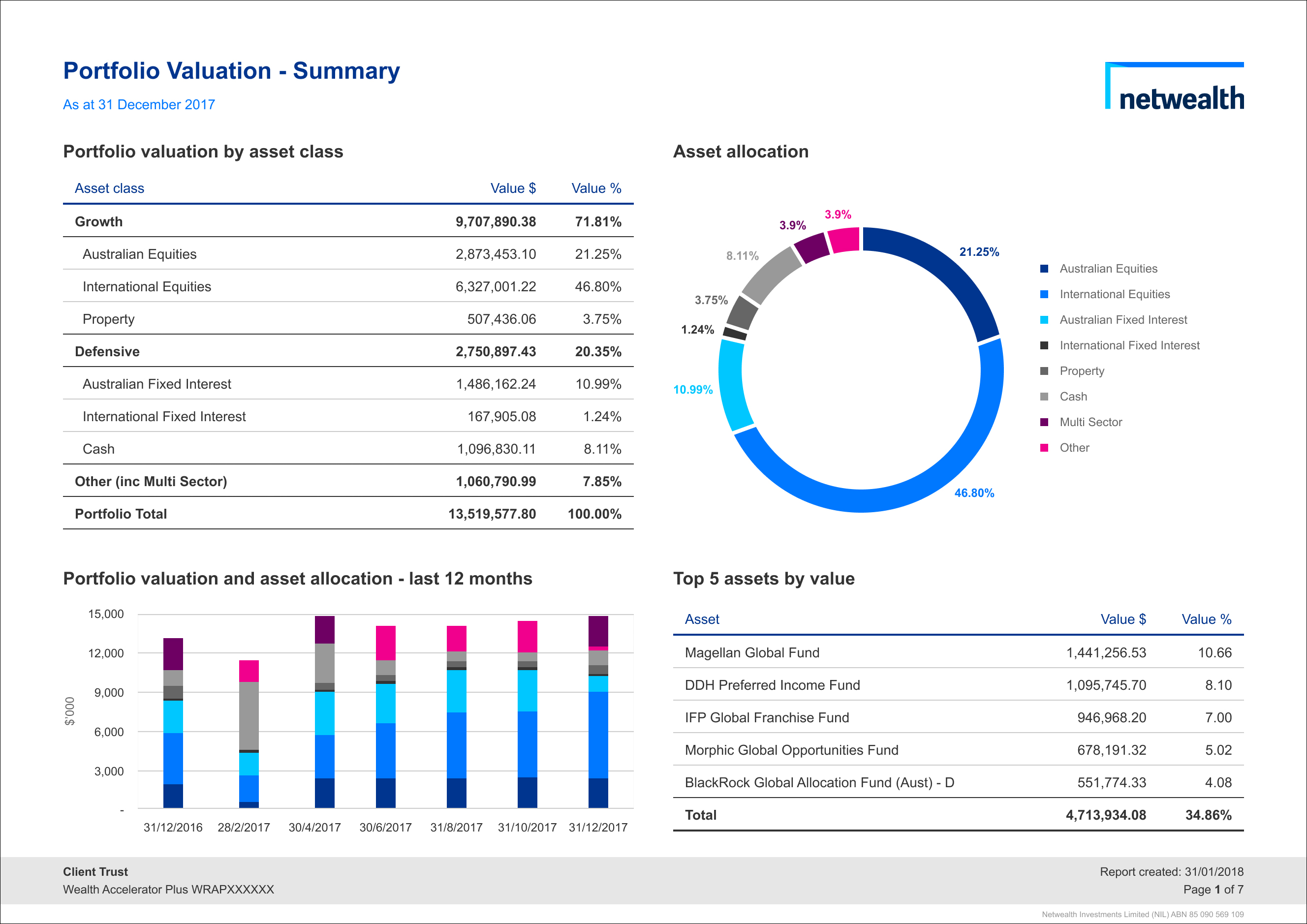 Portfolio Valuation - Summary report
This report provides a 1-page summary of the portfolio information contained in the Portfolio Valuation - Detail Report. Asset allocations will be provided in tabular and graphical formats, as well as in a time series, and the report will also highlight the top 5 assets by value. This report will be available on a single account or consolidated basis, as selected by the user.
The new report will look similar to the following sample, with some content still subject to minor changes: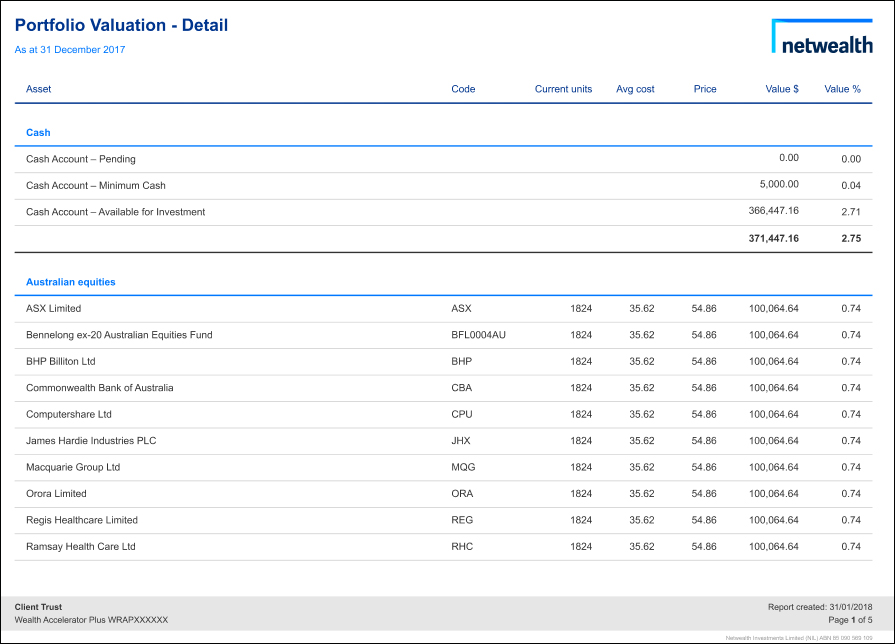 Other report enhancements to follow are likely to include upgrades to the Performance Reports to enable consolidated reporting, release of an enhanced Account Snapshot Report and a new Asset Performance – Summary Report. We will also be enhancing our current client reports with the new styling. All reports will be available in PDF versions initially, with Excel and online (HTML) versions to follow.
3. End of financial year cut-off dates for super contributions
Below is a summary of the general guidelines for end of financial year deposits. A reminder that the 30th of June falls on a Saturday this year so bank transactions may not be processed on this day.
Electronic Funds Transfer (EFT)
Any payments made by EFT to our bank account need to be received on our bank statement dated on or before 30/06/18. The client will need to confirm with their bank how long the transfer may take but any payment received on our bank statement dated on or before 30/06/18 will be paid in this financial year. Generally an EFT Deposit is processed overnight except for Credit Union accounts.
BPAY
Generally BPAY takes 2 business days to transfer but may require up to 4 business days (according to the provider's Term and Conditions). It is recommended that payment should be made no later than Monday 25th June.
Branch deposit
If clients are paying via their bank branch they will need to confirm with the teller that the funds will appear on our bank statement by 30/06/18. If they are depositing a non-ANZ cheque it could take a few days to clear.
Please note that bank details provided for EFT deposits are not sufficient for branch deposits. The details clients will need to quote are listed below:
| | |
| --- | --- |
| Account name: | netwealth Applications Account |
| BSB: | 013 030 |
| Account No: | 837557601 |
| Description: | netwealth account details* |
* There is a restriction on branch deposits where descriptions can only be numeric. Therefore clients cannot quote a wrap account number. They should use the same logic as EFT – start with 999 as a replacement to the word WRAP.
Please forward your bank receipt to remittance@netwealth.com.au
Cheque

Any cheques need to be received physically in our office on 29/06/2018 by 5:00pm.
DDR
If the client is requesting us to direct debit their bank account, they will need to ensure that we receive the DDR form on Thursday 28/06/2018 by 12:00pm.

4. Participation in class actions from 1 June
We are pleased to announce that from 1 June 2018 we will provide the ability to participate in Class Actions. 
Information on open Class Actions will be available in the Corporate Actions Diary (navigate to Adviser>Resources and tools>Corporate actions). This service will be available to clients who have a Netwealth Wealth Accelerator or Investment Wrap account and who meet the eligibility criteria as specified for each Class Action.
For clients with Super Accelerator or Super Wrap accounts, from 1 June 2018 Netwealth as Trustee will determine in its absolute discretion whether to participate in a Class Action on behalf of members. Details of Class Actions the Trustee has participated in will be published on the Member Information page (Personal>Resources and tools>Member Information). This page will first be updated by 31 July 2018 for the quarter ending 30 June 2018, and will be updated each quarter thereafter. Super members wishing to understand if the Trustee has participated in any Class Actions on their behalf can obtain information by contacting Netwealth's Investor Services team.
To learn more, contact your local training and Relationship Manager.