We have a range of fee functionality available on our platform to help you run your business how you want to.

Choose from flexible fee options that can be constructed at either licensee or adviser level. Implement tiered and/or fixed fees. Also family fee groups allow you to link accounts of family members, related trusts, companies and SMSFs to reduce administration costs.
Releasing clients
You have the ability to release clients from your portfolio and Licensee.
To do so select the client you would like removed and navigate to Manage Fees>Update Fees/Release on the left-hand side menu.
Please be aware that by submitting this transaction you are agreeing to release the client and linked accounts from your adviser code and Licensee. Once the accounts have been released you will no longer have authority to transact or enquire on their behalf and all fees will be removed.
Select 'Yes' and then click 'Submit' to release the client.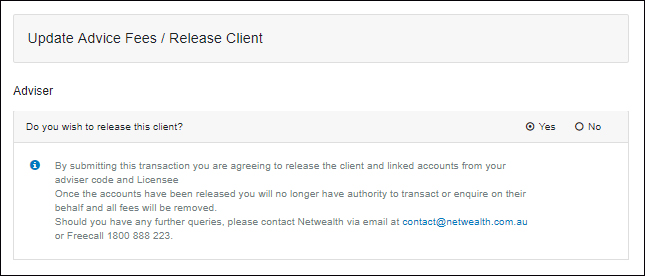 A summary screen will appear for confirmation: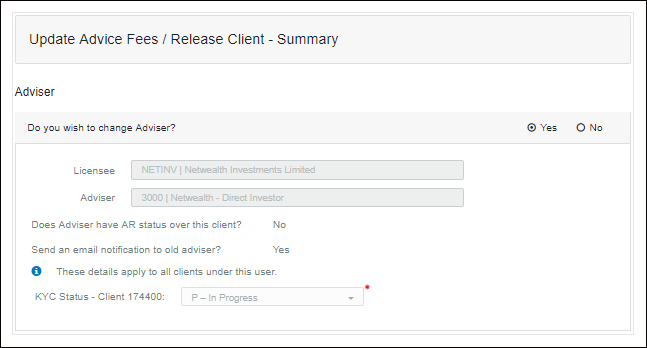 Update fees online
Ad-Hoc fees and rebates can be updated in our platform by selecting a client and navigating to Manage Fees>Ad-Hoc Fee/Rebate
a. Fee payments
Notes:
If a client has online/transact access, a notification will be sent to the client via SMS, or email if they do not have a mobile on file, that a fee proposal is awaiting their review and approval.
The fee proposal will remain outstanding for 14 days for the client to approve. If not approved after 14 days the proposal will be removed.
If a client does not have online/transact access, a PDF of the fee proposal will be generated for the adviser to send to the client for authorisation. Once the client has signed the PDF this can be uploaded via the Adviser Document Upload Tool for Netwealth to approve from the the and load the transaction submitted by the adviser. The Transaction will remain with Netwealth to approve for 14 days from when the fee proposal is generated.

For Super accounts (screenshot):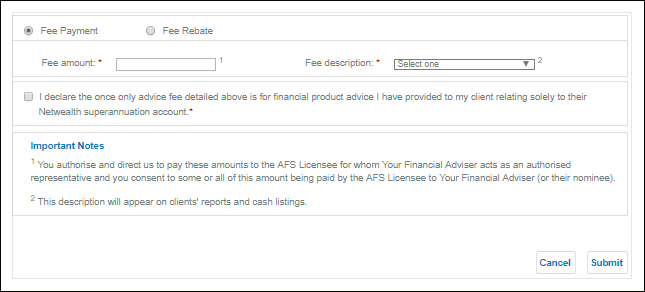 For Wrap accounts (screenshot):

b. Fee rebates
Note: Once submitted the transaction will be reviewed by Netwealth before approval.

c. Update ongoing advice fees
Access by navigating to Manage Fees>Update Fees/Release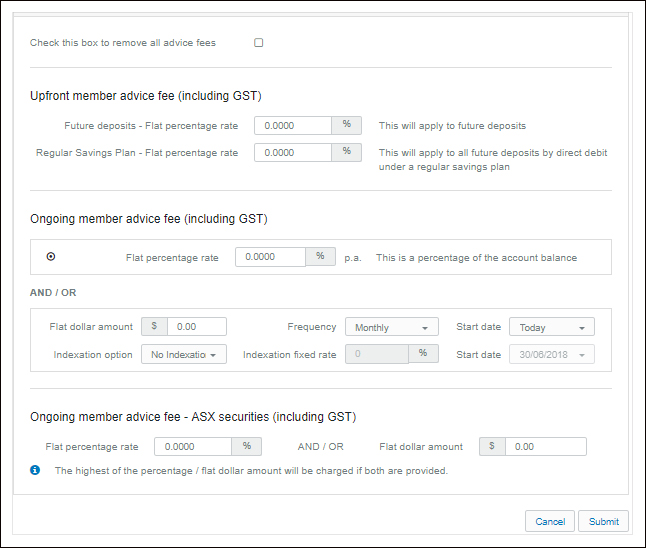 Notes:
If a fee increases or is changed from a flat dollar amount to a flat or tiered percentage rate is made, a notification will be sent to the client (if they have online/transact or online/browse access) via SMS or email advising that a fee proposal is awaiting their review and approval.
If a fee decrease is made or there is a removal of fees, this will be automatically approved and will be applied to the client's account.
Client fee confirmations

To view confirmation of the client's current fee arrangement navigate to Manage Fees>Client. Any future dated fee profiles will only show once that future fee period has commenced.
You and your client can view all current fees and any Family Fee Grouping (if a member of a family fee group).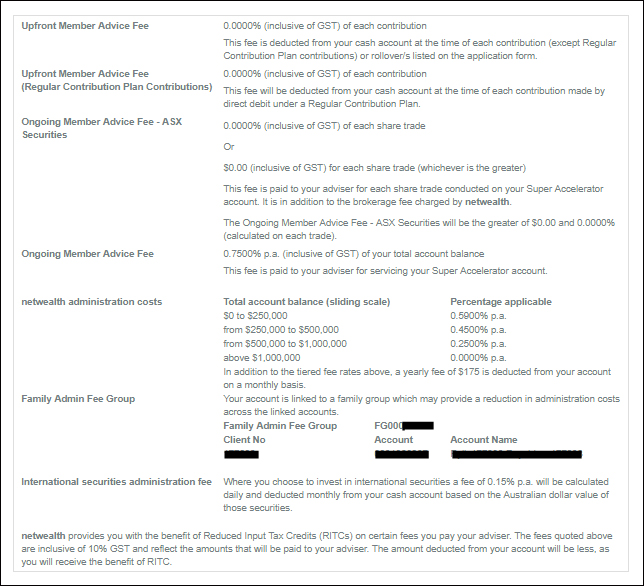 Family fee linking
A family group can have a maximum of six linked accounts and can include the following:
Members of the same immediate family (spouse, de facto/domestic partner, child, parent, sibling and grandchild); and
Companies, family trusts, and self-managed superannuation funds, provided the directors/beneficiaries are members of the same immediate family.
Family linked client accounts must be in the same product and have the same service management fees:
Super Wrap and Investment Wrap accounts may be linked with one another.
Super Accelerator Plus and Wealth Accelerator Plus accounts may be linked with one another.
 Accelerator Core and Russell Investment Wealth Series and Super Series accounts cannot be Family Fee linked.
Once the accounts are linked the Service Management Fees are aggregated across all accounts providing each individual account lower fees than stand alone accounts.
Advisers can create/edit/maintain Family Fee Groups via My Business>Family Fee Groups.

Upload documents online
Advisers have the ability to upload documents online via out Document Upload tool which will send an upload confirmation once completed.
This feature removes, in most cases, the need to send your document to Netwealth Contact and may save you the need to print and scan client documents. Learn more.
Simply navigate to My Business>Document Uploader and upload the digitally signed document.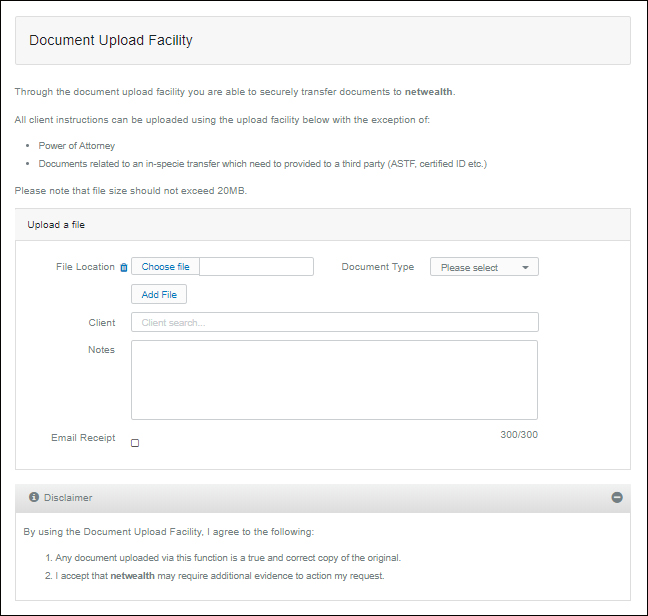 To learn more, contact your local local training and Relationship Manager.