With an interest in technology that has spanned over 15 years of his financial services career, Ian Dunbar has always been looking for ways to create and implement transformational technology.
During his time at UBS, he built and ran their business investment platform. This project developed a real thirst to be even more involved in the development of cutting edge and transformational technology, which saw Ian become the CEO of SuiteBox.
SuiteBox is a digital workspace for advisers that not only supports the delivery of advice but also helps advisers increase their revenue and protect their businesses. All this is achieved through smart technology combined with video and document collaboration.
"SuiteBox helps drive efficiencies, sales, engagement and access to advice. Originally considered a start up, I think we are now beyond this stage largely due to the substantial growth experienced over the past 12 months and new relationships with several blue-chip corporations."
"I like the phrase 'bionic is binder.' What do I mean by this? Simply that I believe the technology will give advisers the tools they need in order to outsource processes so they have the time to focus purely on the client via advice, coaching and support."
When discussing the innovative nature of SuiteBox, Ian says: "I consider SuiteBox as innovative, without a doubt. We are always looking at ways to push the envelope further for our customers. For example, our cutting edge technology brings together secure video meetings with collaborative tools that help accelerate sales and grow businesses faster whilst managing regulation, compliance and more. We're constantly creating a new level of deliverable technology and can honestly say that no one, on a global basis, is delivering some of components SuiteBox does."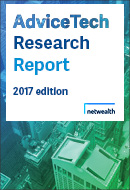 Netwealth 2017 AdviceTech Report
The report paints a picture of how technology is currently being used in the dynamic and evolving advice industry and provides insights into key areas of focus, must-have, high adoption services, and technologies that are regarded as disruptors, but are not yet being adopted.
Highs and lows of technology
With ample experience in the AdviceTech space, Ian is in an optimal position to identify the main highs and lows of technology. According to Ian the ability to work with clients to deliver true needs-based solutions is a definite high point.
"We can evaluate requirements and act nimbly to deliver a solution with speed so they can keep moving their business forward."
He adds: "However the flipside is that when it comes to technology everything takes twice as long, is twice as expensive and is twice as complicated as you envision it to be. Sometimes I am more ambitious and excited than the reality of what the technology can actually deliver."
To Ian, technology is only ever part of the solution. This is because in financial services it's a combination of three things that create a powerful outcome – people (their skills and ability), processes (in the business) and technology.
With regards to the people element, Ian believes there is a large portion of the industry yet to understand what change really means.
"Currently there is a low level of tech awareness and this is an impediment to change. Here the onus is on providers such as ourselves to educate the wider market on how technology can benefit their business and clients. I also feel strongly that dealer groups need to proactively support their advisers when it comes to technology. They need to educate, help them explore options and show them what's available to assist their business and clients."
Innovation on steroids
According to Ian, the current level of innovation in the AdviceTech space is frenetic.
"The level of innovation in the AdviceTech space has exploded over the past 2.5 years. Just a few years back robo-advice was a really basic concept and now we have over 200 companies operating in the AdviceTech space and this is continuing to grow at a rapid pace."
Ian anticipates that in the future this frenetic pace will evolve to see the emergence of connective technology that will create an adviser ecosystem. In this ecosystem, numerous AdviceTech providers will work together to deliver integrated solutions which will be curated solutions and fit for purpose. They will then deliver a holistic tech solution for advisers, which is more efficient and manageable than them handpicking each element.
"Looking forward to the advice space in 2025, I think that the more manually algorithmic processes in the industry such as portfolio construction, risk assessment and SOA construction will be automated through the refinement of technology. But the adviser role will remain crucial. I like the phrase 'bionic is binder.' What do I mean by this? Simply that I believe the technology will give advisers the tools they need in order to outsource processes so they have the time to focus purely on the client via advice, coaching and support."