Kristopher Meuwissen has worked in financial services for over seven years and is driven to provide financial guidance and education to everyday hardworking Australians.
His enthusiasm for securing the financial futures of as many Australians as possible via holistic financial planning and lifestyle goals development has seen him join Ability Financial Planning in Melbourne, a bespoke financial planning firm as a financial adviser.
At Ability Financial Planning, their fundamental philosophy is to help clients achieve financial independence and to serve clients seeking more than the standard 'off the shelf services.
Kristopher considers the smartphone his must-have piece of technology. "Whether it's personal or professional a smartphone is a necessity. With it you have a wealth of knowledge, endless contact information, apps and more at your fingertips. It's a small yet powerful weapon in the technological arsenal."
The value and power of technology crystallised for Kristopher when colleagues showed him how they were using technology to educate and work with advice clients.
"Being exposed to what our colleagues were doing, whether it was online or via certain pieces of technology was a real eye-opener. It made a lot more sense in terms of efficiency and cost and definitely looked like a better approach than the paper-based one we were using."
Seeing the light encouraged him to embrace technology and leverage it in order to deliver efficiencies in the business and better client service and outcomes.
Kristopher considers Ability Financial Planning to be a very tech-driven business. "As active portfolio managers for our clients, we're constantly using mobile phones, computers and other devices to acquire relevant pricing information, access the latest sharemarket news, place orders and conduct transactions on a daily basis."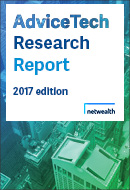 Netwealth 2017 AdviceTech Report
The report paints a picture of how technology is currently being used in the dynamic and evolving advice industry and provides insights into key areas of focus, must-have, high adoption services, and technologies that are regarded as disruptors, but are not yet being adopted.
His favourite piece of technology is the financial planning software, Astute Wheel.
"It enables us to do more than just tell the clients what we do. It lets us show them. With Astute Wheel we can walk them through, on a step-by-step basis, how the financial decisions they make and the actions they take impact their retirement or investment portfolio and overall financial goals. It truly is a 'what will happen if' tool that resonates with clients."
However outside of Astute Wheel Kristopher has veered away from adopting too many tech solutions as without clarity around the benefits, or an action plan for integration into the business, he's hesitant about applying a 'trial and error' approach to technology.
"I think that advice in 2025 will see technology operate at a functional level that supports the role of advisers. Technology will take over processes such as setting financial objectives and the subsequent financial action plan whilst advisers will assist clients in making these tech-driven decisions, providing their support and expertise as they do so."
According to Kristopher, the relationship between advisers and technology can be classified as tentative, with uncertainty around how advisers can select the right piece of technology for themselves and their business.
"With the sheer amount of AdviceTech offerings available, it's difficult to know which option is best for your business. Compounding the issue of selecting the right solution is understanding the rules and regulations around its use. With these compliance requirements changing annually it's difficult to stay compliant while simultaneously trying to run a business."
Whilst AdviceTech is making a lot of noise in the market, it appears that a lot of it is not connecting with advisers. "There's a lot of technology talk – about how these big AdviceTech 'beasts' will revolutionise everything we do, how robo advice will change the landscape, but it's difficult to make heads or tails of what's out there or see how it works," said Kristopher.
According to Kristopher, at the end of the day what this means is that outside of what we're already doing or without having to change our entire business model there doesn't seem to be technology that can help at a fundamental level.
Reservations aside, Kristopher does believe technology holds a large role in he future of advice.