Netwealth's 'Pay Anyone' solution allows you to easily and efficiently make payments to third party Australian bank accounts on behalf of your clients. 
Once authorised by your client, gain greater flexibility to manage your clients' SMSF expenses directly from the platform with the ability to make payments for invoices such as ATO fees, legal fees and other relevant SMSF administration payments. 
This functionality is available to all clients who:
have a Netwealth Wealth Accelerator or Investment Wrap account
have their mobile phone number recorded on their account
have provided Netwealth valid identification details for the account
have 'One investor signature sufficient' flagged on their account, and
have 'browse' or 'transact' access to their Netwealth account.
Enabling Pay Anyone
To enable Pay Anyone your client must log into their Netwealth account and navigate to Bank details, select the Pay Anyone tab and tick the Authorise Adviser box. If a client has transact access, they will also be able to utilise the Pay Anyone functionality for themselves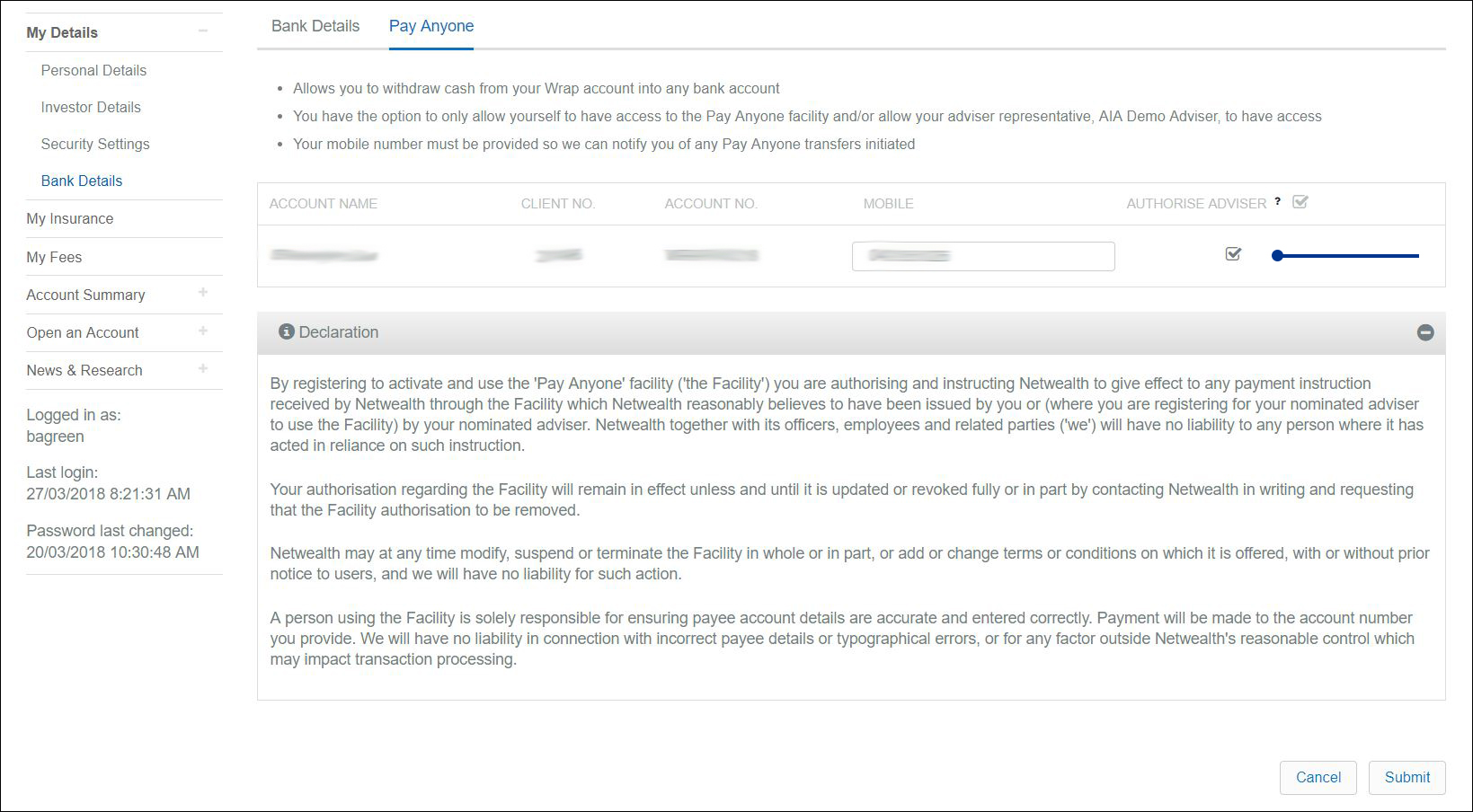 Processing payments
Once you are enabled, to process payments you must:
Select your client's Wealth Accelerator or Wrap account
Navigate to Wrap Transactions>Withdrawal and select Pay Anyone
Enter the bank details and click on confirm.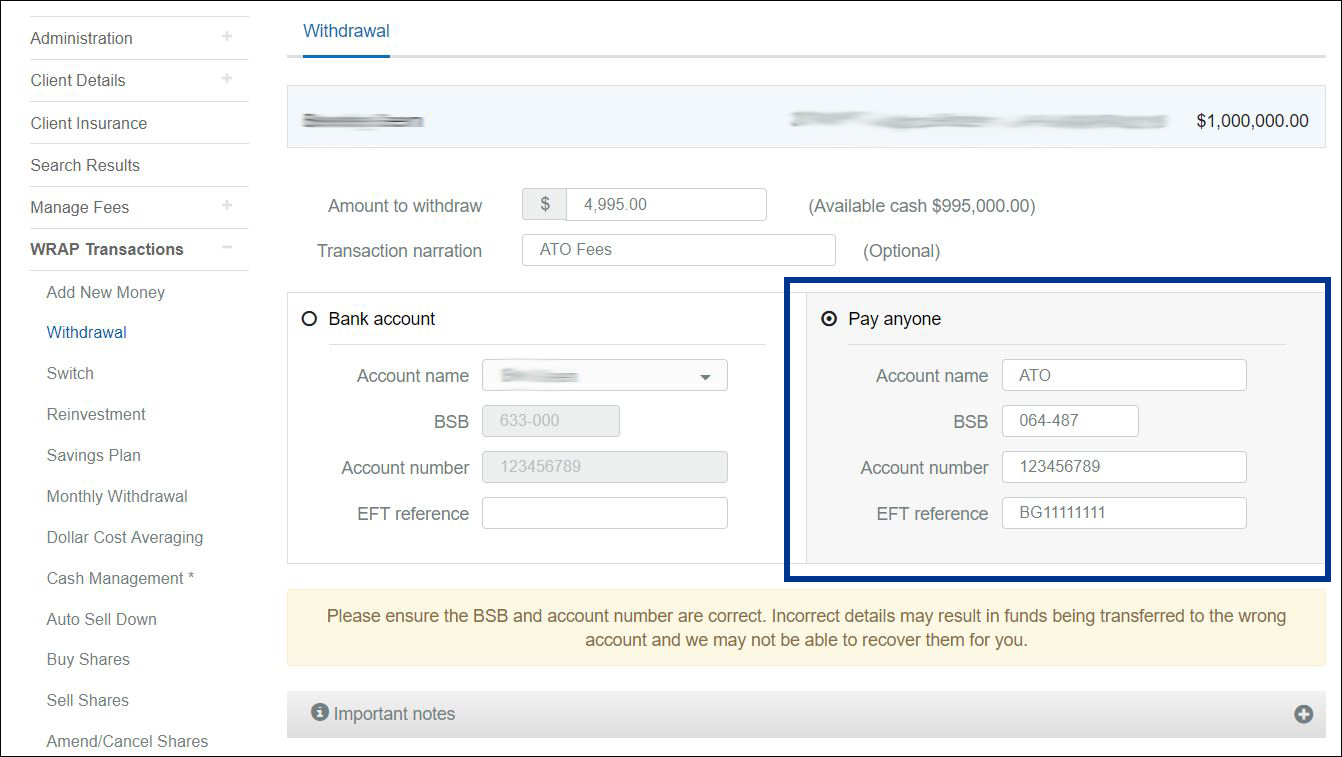 Withdrawals under $5,000 will be paid same business day, if processed before 12pm AEST. A confirmation notification will be sent to your client via text message once you have submitted the withdrawal request online.
For payments over $5,000, a notification will be sent to your client via text message directing the client to approve the withdrawal online.
Client approval
Once logged in, the client simply clicks on the Pay Anyone task under Pending Approvals in the My Task section of their Dashboard. Once they click on the task they will be able to view the withdrawal details. This task will be automatically deleted after two weeks if it has not been approved/ rejected by the client.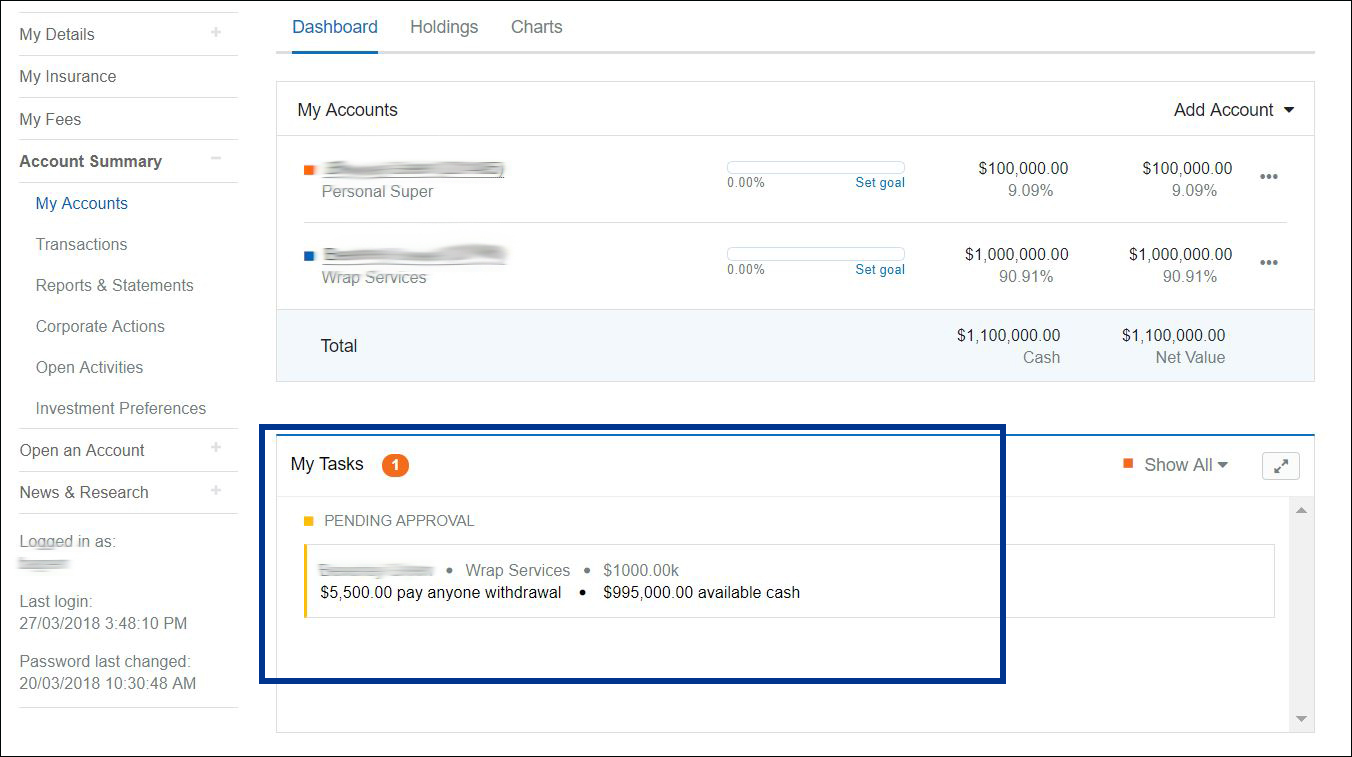 The client will be automatically directed to the Withdrawal Summary screen where they can review the withdrawal information. To proceed they simply click on Send SMS Code in the Security Check box which will provide a code to their mobile phone to enter on screen. The transaction will then be sent to Netwealth to finalise the payment and a confirmation letter will be sent to the client once completed.
There may be small delays when processing payments due to certain fraud prevention checks we implement.
Advisers can view all their clients' outstanding Pay Anyone proposals in My Business>Open Activities.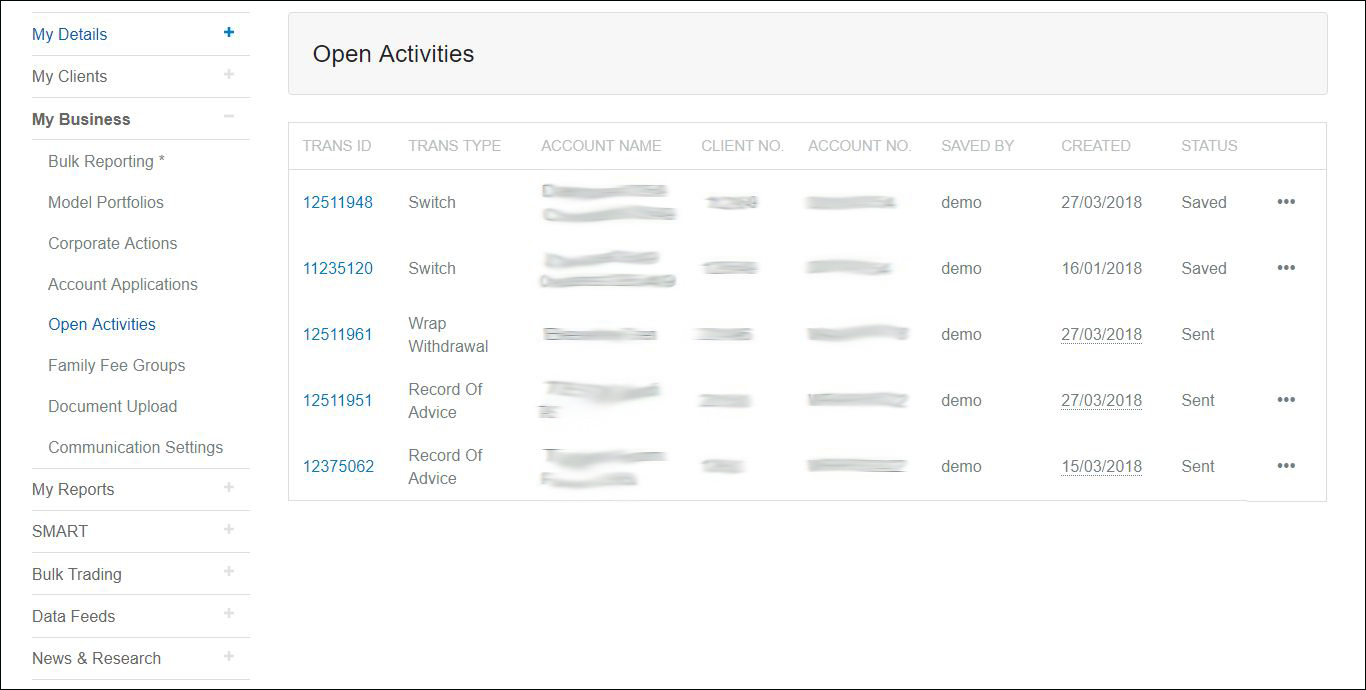 To learn more or organise a demo, contact your local Training and Relationship Manager.