Take outs
Human traits, such as empathy, which are critical in providing advice are incredibly hard to build into AI
Repetitive functions, not relationship functions, are the top candidates for automation and artificial intelligence
Document creation and document checking is high-impact low-hanging fruit for AI

The evolution of artificial intelligence (AI) has fascinated people across the world, but as automation progresses and AI takes over certain expert roles, people are becoming genuinely afraid for their jobs and livelihood.
Businesses operating in the financial advice landscape are no exception.
In an effort to demystify artificial intelligence and the tech revolution, Netwealth recently spoke to Joel Robbie from Nod, in a webinar titled "The likely impact of AI on your business and financial advice".
Joel begins by explaining that advisers shouldn't fear being replaced by this technology as specific human skills such as empathy are "incredibly hard to code for".
"In my view, more than half of the value of financial planning is delivered by advisers sitting across the table from their client, making them feel safe, making them feel secure, and that is a very human thing.
"I think that's actually a set of problems that AI isn't particularly able to solve, at least as yet," Joel says.
For advisers willing to embrace AI the practical implications for their business can actually be very positive.
Outlined below are Joel's practical next steps for advisers, to capitalise on new opportunities with AI.

Automate your repetitive functions
Joel suggests advisers should divide their tasks into two pillars – the repetitive and relationship functions.
Repetitive functions, he explains, include things like document creation, fee reconciliation, portfolio administration, client notifications, signatures and file notes. Relationship functions, on the other hand, encompass tasks such as psych profiling, relationship building, meetings and the like.
"A key point here to remember is that repetitive functions are the top candidates for automation and artificial intelligence," Joel says.
He explains that this is the main opportunity of AI. When applied correctly, it can free you of the everyday mundane, repetitive tasks, allowing you to focus on client interactions. 
Joel adds that, AI will allow humans to spend more time being creative, to increase their human interactions and reconnect with each other.


Hear more from Joel
Spend the most time on high-impact low-hanging fruit
Next, Joel uses the low-hanging fruit analogy to help advisers prioritise and maximise results from technology using AI with minimal effort.
He explains that as new technologies flood the market, advisers need to be smart when choosing those they will pursue.
If a new software only slightly improves your returns, but requires a lot of extra effort to implement, then it's probably not worth it.
"So, a piece of technology comes along, and you think it's going to have a 10 per cent impact as opposed to a 10 times impact. It's probably not worth evaluating the 10 per cent impact any further," says Joel.
"The amount of change you'll have to go through, the amount of retraining of people you have to go through, it's just not worth it."
Conversely, if something promises to increase your efficiency tenfold, then it is probably worth pondering. 
In Joel's view, high-impact low-hanging fruit translates into things like document creation and document checking. Implementing a software that automates these tasks can help an adviser reduce the amount of time they spend number crunching, while increasing the accuracy of compliance work.

Joel's prioritisation matrix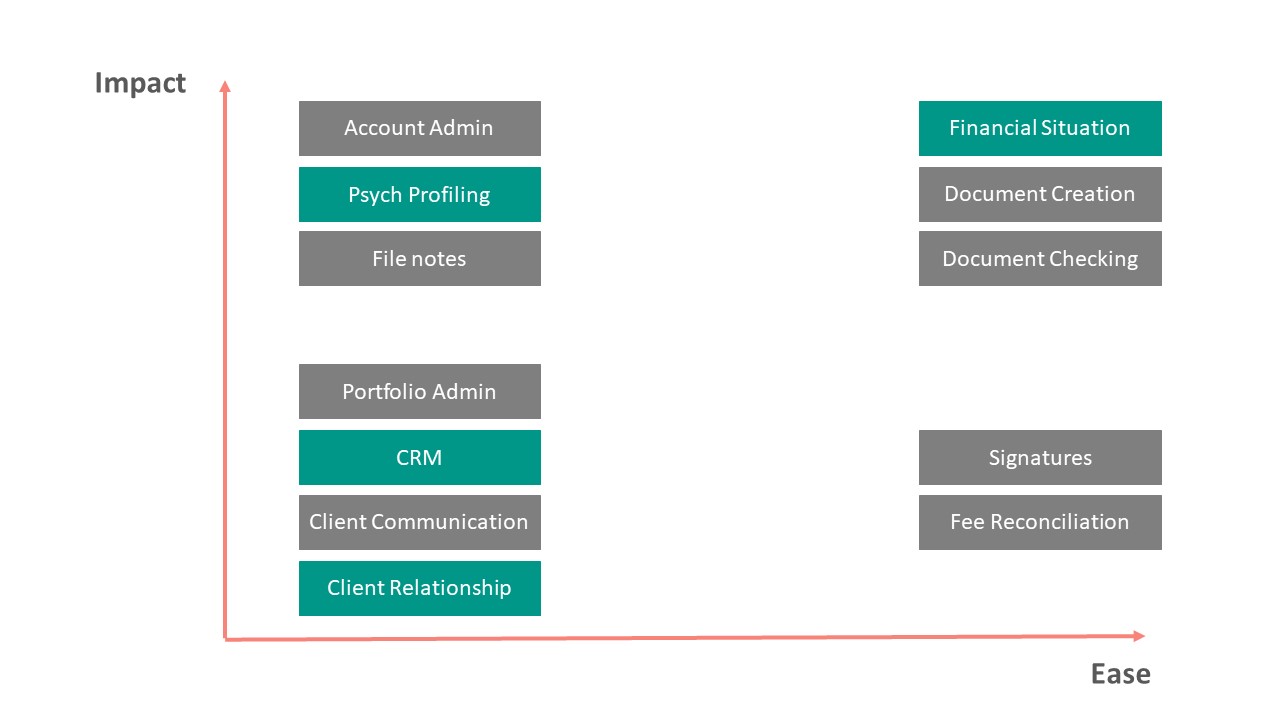 Read widely and follow experts
Joel instructs advisers to read widely, particularly literature written by experts in the field of AI.
"There are a number of experts in Australia and around the world who are commenting on this topic. LinkedIn is a great place to follow these sorts of people," he says.
Reading has long been praised for demystifying scholarly genres and shedding light on puzzling topics. But, in this case, it can also help advisers stay abreast of what's new in the industry and use their new-found knowledge to their advantage.
"Spend some time really asking are there pieces of technology that you've heard about this week or this month, which you think you can either integrate into your business easily, or you think might impact my business long term and evaluate those things," he says.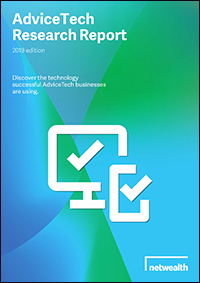 2019 Netwealth AdviceTech Research report
In this report we examine the twenty-six technologies used by advisers in their practice – their adoption, benefits and popular suppliers.
Repeat annually
Joel's last tip is to repeat this exercise on an annual basis.
"Go through your annual business planning, if you're taking your team offsite, or you're taking your team into a strategy workshop, or whatever that is, and repeat this exercise annually," he says.
The questions to ask yourself include:
What are you doing on repeat that you could automate?
What is the low-hanging fruit you could attack immediately?
How might you attack it?
What's the industry saying?
"Just continue to repeat that process. I think if you're doing that, your business is always going to be getting better," Joel concludes.
"And your unit economics are going to continue to improve."

Learn more
Listen to the Netwealth webinar, "The likely impact of AI on your business and financial advice", for more expert insights into making AI work for you.

Views expressed are of the interviewee and may not be the opinion of Netwealth or its related companies.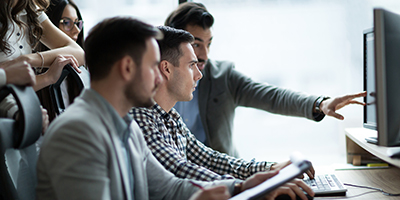 How advice documents are evolving with AI
Discover how financial advice documents are evolving with AdviceTech such as AI and machine learning.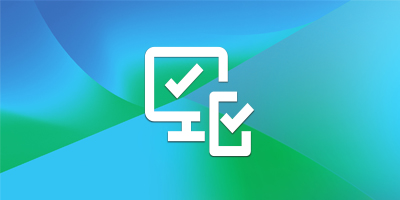 2020 Netwealth AdviceTech Research report
In this report we examine the twenty-five technologies used by advisers in their practice – their adoption, benefits and popular suppliers.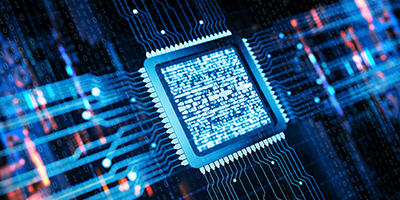 Building a successful AdviceTech stack
A successful AdviceTech stack has three tiers: foundation, optimising and future-forward. Discover the technologies that belong in each.