Take outs
A successful AdviceTech stack is built in three tiers
AdviceTech improves business efficiency and client satisfaction
Technology investment should meet the business's needs today and into the future

The pace of technological change and innovation accelerates every year. It's easier than ever to get swept up in the hype about today's newest advice technology (AdviceTech) solution being the answer to every advice firm's prayers.
There are literally dozens of technologies that advice firms potentially could adopt, were time and money unlimited. But they are far from unlimited and balancing the cost of implementing a new AdviceTech against the expected client or business benefits can be a complicated task. It is little wonder that financial advice firms report the most common barriers to implementing AdviceTech include lack of time to explore options – and too many choices – along with uncertainty over how to implement the chosen technology and, of course, cost.
The 2019 Netwealth AdviceTech Research Report focuses on 26 different technologies that affect how advice businesses are managed and operate, how they produce and deliver advice, and how they engage with clients. The report highlights how successful AdviceTech businesses (SATBs) firms go about deciding what AdviceTech is important to them, and then how they implement it. SATBs' AdviceTech uptake and planned usage in future give clues to how all firms can optimise their own implementation and plans.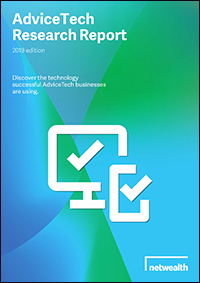 2019 AdviceTech Research Report
The third Netwealth AdviceTech research report highlights the key benefits of adopting technology intelligently within an advice business. This year's report we share the the survey findings from over 330 advisers on 26 technologies.

A stack in three parts
A successful AdviceTech stack has three tiers: foundation, optimising and future-forward. A foundation stack (foundation AdviceTech) underpins essential advice, business and client-engagement activities. The elements of this stack are essentially non-negotiable: around three-quarters of all SATBs use this AdviceTech as a foundation.
In this table the AdviceTech marked with an asterisk forms the foundation stack of all advice businesses (not just the successful ones). Each of these AdviceTechs is used by more than 75 per cent of all advice businesses. From this it is clear that the foundation stack of most SATBs differs from the general industry principally in the adoption of social media platforms; project, activity and task-management tools; and email, newsletter and marketing automation tools.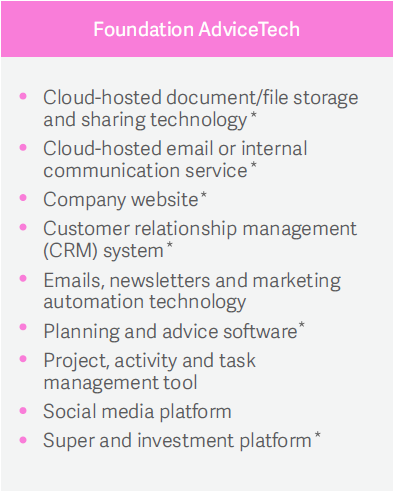 The second tier (Optimising AdvcieTech) focuses on optimising the client experience or back-office to deliver superior benefits – these are the five AdviceTechs that SATBs have adopted in the past two years that have had the greatest impact on their businesses; and the five top AdviceTechs that SATBs expect to adopt in the next two years that will have the greatest expected benefits. These are the AdviceTechs that all firms should consider when planning for future growth and improving client engagement.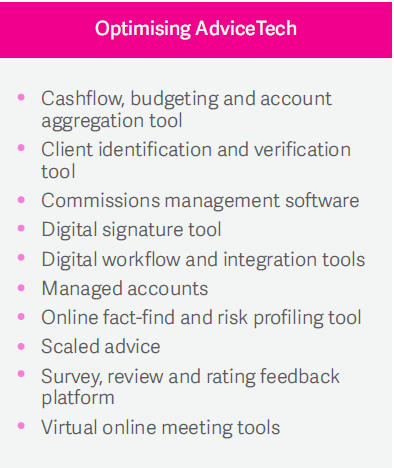 Finally, there is a future-forward tier, which SATBs have adopted to stay ahead of the pack (Future-forward AdviceTech) – these are the technologies and tools they expect will have the greatest effect on their businesses in the next five years.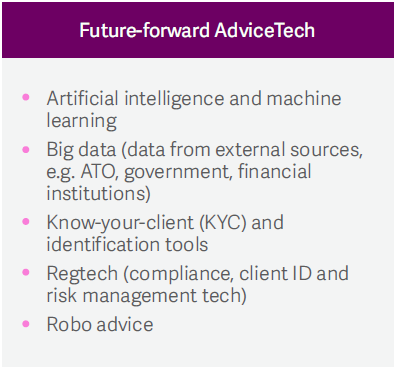 On top of the common elements of a foundation AdviceTech stack, different technologies are adopted by firms depending on their size (measured by number of active clients served).
Small advice firms (200 or fewer clients) commonly adopt:
Investment research AdviceTech for investment selection;
Project, activity and task-management tools; and
Client portal AdviceTech.

Medium-sized advice firms (201 to 500 clients) commonly adopt:
Emails, newsletter and marketing automation AdviceTech;
Client portal AdviceTech; and
Investment research AdviceTech for investment selection.

And large firms (500 or more clients) commonly adopt:
Emails, newsletters and marketing automation AdviceTech;
Social media platforms; and
Project, activity and task-management tools.

Doing more, better, in less time
A well-constructed AdviceTech stack delivers a range of critically important business benefits and successful AdviceTech businesses recognise this. 4 in 5 of them are likely to increase their AdviceTech spend in FY19/20 and over half have an adoption strategy for the next 12 months. By considering the three tiers of the AdviceTech stack, advice firms can design a robust AdviceTech roadmap to emulate these businesses.
In saying this, the optimal full AdviceTech stack varies from business to business and is dictated not only by the size of the firm but the strategic priorities of the firms' leaders. Successful AdviceTech businesses demonstrate clearly that the greatest benefit comes from a careful and deliberate approach. Investing in and implementing AdviceTech should take into account not only the needs of the business today, but its likely needs – and those of its clients – in future.
Learn more about the 26 AdviceTech categories and what a successful AdviceTech business looks like - Download the 2019 AdviceTech guide and access the resources.
More AdviceTech resources