Take outs
Successful firms use more AdviceTech than the industry average
It pays to choose AdviceTech carefully, and deliberately
AdviceTech investment should meet the present and future needs of a business

Any financial advice firm worth its salt is built on a solid foundation of advice technology (AdviceTech). But the most successful firms use more types of AdviceTech and choose and implement AdviceTech in a more structured and disciplined way, than the average firm.


Netwealth's 2019 AdviceTech Research Report reveals the characteristics that set successful AdviceTech businesses (SATBs) apart from the industry overall, they include:
an openness to investing in technologies to improve business processes
looking to spend more on advice delivery and client engagement
a formal budgeting process for investment and development
dedicated internal resources for implementing AdviceTech
a clear 12 and 24 technology roadmap.

In other words, SATBs deploy AdviceTech carefully and deliberately, to reflect both the current and likely future needs of the business, based on size and number of clients to whom they provide services.
According to the Report, just over 40 per cent of all advice businesses are SATBs. They are defined, in part, as having enjoyed revenue growth in the 2017-18 financial year (by contrast, only around one in five advice firms overall experienced revenue growth in the same period).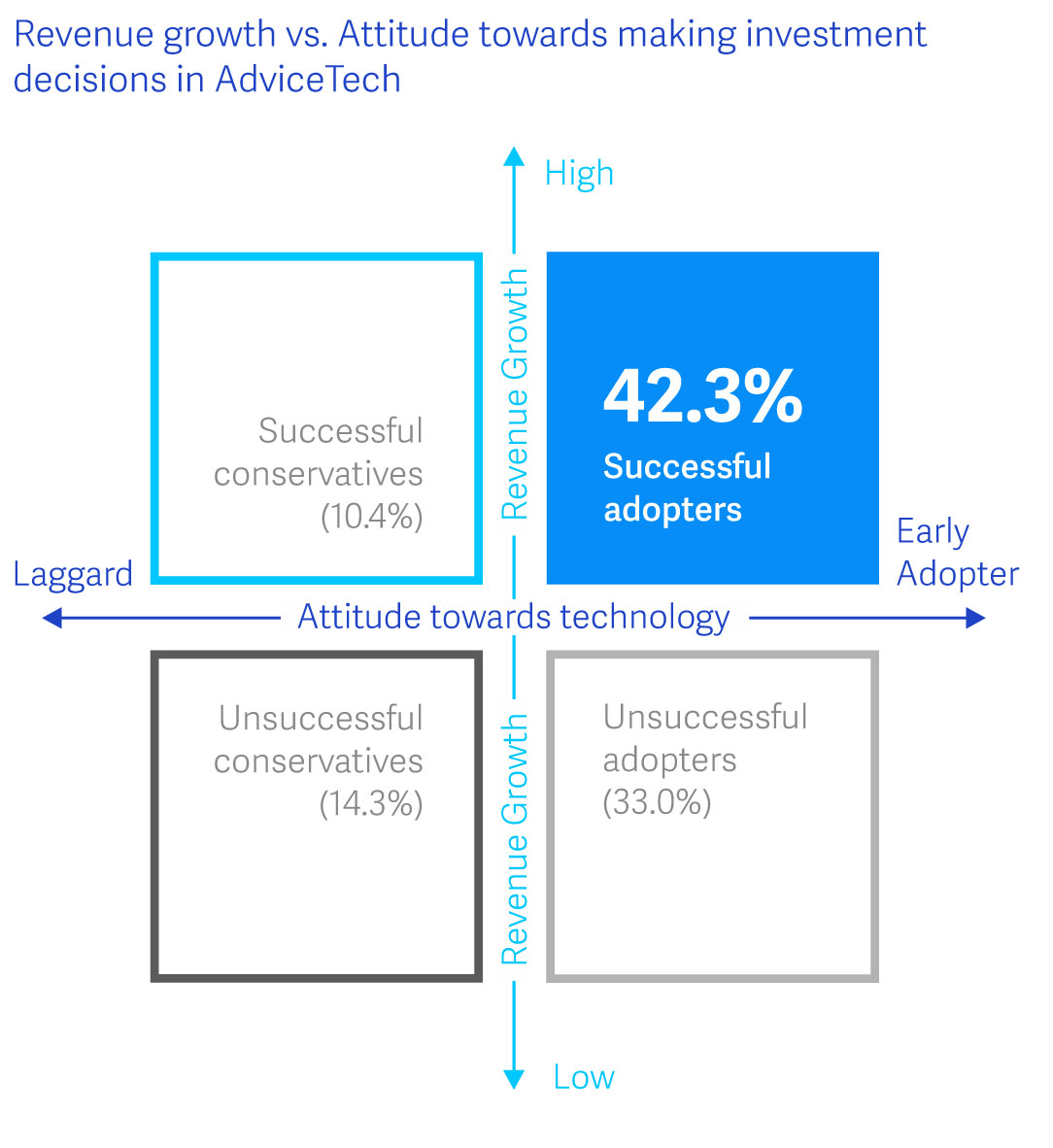 SATBs are also generally led by decision makers whom are defined as "early adopters" or "pragmatists". Early adopters are open, often enthusiastic, adopters of AdviceTech, who willingly work with suppliers to develop leading-edge technology to fundamentally reshape their businesses. Pragmatists will commonly adopt stable, if not yet common, technology to develop a competitive advantage.
But whichever definition they meet, the leaders of SATBs recognise that spending money and investing willingly in AdviceTech is a critical part of their business success.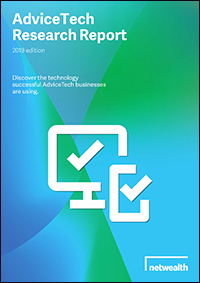 2019 AdviceTech Research Report
The third Netwealth AdviceTech research report highlights the key benefits of adopting technology intelligently within an advice business. This year's report we share the the survey findings from over 330 advisers on 26 technologies.
The AdviceTech Gap
While all advice firms use some form of AdviceTech or another, SATBs demonstrate that not all use it equally effectively. SATBs use, on average, 15 different types of AdviceTech. The industry average is 12, but just those three extra AdviceTechs, on average, chosen and implemented well, are enough to set SATBs apart from the pack.
It's instructive to look at where the gap in the take-up of AdviceTech between SATBs and other firms is greatest:
SATBs have greater take-up of fact-find and risk-profiling tools, which is an essential element in getting an advice relationship and process off on the right foot.
They have greater take-up of online surveys, reviews and ratings tools, providing feedback from clients and creating a virtuous loop of continual improvement.
SATBs demonstrate greater take-up of online meeting tools and social media platforms, harnessing new technologies to maintain contact with clients.
The path ahead is clear
SATBs don't just splash money around. For them, investing in AdviceTech isn't about meeting an immediate need or solving a problem today. It is about thinking ahead, anticipating the needs of the business and its clients, and preparing accordingly. Most (55.6%) of them have a clear plan for at least the year ahead, and some even plan as far ahead as five years out. In fact, they're twice as likely as the average advice firm to be thinking that far ahead, underlining the impact they expect smart investment in AdviceTech to play in their future growth.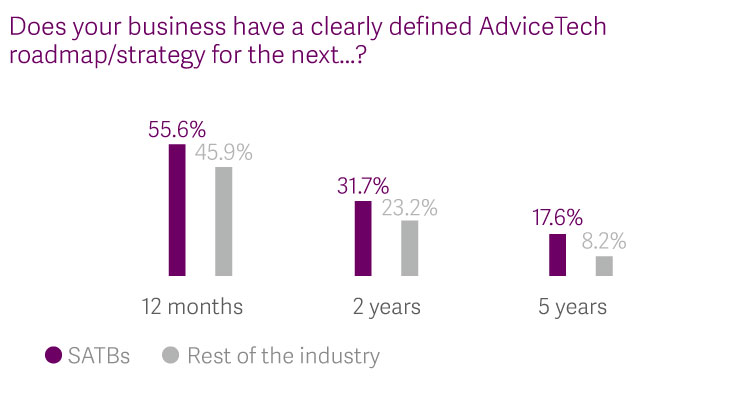 Investment is carefully directed to AdviceTech that is likely to generate the greatest business benefit – whether that be by automating repetitive tasks, engaging with clients more effectively or delivering advice more efficiently. Compared to the industry average, SATBs are more likely to have clear plans in the current financial year to invest in client-engagement, advice and planning, and operations and workflow AdviceTech.

Tech-savvy client
SATBs are more likely to report having tech-savvy clients, and more likely than other advice firms to experience demand for AdviceTech from clients. Whether they're driven by tech-savvy clients to adopt AdviceTech more readily, or whether SATBs' ready adoption of AdviceTech attracts more tech-savvy clients is a moot point. What matters is that the SATBs identified in the Netwealth report are the financial advice industry's leading exponents of adopting AdviceTech to meet the present needs and to anticipate the future needs of clients.
Learn more about the traits of a successful AdviceTech business and how you can emulate them - Download the 2019 AdviceTech research report and access the resources.
More AdviceTech resources