Take outs
Most firms will invest more in client engagement AdviceTech this year than last
Client engagement will be the area most affected by AdviceTech in the next five years
AdviceTech empowers businesses to create, foster and maintain stronger relationships

For an industry that is dependant almost entirely on satisfying interactions with individuals, there is a surprisingly low penetration of advice technology (AdviceTech) among financial advice practices that focuses on improving client engagement.
According to the 2019 Netwealth AdviceTech Research Report around 20 per cent of advice businesses say client-engagement AdviceTech is not a part or is only a small part of how they engage with clients. With around one in eight businesses say it is pervasive in every interaction they have.
But the good news is that the vast majority of advice businesses will invest more in AdviceTech in the 2018-19 financial year than they invested in the previous year, and this is the highest level of investment intention recorded in the past three years. More than half of all advisers surveyed believe client engagement is the process that will be most affected by AdviceTech in the next five years.
That's great not only for advice businesses, but also for clients, for whom well-implemented client-engagement AdviceTech may mean interactions are more likely to happen at a time and in a place that suits them. It also improves the likelihood that these interactions are less time-consuming, are more focused on what they need, and could even lead to better advice outcomes.

Empowering advice businesses
Engaging clients takes many forms but the common aim of AdviceTech in this area is to empower businesses to create, foster and maintain relationships with existing clients and prospective new ones. The suite of commonly employed client-engagement AdviceTech includes:
Email, newsletters and marketing automation technology, such as Mailchimp
Online client meeting tools, such as Skype
Online/mobile advertising, such as Google adwords
Social media networks, such as Facebook
Client feedback tools, such as AdviserRatings
Client portal technology
Client presentation software
Tools to manage the website and blogs
Customer relationship management (CRM) tools
Digital signature tools, such as DocuSign

It's no coincidence that successful AdviceTech businesses (SATBs) place a much greater emphasis on client engagement AdviceTech than the industry generally. SATBs are willing adopters of AdviceTech (and tend to use more of it than other advice businesses) and uniformly experienced greater revenue growth in 2018-19 compared to the rest of the industry.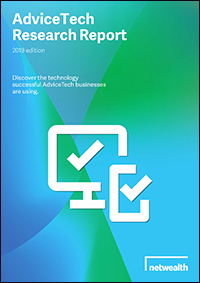 2019 AdviceTech Research Report
The third Netwealth AdviceTech research report highlights the key benefits of adopting technology intelligently within an advice business. This year's report we share the the survey findings from over 330 advisers on 26 technologies.

Managing relationships

Customer relationship management (CRM)
Far and away the most commonly used client engagement AdviceTech is a customer relationship management (CRM) tool. Most advisers use the inbuilt CRM capability of their planning software (such as Xplan) to organise, manage and analyse customer information and interactions.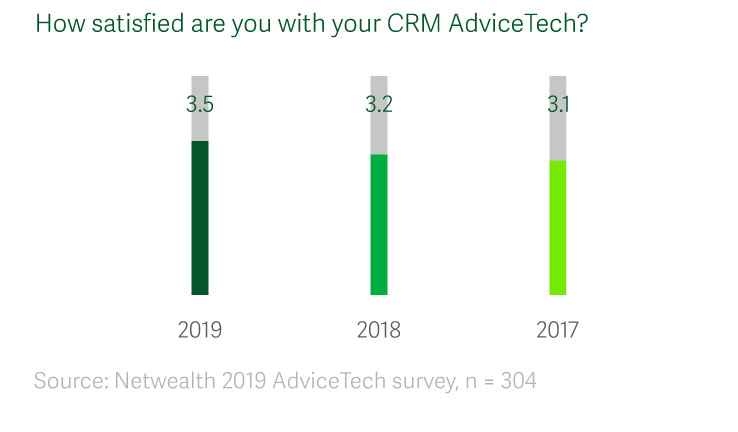 Client portal
Overall, almost two-thirds of advice firms provide an online client portal, via a mobile device and/or computer. Leveraging the firms existing CRM tool is the most common way they give clients secure access to engage and manage superannuation, investment or bank accounts,.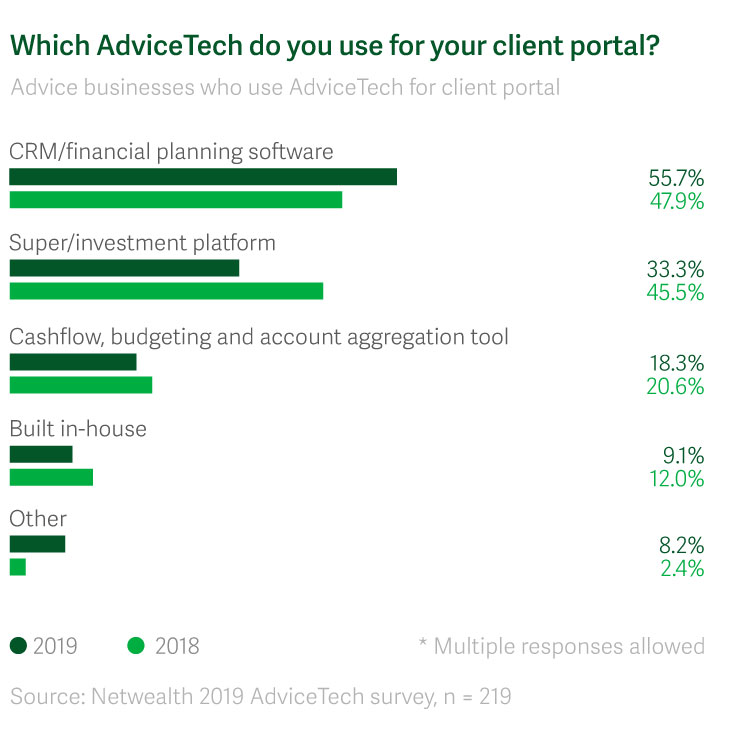 Emails, newsletters and marketing automation technology
Most advice firms use AdviceTech to send client email campaigns and information, including educational materials, in newsletters to clients. Website content is generally updated more frequently now than last year, with around one in eight updating every week. Yet about one in four rarely or never update content at all.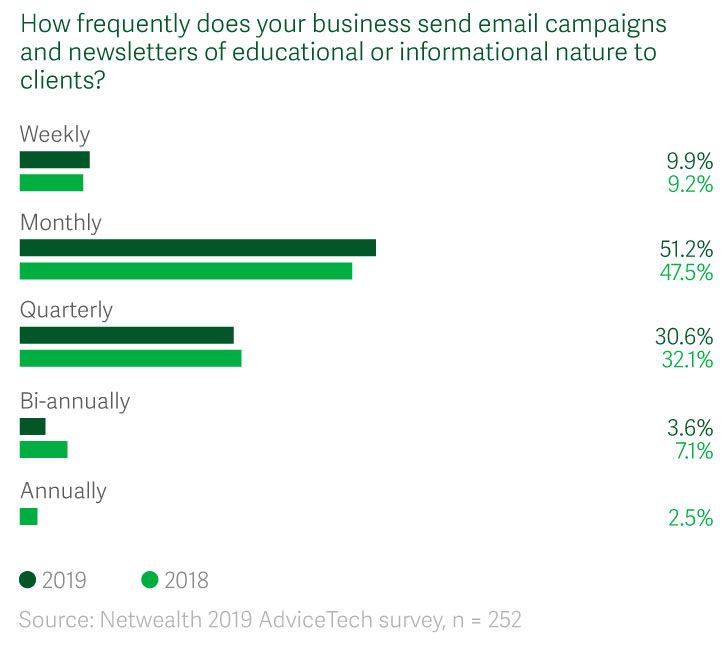 Social media platforms and management
Around a third of advice firms have responded to the effort it takes to maintain a social media presence by outsourcing management to an external agency. This enables them to maintain an active presence without having to commit internal resources to maintenance and update activity.
Whether outsourced or not, most advice businesses are active on Facebook, and a smaller proportion are active on LinkedIn. Instagram and Twitter are used less commonly.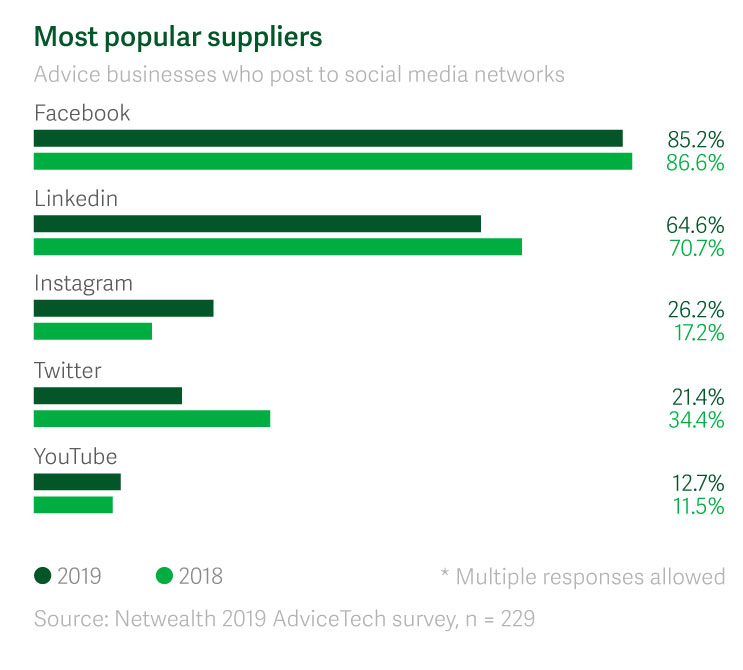 Online advertising
Of those businesses that use online or mobile advertising, most spend less than $500 a month, but there are a few outliers that spend a lot more – including some that spend more than $10,000 a month.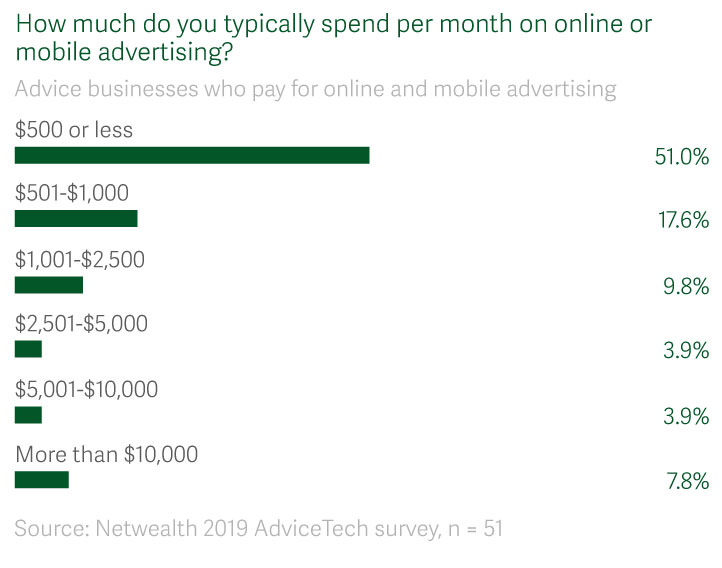 No need for big spending
Client engagement AdviceTech does not need to be expensive, nor even massively sophisticated or difficult to get hold of. For example, the most commonly used online client-meeting tool is Skype – and that's free. More than half of the advice firms that actively use client-feedback AdviceTech use Survey Monkey, and there is a free version of that tool available. PowerPoint is the most commonly used client presentation – it's not free, but it is widely available.
Even so, improved client engagement and communication and improved customer satisfaction are ranked among the five biggest benefits advice practices gained from intelligent implementation of AdviceTech in the 2017-18 financial year. With increased spending in this area expected in the current financial year, advisers and clients alike look set to continue to benefit.
To learn more about client engagement AdviceTech - Download the 2019 AdviceTech research report and access more resources.
More AdviceTech resources