Take outs
Language can make all the difference in the client experience
Preparing yourself with 'smart statements' can help advisers have frank conversations with clients about costs
Turning areas of the process, like the annual review meeting, can redefine the relationship

The subtleties of language can greatly impact the delivery and receipt of messages between two parties in an advice relationship, and understanding these subtleties can change not only the course of dialogue, but the very fundamentals of the advice process.

Chicago-based Scott West, head of Invesco Consulting, is a stickler for language. Invesco Consulting has been conducting in-depth research into the use of language in financial services, and how it resonates with people, for more than a decade. Their process includes initial interviews and a range of 'live dial' sessions, followed by a survey of their findings with 1000 investors and clients.
This research is one of 25 programs run by Invesco Consulting and, on a recent trip to Australia as part of Netwealth's Outside the Super Square roadshow, West took advisers on a journey centred on understanding why jargon is killing the adviser-client relationship. "Here's what we're going to do today: we're going to talk about how to sharpen your 'worth it' story," said West. "I know many of you are very successful at what you do so this, hopefully, will just sharpen at the edges some of the things you say to clients."
Through recent research, West identified three distinct 'cries' from clients that cover the fundamentals of the client's expectations around the relationship with their adviser, as well as a range of intangibles – including a focus on the client's emotional and mental wellbeing. "There are three cries," he explained. "No. 1: Would you be smart with my money? No. 2: Help me with more than just money. And, interestingly, the third: Could you show me my progress and make me feel like I'm on track?"
Hear more from Scott West

1. Smart with my money
Addressing the three cries of clients, "Let's start with No. 1," said West. "What do we mean by 'be smart with money'? Well, I know we're all smart consumers. We understand as consumers that we need to be prudent with our money and with people providing services. We know a good deal and we also know a bad deal when we see it. But how do we convince clients that we're being prudent with their money.
"When the issue of cost comes up, you need to be quick and clear and confident with what I'll call a '30-second smart statement':
"Jim, thanks for asking about our cost. First, let me say it's important that we're smart with your money. What you pay matters. We feel it's important that you know exactly what you pay so you avoid unexpected or unexplained costs. As a client of ours, you should know that our ultimate goal is to make sure you achieve your financial goals. With that in mind, we're always looking to design long-term, diversified investment strategies, built within a planning process. With that said, the costs are as follows."
"This may seem like a long, wordy paragraph. Let me give you what I think are the key components of a clear, compelling cost conversation. First, acknowledge and pay respect to what they're doing. Whether they're paying a lot or a little, this first segment acknowledges and pays respect to it. Then use it as a platform to pivot to your value proposition. It isn't just about telling them you respect what they pay, though that's important. It has to come with a pivot: 'You may be wondering what you're getting for all these costs.'
"Here's that word 'cost' again. Our research for 11 straight years has asked clients what they feel most positive about paying. Is it charges, commissions, fees or costs? By a large margin, almost every year, they've said 'costs'. I think that's because it's straightforward, it's plain-spoken. The word that tests the least is 'fees'."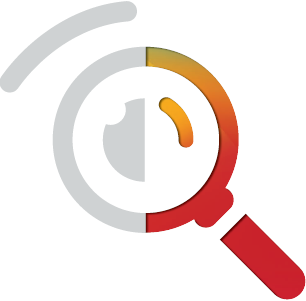 With change comes your chance to explore new perspectives
We've developed a suite of resources to help you navigate this changing landscape – our Change/Chance Series. This selection of guides and articles delve into topics that are front of mind for advisers, now.
 
2. Help me with more than just my money
West then progressed to the old adage "price matters most in the absence of value", suggesting that price matters less, maybe even the least, when value is abundant. If price matters most when there is no value, price can matter less when advisers really demonstrate an abundance of value. "What does that mean?" he asked. "It means this: 'You're good with my money management. What else have you got?' It really isn't about less, it's about more. It's about way more. It's about making sure that 'more' really matters in your conversations with clients."
"Be procative in talking to clients about your financial planning capabilities."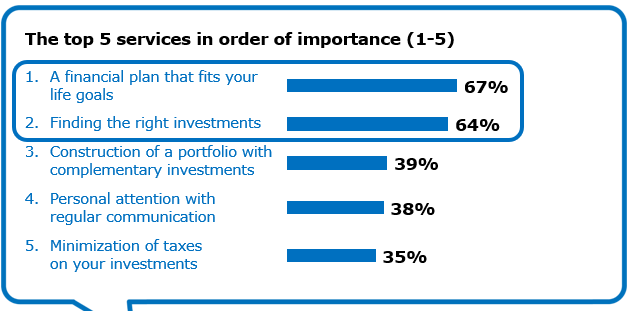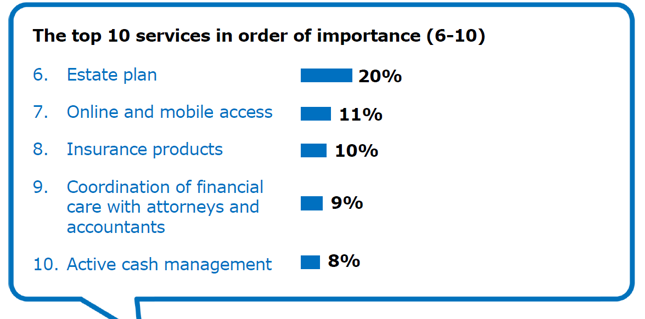 Source: 2017 survey by Invesco Consulting

Based on his experience of coaching adviser teams in North America – his firm is working with 125 teams this year – West believes the best advice businesses have robust systems that are not broken but, rather, "need little tweaks at the edges".
Invesco's research tells him that most clients don't view a financial plan as a stationary object and they want more than someone who just executes trades. "When we ask clients 'How do you value a financial plan?', they say, 'We believe a static financial plan is not a value-add.' Financial planning is a verb, not a noun. If all you're going to do is create a financial plan, not matter how exotically you talk about it, that's table stakes. Clients want to know that the planning process is one they can make changes to and is ongoing and active."

3. Help me feel on track
West believes the annual review process is a key opportunity for financial advisers to show clients that the big picture is in focus all the time. "I talk to advisers all the time who find the client annual review a pain in the neck," he said. "Unless it's been a great year of performance, they don't really know what to talk about. But I'm here to tell you that there's real power in doing it.
"IOOF did research a number of years ago that unpacked the power of keeping people feeling that they're on track – and it's both a good news and bad news story. When people don't feel like they're on track, two-thirds of them will begin to question the core value of the relationship they have. They're six times more likely to leave – that's the bad news.
"Here's what they found happens on the positive side if clients feel like they're on track. They're two times more likely to feel they're getting value and they're three times more likely to bring you new clients. The annual review is not just to check the box 'compliance pain in the neck', it's a potential acquisition tool."
While the research provides valuable insight into how clients feel about the annual meeting, it also reveals how to completely revisit that meeting. "Clients are saying they're completely dissatisfied with [the annual review] – 80% say they don't like that meeting. Why are they dissatisfied? Because it's all about the adviser and their agenda.
"Something like a pre-meeting checklist can really help make it a two-way conversation. The checklist doesn't just help them prepare – and prevent them from getting ambushed – it's an asset-gathering secret for us. Lives in motion equals money in motion, so the checklist is really important," said West.
"Secondly, investors want a definitive goal and purpose for the meeting. It's important for you to have a client-centred opener, where you'd say: 'First, I want to hear from you. Secondly, I want you to feel confident about the investments in your portfolio and then, finally, I'd like to review the services you have.' That's the power of a re-energised, reinvigorated client review.
The purpose of the client review meeting is to ensure that advisers are meeting their clients' goals. "It also helps you with the final point, which is sending a follow-up email. "I meet advisers all the time who say, 'Well, this client summary letter is tough to write. How do I populate it?' If you do the review meeting the right way, you'll have plenty to talk about with your clients. I think that's really important."
Learn more about communication strategies that can help convey to clients the value in your relationship and discover how to build your value proposition.
Views expressed are of the interviewee and may not be the opinion of Netwealth or its related companies.